Creating Something from Nothing: The Event

Sunday, July 14, 2013 from 10:00 AM to 4:00 PM
Event Details

Presents
"CREATING SOMETHING FROM NOTHING:
THE EVENT"
featuring our showcase of women entrepreneurs
with moderator Desi Sanchez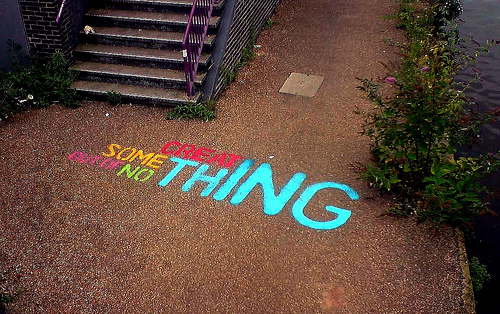 Are you ready to be inspired by women who are living their dreams?
Join us for an exciting day to help you do the following:
Dare beyond where you are...
Call new love into your life...
Experience an empowering session of learning self-defense through fitness...
And so much more!
Create Something from Nothing: The Event. Get the inside scoop on eight women entrepreneurs journeys who have created something from nothing. A day filled with stories, tips, tools, laughs (and maybe some tears).  Be inspired to pursue your own life dreams. Bonus: Each woman is offering a life changing service - stay posted!. Check it all out....
Attend powerful speaker sessions with our "Dream Incubator" entrepreneurs who are committed to women's empowerment and offer life-changing services.
Network during the day and over lunch with other professional NYC women who have creative talent, big dreams, and entrepreneurial spirits. 
Check out informational booths for deals and services that will improve your life.
We promise a day of insight, community, and fun!

SPEAKERS / ENTREPRENEURS
Yaritsa Arenas.  Principal/Designer, Yaritsa Arenas, LLC, www.yaritsaarenas.com, Yaritsa Arenas provides visual branding and web development services to startups and values based businesses. Focusing on the unique elements of what you do and why you do it, we create a custom look and feel that displays your brand's character and core values, bringing your vision to life while giving it a unique footprint amongst your competitors.
Danielle Fontus.  Founder and Adventure Planner, She Dares, www.shedares.com She Dares is a women's adventure community designed to connect you with like-minded women and share unforgettable experiences. With She Dares, it is Danielle Fontus' mission to create a safe space for you to step out of your comfort zone and try new things while also creating opportunities for you to connect with others in a whole new way.
Jackie Janiec.  Founder, Jackie Janiec, Inc., www.loverehabnyc.com  Just because you were burned by love doesn't mean you can't be a girl on fire. NYU Certified Love and Relationship Coach behind Love Rehab is committed to help women untangle the worry, fear, and hopelessness around love and achieve ridiculous happiness in their hearts. A no nonsense, warm not fuzzy, tough love approach to get over it, get on with it and finally get the life you deserve.
Rose Leung.  Creatrix, Simply True Vibrations, www.sparkleglowshine.com "Give me 5 Minutes with your Bedroom, and I can tell you what's wrong (and right) with your Love Life."  Feng Shui Romance coach and Holistic Lifestyle Consultant, has 3 years training in the Ancient Art and Science of BTB Feng Shui.  Her playful mission empowers men and women to create juicier, deeper and more intimate relationships where they discover joy in everyday life and dance with the unexpected. 
Vita Ng.  Learn Self Defense Through Fitness, Solirea, www.solirea.com  Learn how to defend yourself with this exciting fitness class in a fun, loving, and drama-free environment. This class is available for women only.
Trenia Parham.  Dating + Love Coach, Love, Trenia LLC, www.lovetrenia.com  Trenia Parham is a dating and love coach, and owner of www.lovetrenia.com, helping single women get ready for love by dating from the inside out. Ms. Parham has a Master of Science degree in Social Work from Columbia University and is a former adjunct lecturer for the City University of New York (CUNY).
Cynthia Santiago.  Founder/CEO, Latina Wellness, www.latinawellness.com  Cynthia is an Empowerment Coach, Inspirational/Motivational Speaker, and a Thought Leader, who believes in helping women tap into the unlimited possibilities of life to help them realize their personal and professional excellence.
MODERATOR 
Desi Sanchez.  www.awakeninspirecreate.com, www.adesina.com, and www.desisanchez.com Desi Sanchez is an NYC native and established TV host & media personality, with credits in broadcasting, the visual arts, music, and more.
Please note: This event is for women only
Date: Sunday, July 14, 2013

Time: 10am - 4pm
Location: She Creates Change Center
35 West 31st Street, 10th Floor
New York, New York 10001
Cost: $95 

For more information on She Creates Change, check us out at www.shecreateschange.com
When & Where
35 W. 31st Street
10th floor, Suite 1001
New York, 10001


Sunday, July 14, 2013 from 10:00 AM to 4:00 PM
Add to my calendar
Organizer
She Creates Change
She Creates Change empowers women to create a career where they are fully engaged in life, claim their calling, and making a meaningful contribution in the world. Ultimately we are igniting a movement, compelling women to take action, and blaze their path with passion.
She Creates Change educates women on how to best manage their life both personally and professionally and discover what it takes to create a life based on their authentic self. We inspire women to take action and make a difference through our exclusive 12 Cs Process, interactive workshops, advanced year membership programs, intensive retreats, private coaching, small groups, innovative books and media, and most importantly our supportive community.
Creating Something from Nothing: The Event