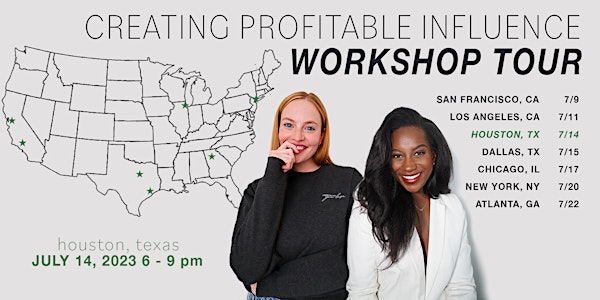 Creating Profitable Influence - Houston, TX
An interactive workshop designed to turn your growing influence into a full-time business!
By Cathrin Manning and Kameron Monet
Date and time
Friday, July 14 · 6 - 9pm CDT
Refund Policy
Contact the organizer to request a refund.
Eventbrite's fee is nonrefundable.
About this event
Want to turn your passion for content creation into a profitable career?
If you've been in the influencer space for any time at all, you know it's not as simple as going viral and brands magically reaching out with 6-figure sponsorships!
It takes time to build a loyal audience and create multiple income streams that allow you to quit your job to work as a full-time influencer.
Enter the Creating Profitable Influence Workshop!!
Join full-time content creators, Cathrin Manning and Kameron Monet, for a 3-hour, in-person workshop where you'll learn the strategies to scale your influence, turning your creative hobby into a flourishing full-time business.
In this workshop, you'll...
- Gain knowledge on how to better monetize your social media presence through affiliate marketing, sponsorships, services, paid products, and more. Including specific strategies on how to scale each income stream with ease across different social media platforms!
- Learn how to get the attention of brands you want to work with, set fair rates for your content, negotiate sponsorships, read contracts, abide by FTC guidelines, & legally protect yourself in all the brand deals that come your way.
- Leave with a clear understanding of what it takes to build a sustainable career as an influencer by setting income goals and planning for your long-term success. Cathrin and Kameron will even share their EXACT numbers over the years and how they were able to say goodbye to the side hustle life and pursue social media as their full-time jobs.
This workshop is designed to be interactive!
You'll get the opportunity to network and connect with content creators in your area, bounce ideas off each other, and leave with action steps to make big moves within your influencing business in 2023.
We hope to see you there!!
Cathrin Manning started her brand back in 2016, hiding behind a blog where we refused to share her face and name. Fast forward to 2020, her YouTube channel gained over 260k subscribers in one year and she was able to scale her income from $19,000 a year to over $200,000 a year. 3 years later, she's making close to $400,000 a year all from leveraging her passion for creating her best life.
Learn More: Website
Socials: YouTube, Instagram, Podcast
Kameron M. Buckner, Esq. is an attorney, content creator, and influencer marketing consultant. Kameron's creator journey began in 2014 after uploading a YouTube video in her college dorm. Making money wasn't even a thing back then, but fast forward to 2020 when she quit her law firm job after consistently matching her monthly salary income. Now, as a six-figure entrepreneur, Kameron uses her social media expertise, along with her license to practice law, to educate creators about the power of contracts in the influencer marketing industry by helping them understand contract terms and accurately negotiate brand deals through her consulting firm, The Legal Tea™.
Learn more: Website
Socials: YouTube, Instagram, TikTok
PS. The exact location of the workshop will be announced to all attendees a few weeks prior to the event!!
PPS. There is also an opportunity to attend a private dinner with Cathrin and Kameron the night before the event! Time and location to be provided to the people attending 2 weeks prior to the dinner. A very limited number of spots are available so make sure to secure your ticket!