Creating Powerful First Impression - Resume, Interview, Networking & Beyond

Tuesday, November 28, 2017 from 6:30 PM to 9:00 PM (EST)
Event Details
ROCK Your First Impression -
Resume, Interview, Networking & Beyond
You only have one First Impression…
So how do you make yours ROCK?
Learn very simple but critical strategies and practices from a professional career coach and former Fortune 500 recruiter/HR professional, that when applied properly, will help you make a rockstar first impression, distinguish yourself strong, and win fans in your resume, cove letters, job interviews, networking and across all your professional endeavors.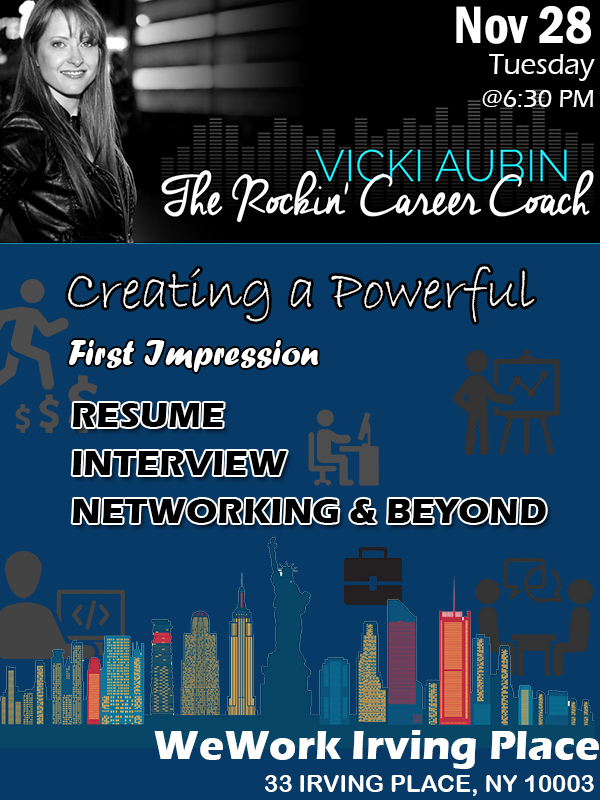 If you experience any of the following, this event is for you:
*Do your job applications constantly fall into the dreaded black hole?
*Do you wish you knew how to capture the attention of employers and recruiters instantly?
*Do you wonder exactly what to highlight in your resume and cover letters for the most impact?
*Do you wish you knew what key traits interviewers are looking for from you?
*Do you wish you knew how to navigate networking strategically and with impact?
Here's a staggering fact:
recruiters/hiring managers spend on average just 5-7 seconds on a resume before deciding its fate. And that's why the first impression your resume makes is so critical…and you only have ONE first impression.
Whether you are a student, new grad, an experienced professional or a career changer, NY Career Meetup is here to help you remove these obstacles and position yourself for success. In this workshop you're going to learn immediately actionable, super-powered steps from inside the mind of recruiters and employers that are going to help you make a powerful first impression in your resume, interviews, networking and beyond.
*The 3 critical things you must do in every interaction with an employer
*How to make your resume capture their attention immediately
*How to assume the identity of a rockstar candidate
*How to prepare SMART for interviews and stand out instantly
*How to overhaul your networking mindset to make it work FOR you
*Rockstar candidate Behavior and communication do's and don'ts
*How to optimize your personal brand for career success
Vicki Aubin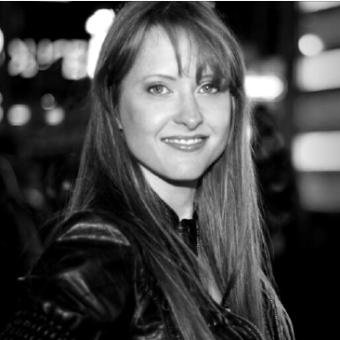 Vicki Aubin ('The Rockin' Career Coach') is a career transition and personal branding consultant who helps career rebels become job search rockstars. After launching her career in the music industry, Vicki spent over a decade in HR and Recruiting at Fortune 500 companies like Goldman Sachs, Deloitte & Touche and Morgan Stanley before realizing her true calling: helping stuck career changers become job search rockstars by teaching them how to streamline their strategy, amplify their visibility and marketability to employers, and make a powerful first impression with exceptional communication skills and confidence.  Fusing her love of music with personal branding, marketing communications and career development, Vicki has helped global professionals across a wide range of industries launch and change careers.  Vicki is also an interview coach for the NYU Stern School of Business and Rutgers Business School and is a career coach for The Flatiron School.
Visit Vicki at therockincareercoach.com or @rockincareer.
https://www.linkedin.com/in/vickiaubin/
 About NY Career Meetup

NY Career Meetup connects job seekers with Managers and Employers who make hiring decisions through its events. The group connects job seekers and Recruiters, Hiring managers and Employers and gives them a chance to know about employment opportunities and gather information about companies/ individuals who are currently hiring for both part time and full time positions.

The group gives job seekers best opportunity to make connections face to face with Managers and Employers. NY Career Meetup and its events allow the opportunity for both parties to check possibilities for prospective employment.

 Join NY Career Meetup


http://www.meetup.com/NY-Career-Meetup/

https://www.facebook.com/NyCareerGroup
When & Where

WeWork Irving Place
33 Irving Place
New York, NY 10003


Tuesday, November 28, 2017 from 6:30 PM to 9:00 PM (EST)
Add to my calendar
Organizer
Its a community for people looking to network and enhance their careers.