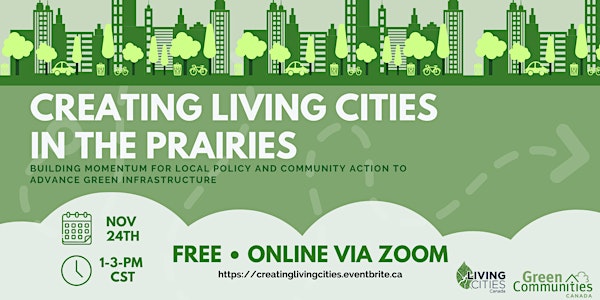 Creating Living Cities in the Prairies
Building momentum for local policy and community action to advance green infrastructure.
About this event
Join Green Communities Canada (GCC) to learn how our Living Cities Canada project is helping to advance green infrastructure (GI) across Canada. Connect with other local organizations and funders to discuss opportunities and challenges to establishing green infrastructure in cities in Alberta, Saskatchewan and Manitoba.
This free workshop will bring together local organizations and funders working to advance green infrastructure in their communities. We will share key insights from GCC's Living Cities Canada program, and present our plans to scale up the project.
We'll also:
Share success stories of locally-driven GI projects
Discuss key needs, strengths and capacity gaps to advance GI in cities across the prairies provinces