Description
The Creating Goals to Achieve Your Strategies Workshop help you review your current strategies, identify changes and define the goals that you need to develop to be successful going foreward.
Think About the Value to You And Your Organization If You Could Achieve an Additional 10% Improvement by:
Implementing a killer Strategy and Supporting Goals for your organization and have everyone aligned to execute it!

Developing a customer responsive organization to address your customers' needs beyond their expectations!

Creating an efficient and effective series of processes and systems operated by customer centric employees

Establishing tight relationships with your key Suppliers & Customers helping them leverage your organization's relationship for their own success!
Join us on October 17th for a two hour workshop
presented by John King of Headway Strategies Consulting.
Workshop Agenda, Topics and Deliverables
Networking -
½ hour of networking with attendees with lite refreshments
Workshop
Overview of The Compass Approach - this helps define the overriding approach for the workshop

Identifying Key Drivers for generating improved results for your organization

Conducting a Personal Business Assessment to help you understand where you are

Identifing The Strategic Goals to Achieve your Strategies

Identifying Your Next Steps through the Compass Approach Roadmap
Deliverables
Workshop Materials - Business Assessment Template & Goal Development Template

Hard copy of "The Compass Approach" published in 2016 (a $19.95 value)
Post Workshop
Follow-up 45 minute consultation with the author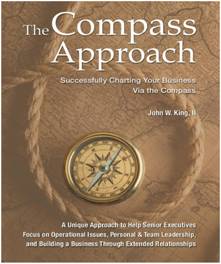 "The Compass Approach", describes techniques which will help set your business' direction and achieve improved results for the future. Targeted for smaller and midsize organizations this approach can help focus on the key aspects to achieve the goals and performance desired across the business.