Description
Corporate financial reports typically range widely in format and usability, and often fall somewhere between messy spreadsheets and ineffective dashboards, full of poorly labeled and inappropriate charts that do not get the desired message across to decision-makers.
This workshop explores the SUCCESS fundamentals from IBCS® for effective financial report design and creation, with powerful real-world examples and templates, and before and after examples from some of the world's most renowned companies. This hands-on workshop provides critical knowledge, skills and insights, to provide powerful report-creation capabilities for:


Controllers and FP&A Professionals
Business Analysts and Planners
CFOs
BI Professionals
Consultants
Anyone creating/consuming corporate financial reports

The workshop presents proven techniques for getting your reports read, understood and efficiently used for better decision-making. You will start creating understandable and visually compelling daily, monthly, annual and ad-hoc reports, dashboards and business presentations.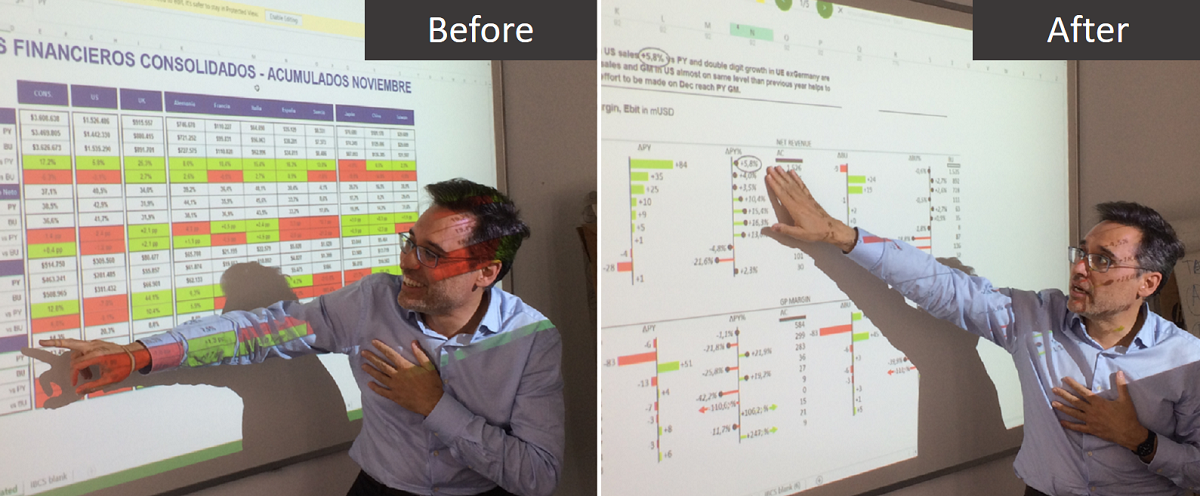 ---
Workshop Agenda

8:30 - Check-in and networking
9:00 - The IBCS® Standard and Zebra BI Excel Charts
Overview of the IBCS® rules and recommendations
Zebra BI charts – how and when to use them
Building reports and presentations with Zebra BI

10:30 - Break (15 min)


10:45 - Building Variance Reports
Building standard Sales vs. Budget reports
Building standard Cost vs. Budget reports
Using Page Layouts, adding and writing comments
Creating linked (updatable) PowerPoint presentations

12:15 - Lunch Break (45 min)


13:00 - Automating Reports with Pivot Tables
Linking Zebra BI charts to Pivot tables
Using Excel slicers for dynamic data filtering
Synchronizing filters across multiple report pages
Market share, benchmarking and other examples

14:30 - Break (15 min)

14:45 - Best Practice Examples
Creating Income statement / Profit & Loss reports
Using Small Multiples
Cash Flow forecast
Accounts receivable
Product pricing
Time-series analysis and other examples
16:15 - Group Discussion

17:00 - End of Workshop


---
Included:
Lunch and Refreshments
Full-color Training Manual
USB Stick with Electronic Materials
Excel-only IBCS® Reporting Sample
Fully-functioning Zebra BI Subscription License (6 months)
Zebra BI Report Template Bonus Pack
Prerequisites:
Solid undertanding of Microsoft Excel functionality including pivot tables and VLOOKUP function
Attendees must bring their own laptop computers with up-to-date version of Microsoft Excel (Sorry, no Macs)

---
Feedback from Past Workshop Attendees:

"We have been able to unify reports, presentations and dashboards across 10 countries within our group. Andrej conducted training for 50 analysts and managers at Coca-Cola. Good before/after examples were the key to getting the IBCS® standards accepted at the top management level. For us, this was a transformational experience!"
Ilkay Furmaz
Coca-Cola


---
"I would recommend this workshop to any company struggling with messy and inefficient reporting tools."
Magnus Hoffritz
Senior Sales & Operations Manager, Danfoss


---
"As a business intelligence professional, it was a really great learning experience to take part in the McKinsey Seminar & IBCS® Reporting/Dashboard Training in NYC hosted by Andrej Lapajne. Andrej's passion for the language of data visualization and its capabilities in the business environment was apparent. Learning IBCS® and how it can improve reporting and presentation functions really made sense. But, more importantly, the training centered around communicating data so the recipient(s) spend less time interpreting multiple visual formats. These tools can circumvent much of the headache involved when trying to create and communicate complex business data. This will save me time and I'm eager to get started!"
Janet Macdonald
Senior Manager, American Express


---
"The workshop far exceeded my expectations. I walked in expecting to learn a trick or two about Excel reporting. I walked away with a robust framework for financial reporting that is incredibly logical and applicable to my everyday work. Andrej is a wonderful instructor who takes the time to explain concepts and, more importantly, apply them to the real world. Immediately after the seminar, I had multiple ideas on how to apply the principles I learned in my job as a Finance Manager. I believe anyone interested in creating reports or presenting findings would benefit from this workshop. Thank you Andrej, for sharing all of your valuable knowledge."
Maria Vinokurov
Finance Manger at Contently, Inc.


---
"I was very impressed by this workshop. Often these kind of workshops can be tedious and unfocused, but this was not the case. It was very well organized and all participants found it very fruitful. This was mainly thanks to the professionalism and friendliness of Andrej. I would recommend this to any company struggling with messy and inefficient reporting tools."
Magnus Hoffritz
Senior Sales & Operations Manager, Danfoss


---
100+ Workshops Delivered
450+ Companies Attended
9.8 Average Attendee Satifaction Rating