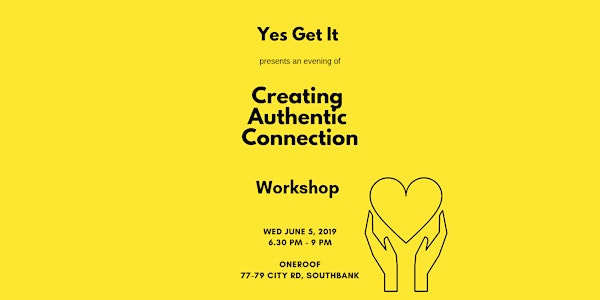 Creating Authentic Connection // Workshop
"We are hardwired to connect with others, it's what gives purpose and meaning to our lives, and without it there is suffering" - Brené Brown
When and where
Location
OneRoof 81 City Rd Southbank, VIC 3006 Australia
About this event
Join us for a workshop to learn how to better connect to ourselves and those around us.
We may be more in touch with people than ever through email, Instagram and Facebook - yet at times it can still be hard to connect authentically with others. Communication and connection are essential skills for success at work, at home and in life.
We're passionate about gender equality, and our goal is to increase understanding and connections between men, women and everyone on the gender spectrum in a safe space.
EVENT DETAILS:
6.30pm, Wednesday June 5
Arrive: 6.30pm
Workshop starts: 7pm sharp
OneRoof, 81 City Road Southbank
Snacks, beverages & worksheets provided.
Whether you're want to develop authentic connections in your work, personal life or relationships, you will learn:
Deep listening and understanding skills
Simple ways to connect with the people in your life powerfully
How to cultivate happiness and success from connection with yourself and other people
YOUR FACILITATORS
Helen Babb is an advocate, facilitator and social entrepreneur. She is the CEO & Founder of Yes Get It, an organisation that empowers and equips women with the self-awareness, confidence and practical tools to be bold and powerful leaders. Her facilitation and corporate experience spans Australia and the U.S and includes issues such as leadership, reproductive justice, LGBTI+ equality and training with the Rites of Passage Institute.
 In 2018 Helen was selected by the Foundation for Young Australians to participate in their "Young Social Pioneers" program as one of Australia's top young innovators.
Mandy Kota is the CEO & Founder of Flourish Girl. She is an ex-speech pathologist, TEDx Speaker, Model and an Australian Accredited Facilitator. Mandy is the first-senior female facilitator at The Rites of Passage Institute and is paving the way for their school programs for teenage girls. To date, Mandy has worked with over 1200 young people across Australia. Towards the end of 2016, Mandy found that the rate of depression, anxiety and eating disorders amongst teenage girls were on a rise and it was in that moment that she found herself shifting her passion and focus towards giving teenage girls a voice.
David Verdugo is Speaker and Facilitator, Coach and former Health and Fitness Lecturer. He is the Founder of Consciously Empowered, an organisation dedicated to expanding people's awareness of their own life's journey and helping empower them to live happy successful and fulfilled lives. David has spoken to over 55000 people over 3 continents on Human performance and connection'
Malcolm Leung is a fun-loving facilitator and Client Support Coordinator at SEEK. He is an avid traveller and a trained Future Facilitator having facilitated youth leadership all around the world with Game Changers Aus, X-Movement, AFL Victoria and AFL South Africa. He is passionate about creating connection through communication, mindfulness, and physical activity. Discovering connection to self, others and the world around us is what Malcolm believes will allows us to experience life to its fullest potential.
Yes Get It offers digital and in-person programs for confident, self-aware and powerful women who are ready to take on their future.