Creating an Inclusive Technology Ecosystem in Miami

Wednesday, July 23, 2014 from 6:00 PM to 8:00 PM (EDT)
Event Details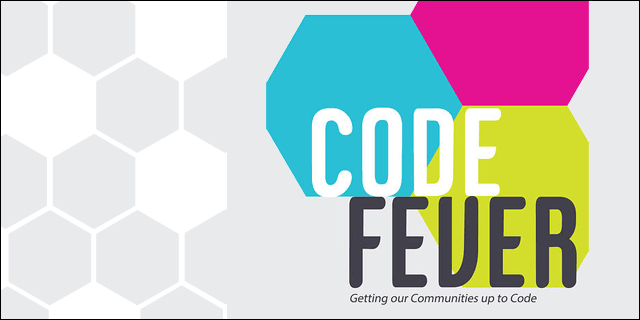 To have true innovation that shapes our community we must have diversity!
Join us for a panel discussion about making Miami's tech and start-up scene more inclusive. 
Our panel discussion will focus on building a tech and start-up ecosystem that is a reflection of the population in Miami and more receptive to the needs in our TUA (Targeted Urban Areas) communities, and in doing so, raise awareness about issues of creating innovative and diverse businesses, communities and inclusion.
Gain insight, advice and resources  from Start-Up founders, community officials and techies  to help build your tech start-up, gain training for adults and youth and most importantly how to get involved!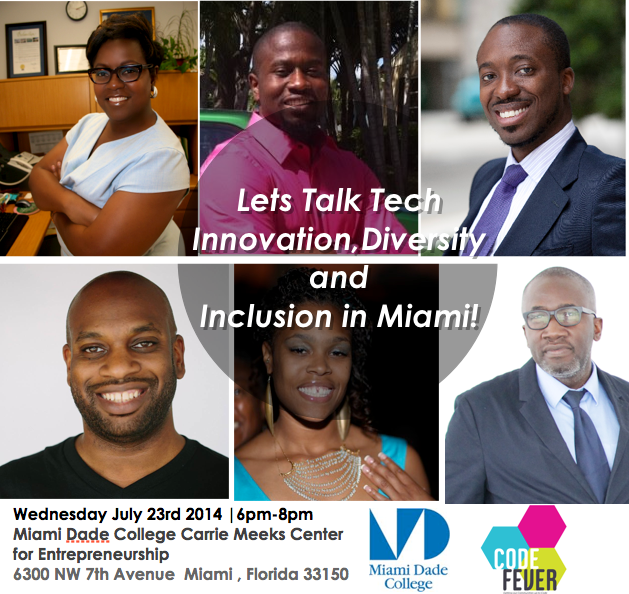 Confirmed Panelist
Malik Benjamin-
Malik Benjamin is the Director of Program Innovation at the Florida International University School of Architecture and Managing Director of the Institute of Collaborative Innovation LLC. He serves on a number of boards including Miami Dade County Art in Public Places, Awesome Foundation Miami, Dance Now! Miami, the Overtown Music Project, Opa-Locka Community Development Corporation, and Miami Science Museum Young Patrons. Over the past three years, he has organized lectures and events by David Adjaye, Bernard Tschumi, Ali Rahim, HowelerYoon and 40 other creatives.
Brian Brackeen-
Brian Brackeen is the founder & CEO of Kairos in Miami, Florida. Kairos is an innovative facial recognition company garnering significant interest in the past several months. Their products, Kairos TimeClock and Kairos API use facial recognition to help their clients surprise and delight. The service was launched only a year ago yet Kairos has 250+ customers in it's pipeline. Those 250 companies represent over 1.7 million users.
Kairos's explosive growth was recently noticed by the Wall Street Journal, and it was named one of the top 20 startups in the USA.
Brian cut his technological teeth at Apple in Cupertino, California where he designed solutions that managed apple's workforce across the globe.
Brian also held senior positions at IBM, Comcast, and consulted for the New York Metropolitan Museum of Art, General Motors, PetSmart, Scottrade, and others.
Andrew Quarrie-
With over 15 years of experience in advertising and marketing sector Andrew is now the Founder of the Miami based start-up Jurnid  a publishing platform and content marketplace for powering freelance journalism.  He is passionate about entrepreneurship and creativity as they intersect with technology to better people's lives.
Derick Pearson- 
As the Co-Founder of Feverish Pops and Code Fever, Derick has dedicated his life to inspiring a new generation of leaders through his conversational talks on business, technology and Pan African empowerment. After graduating from Morehouse College with a degree in Economics and Mathematics, Pearson worked as a Financial Analysts for Target and in 2010 Derick spearheaded President Obama's national education initiative where he traveled around the nation helping to increase high school graduation rates by promoting college path's in STEM subjects (Science, Technology, Engineering and Mathematics) to disadvantaged high schools students through a virtual energy lab. In 2011 Derick was honored at the White House for the Empact 100 awards for being one of the Top 100 Entrepreneurs under 30 as well as his company Feverish Pops has been  featured on the NBC Today Show, The Cooking Channel, Washington Post, Boston Globe, and Black Enterprise Magazine. 
H. Leigh Toney- 
H. Leigh Toney has served as Executive Director of the Miami Dade College, North Campus, Carrie P. Meek Entrepreneurial Education Center since 2002.  The Meek Center is an outreach academic center of the North Campus serving nearly 3,000 students annually.  The Meek Center offers a broad array of associate degree, short-term certificate, non-credit programs, and specialty programs in entrepreneurship.  During Ms. Toney's tenure, she founded the Institute for Youth Entrepreneurship program, a program designed to introduce high school students to the basics of entrepreneurship and provide them with the opportunity create new business ventures while they are in high school.  The program uses the National Foundation for Teaching Entrepreneurship curriculum and has had two of its participants selected among the Top 20 Youth Entrepreneurs of the Year and its primary Entrepreneurship instructor selected for the Leavy Award.  Moreover, in collaboration with the Miami Dade College, School of Business, Ms. Toney was the co-creator of the College's Entrepreneurship College Credit Certificate program, offering students from all majors the opportunity to learn critical entrepreneurship skills to further their vocational aspirations.
Ms. Toney's professional career includes responsible roles in public policy, higher education and entrepreneurship, public affairs, community development and state and local government.  Ms. Toney is chairs the Miami-Dade Chamber of Commerce's Youth Education and In-School Chamber Committee, and serves as a Board Member of the FIU-MDC Wesley Youth Ministry.  She is a Girl Scout Troop Mom, former PTA President at Miami Shores Elementary School and is a member of the Gamma Zeta Omega Chapter of Alpha Kappa Alpha Sorority and the Miami Biscayne Bay Chapter of The Links, Incorporated.
A native Miamian and a graduate of the University of Miami with a bachelor's degree in Communications and Marketing, Ms. Toney completed her graduate studies in public administration at Clark Atlanta University in Atlanta, Georgia.  Prior to returning to Miami in 2002, Ms. Toney served as Chief of Staff and Research Director for the Deputy Mayor for Children, Youth and Families in Washington, D.C.  
 Dr. Pandwe Gibson, PhD, Med, M.A.-Founder of EcoTech. Miami Fellow. Educator, Operations and Curriculum specialist, Business Development Consultant
 Sponsored by Code Fever, and Miami Dade College Carrie P. Meek Entrepreneurial Education Center 
When & Where

Miami Dade College Carrie Meeks Center for Entrepreneurship
6300 NW 7th Avenue
Miami , Florida 33150


Wednesday, July 23, 2014 from 6:00 PM to 8:00 PM (EDT)
Add to my calendar
Organizer
Felecia Hatcher @ 305-482-1832 Felecia@codefevermiami.com
Felecia Hatcher @ 305-482-1832 Felecia@codefevermiami.com
Creating an Inclusive Technology Ecosystem in Miami