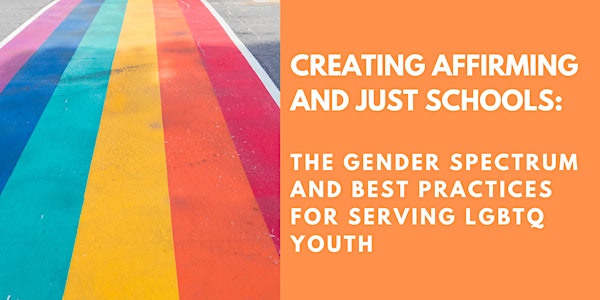 Creating Affirming and Just Schools for LGBTQ Youth
Explore how to improve curriculum, pedagogy & policies to better support the experience of LGBTQ students in schools at a 2-day workshop
When and where
Location
Hanahauoli School Professional Development Center 1922 Makiki St Honolulu, HI 96822
About this event
Creating Affirming and Just Schools: The Gender Spectrum and Best Practices for Serving LGBTQ Youth
Dates/Times:  November 7 & 8, 2022; 9:00 am to 3:30 pm both days
Location:  The Hanahau'oli School Professional Development Center, located in the Administration building of Hanahau'oli School, at 1922 Makiki Street, Honolulu, HI 96822
Cost: $350 per participant
"To feel safe and to feel seen. To feel valued and to feel capable of growth. These are simple concepts—basic pillars of student achievement and the results of good pedagogy. For many students who don't conform to narrow gender norms and LGBTQ students, these rights remain out of reach." - Learning For Justice
Students who don't conform to narrow gender norms and LGBTQ students deserve to have their identities affirmed by educators across grades, subject areas, and schools. This workshop will engage participants in thinking about how we can improve curriculum, pedagogy, and policies to better support the experience of LGBTQ students in our schools. Participants will gain a conceptual understanding of heteronormativity and cisnormativity before applying those concepts to their own contexts. They will learn about the gender spectrum in an effort to move beyond the pink/blue binary to support students who don't conform to narrow gender norms. They will be introduced to readings, participate in discussions, and review a number of powerful resources designed to support educators and school leaders on their journey to create just schools for LGBTQ youth. They will learn how the pervasiveness of heteronormativity and cisnormativity requires challenging them at all educational levels, from elementary school to graduate education. By naming and challenging systems of harm, they will explore how educators can work together to create teaching and learning spaces where LGBTQ students have their identities affirmed.
This workshop is designed for educators across the elementary, secondary, and collegial spectrum. Lunch will be provided on both days.
This program is a component of the Social Justice Education in Hawai'i project, and is generously subsidized by a gift from Jana and Howard Wolff in support of Hanahau'oli School's partnership with the University of Hawai'i at Mānoa College of Education, to advance social justice education in Hawai'i.
Objectives:
Participants will be able to:
- Describe the way teaching, curriculum, and policies can affirm or deny the identities of students who don't conform to narrow gender norms and LGBTQ students
- Explain contemporary issues facing LGBTQ students, families, and educators
- Understand the gender spectrum, heteronormativity, cisnormativity as theoretical concepts and frameworks
- Analyze their own institutions using heteronormativity and cisnormativity as frameworks
- Create a plan to address heteronormativity and cisnormativity within their own contexts
Agenda:
Day One
9:00-9:30 Introductions
9:30-10:30 Building Context
10:30-10:45 Break
10:45-12:00 Narratives on Schooling Experiences
12:00-1:00 Lunch
1:00-2:30 Understanding Heteronormativity and Cisnormativity as Concepts
2:30-2:45 Break
2:45-3:15 Addressing Heteronormativity and Cisnormativity in our Institutions
3:15-3:30 Reflections and Questions
Day Two
9:00-9:30 Reflections from Day One
9:30-11:00 Teaching Tolerance's Best Practices for Serving LGBTQ Students
11:00-11:15 Break
11:15-12:00 Critically Assessing Your Own Context
12:00-1:00 Lunch
1:00-2:30 Establishing a Plan to Combat Heteronormativity and Cisnormativity
2:30-2:45 Break
2:45-3:15 Reviewing Resources
3:15-3:30 Reflections and Questions
About the Facilitator:
Cody Miller is an assistant professor of English education at SUNY Brockport. He researches young adult literature, LGBTQ topics in education, and teachers as public advocates. Prior to that role, he taught high school English for seven years in Florida. He has led professional development sessions focusing on writing instruction and developing inclusive spaces for LGBTQ students. In 2016 he was awarded the Teaching Tolerance Award for Excellence in Teaching and in 2019 he was named one of the 30 Under 30 educators by the International Literacy Association. Presently, he serves as the chair of the LGBTQ Advisory Committee for the National Council of Teachers of English.
Health & Safety Measures:
- Masks and social distancing are now optional while visiting our campus.
- A brief online health questionnaire will be sent to participants on the morning of the event and must be completed and submitted prior to arriving on campus.