Creating a Positive Future - Online Vajrasattva Retreat with Gen Rinzin
A Vajrasattva retreat is a powerful method to overcome harmful habits and remove obstructions to peace and joy now and in the future.
About this Event
This retreat is being offered via live-stream . Those residing in the Pacific Northwest region of the US (WA, ID, MT & AK; outside this area? Find a Kadampa Center near you) may register, and upon registration will receive a link to enable them to watch and listen by phone, tablet or computer. 
We spend much of our time and energy making changes to the external world in an attempt to avoid problems and reduce discomfort. However, unhappiness and difficulties are not caused by external phenomena, but are the result of negative imprints inside our own mind.
The ancient practice of Buddha Vajrasattva is an effective method for removing negativity from the mind, using Tantric techniques. Engaging in this practice with sincerity removes all obstacles to unlocking our own inner peace and enjoyment in life. By relying upon Vajrasattva, we can become free from the mental poisons that cause unhappiness. All future experiences will be positive, and we will have a peaceful, pure mind that easily engages in spiritual development.
Everyone is welcome to enjoy this special opportunity.
Session schedule
Friday and Saturday session times
9:30-10:45am 
11:15am-12:30pm 
2:00-3:15pm 
3:45-5:00pm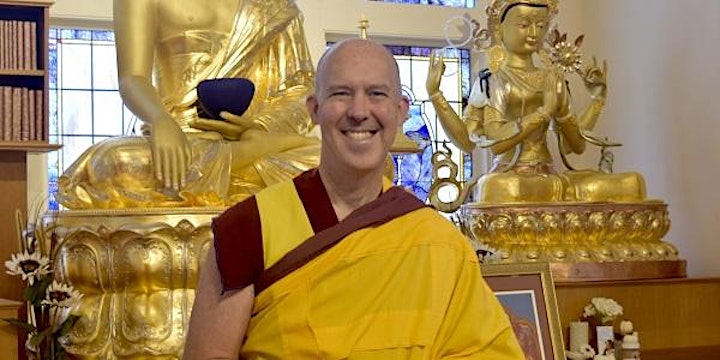 About the Teacher
Gen Kelsang Rinzin was ordained as a Buddhist monk in 2004 and taught at Heruka Buddhist Center in Fort Collins for 15 years. He was appointed Resident Teacher at Kadampa Meditation Center Washington in October 2020. Gen Rinzin communicates his love of Dharma with a down to earth approach and humor that helps others to appreciate and understand the teachings and put them into practice. His teachings are clear and practical so that the listener can readily integrate the methods for keeping a peaceful mind into their busy, modern life.
Cost
$60 ($35 for supporters)