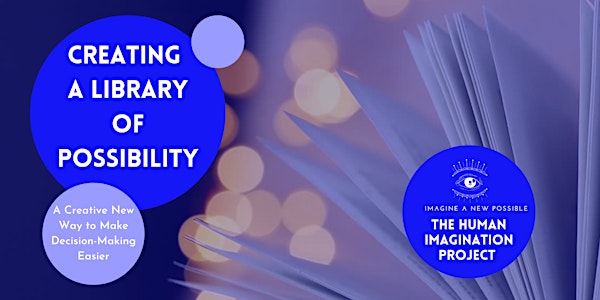 Creating A Library of Possibilities (A Creative Method for Decision-Making)
Have a decision to make and aren't sure what to do? Want to make the decision-making process a little less daunting, maybe even delightful?
About this event
Have a decision to make and aren't sure what to do? Want to make the decision-making process a little less daunting, maybe even delightful? Then check out our newest workshop: Creating A Library of Possibilities for an innovative, engaging, way to connect to the abundance of possibilities nested in the choices we make.
What Is Creating A Library of Possibilities?
Want a fun, imaginative, way to make decisions? Want a framework for decision-making created to help you look at decisions in terms of how you want to feel after the decision is made? Then this workshop is for you! This is also a great course for teams, partners, or couples looking to create some new possibilities.
Each day we make hundreds, if not thousands of decisions. Sometimes those decisions---like what to have for breakfast, can have seemingly little consequence. Then, there are those decision that feel big, and are often are big. These are the decisions that, going in, you know will have a big impact---like moving to another city, beginning or ending a relationship, or starting a new course of study.
Sometimes those decisions are easy ones to make, and other times, not so much. We call these daunting decisions.
What if, rather than looking at decisions in the binary way of right/wrong or best/worst, we explored how to make a decision that was aligned with how we would like to feel after the decision was made? What if we looked to our past as a source of information and inspiration that could point us in the direction of a desired future? What if we created stories about possible futures to use as a guide to help us make decisions in the present?
In this fun, engaging, interactive workshop, we will do all that and more! We will explore the Library of Possibilities Method of Decision Making or as we like to call it (because it's fun to say) LiPoMeDeMa.
Who is it For?
People who struggle with decision-making and want a creative framework to make decision making less painful and maybe even more interesting and fun.
People who are stuck. Whether you are facing a daunting decision or just want to inject some new possibilities into the daily decisions that you make.
People who make decisions quickly—and then spend weeks or months rethinking them.
Teams, partners, and couples looking for a new approach to making decisions.
During the workshop we will...
Create a quick inventory of "ambient" decisions (those decisions that are all around us) that you might make or could make in the near to distant future.
Reflect on past decisions that felt aligned with our desired outcome.
Then, we will use a simple storytelling framework to create stories of possible outcomes or futures that could spring from one of the decisions you will be making, or might make in the future.
Finally, we will bring it all together to talk about what insights were discovered and how to apply them.
After the workshop you will...
Be familiar with the Library of Possibilities Method of Decision Making
Know how to apply the method to current and future decisions
Have at least one story about one of your potential futures
Know how to use the LiPoMeDeMa to create more stories of possible futures
Have a handy worksheet so you can work through the process on your own.
Know before you go!
Our courses are scheduled in US Central Time. Eventbrite should automatically convert to your timezone but if you need to check, you can do so here.
The class will be hosted on Zoom. It will be interactive and we may use breakout rooms. Please plan to join with your camera on and from a location with limited background noise.
It will not be recorded.
Please bring a pen and paper. There will also be a worksheet sent out the the day before the class. Feel free to print this out if you are so inclined.
It will last approximately 75 minutes. We will take a short break at the mid-point.
Doors will close ten minutes after the workshop starts. This is because we work together to build a safe and comfortable space and that co-creative process happens incrementally. Also, because it is a short amount of time, we cover a lot of material quickly.
We intentionally limit the size of our workshops because for this type of content, we believe a small group setting is the most powerful way to deliver results to the participants. Thus, due to limited seating, refunds are not possible.
You don't need to be a writer, or storyteller, or have any experience doing either, this is a supportive process, so we will work together through all the steps.
About your guide
Jeanne Lambin is a coach, facilitator, storyteller, and artist who wholeheartedly believes in the power of improvisation and storytelling as powerful tools for personal, organizational, and social change. She is the founder of the Human Imagination Project a virtual space that exists to help people find, tell, imagine, and live better stories for themselves, their communities, and the world.
She uses applied improvisation, storytelling, and other creative interventions to create transformative experiences that help people reconnect to the magic of the ordinary, extraordinary, and everything in-between. She has performed, presented, and conducted workshops in the US, Europe, and Asia. Her workshops have been described as "amazing," "powerful," and "great fun." Jeanne is the creator of Eleven Minutes to Mars and the The Quest: Improvisation for Transformation. She is the former Vice President of the Applied Improvisation Network, the co-founder of Improv for Humanity, and a Certified Designing Your Life Coach. Recently, she started training to become a death doula and has drawn an owl just about every day since January 1, 2020. Jeanne has lived and worked in the US, Europe and Asia and has also worked as a tour guide, archaeologist, preservation planner, curator, tarot-card reader, busker, and college professor.
She holds a B.S. in Anthropology for Loyola University Chicago and an M.S. in Historic Preservation from the School of the Art Institute Chicago.