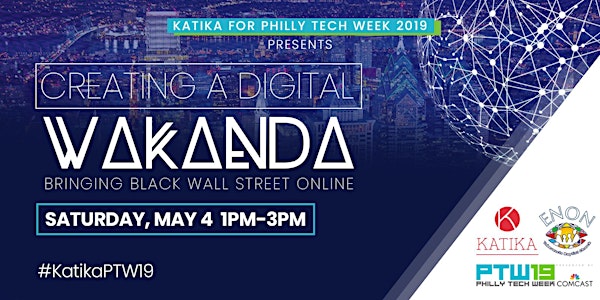 Creating a Digital Wakanda: Bringing Black Wall Street Online
When and where
Location
Enon Tabernacle West 230 W Coulter St Philadelphia, PA 19144
Description
Program Overview
Join us at the Creating a Digital Wakanda: Bringing Black Wall Street Online event powered by Katika. Many minorities businesses lack the resources to engage and use technology to benefit their businesses. At this event we will be discussing how to create a Black Silicon Valley here in the city of Philadelphia. What existing technologies are on the market to help black-owned businesses and which platforms are best suited for your specific type of business. The discussion will also include ways entrepreneurs of color can strategize and leverage technology to build their businesses and brands.
This event is for everyone, whether you're just a fan of technology, you're a startup, existing businesses, or people just want to know how to utilize technology more for everyday life or business. The 2 hour event will include a panel discussion of seasoned minority technology experts as well as one on one scheduled coaching sessions for entrepreneurs. The Katika mobile app and platform will be showcased and demonstrated as a resource for attendees to use for their businesses.
Event Moderator: Brandon T. Harden
Event Schedule
1:00-1:30 PM
Doing Business For Us and By Us: 101
Speakers: Alexandria Leggett, Eric Gilchrist, Juan Perez, Ola Omeronye
We all want to support each other's businesses, but how can this be done in impactful ways? This panel will share the ways that we can get cash into the hands of the Black community by elevating, educating, and hiring founders of color with the resources they have at their disposal.

1:30-2:00 PM
What technology platforms should I use for my business?
Speakers: Earl Knight, Andre Watkins, Kyle Harris, Tyrone Dixon
In this session, you'll learn about the different platform options that are available to you to use for your business and how they fit your company based on the industry that you're in. We will also discuss websites and apps during this session, weighing cost, time, and alternative solutions to creating an app product
2:00-2:30 PM
The future is S.T.E.A.M.
Speakers: Senzwa Ntshepe, Chris Talley , Adrian Fields, Xavier Hunter
In this climate of economic uncertainty, America is once again turning to innovation as the way to ensure a prosperous future. Yet innovation remains tightly coupled with Science, Technology, Engineering and Math – the STEM subjects. Art + Design are poised to transform our economy in the 21st century just as science and technology did in the last century.
We need to add Art + Design to the equation — to transform STEM into STEAM.
2:30-3:00 PM
Finding places to run your company and finding financing for your ideas
Speakers: Gary Johnson III, Rashaun Williams, Chelsey Lowe
Do you know what a incubator workspace is? Our panel will dive into what these spaces are and what they provide. We must evaluate many ways to fund the work of fearless, determined entrepreneurs. Especially when they are building social ventures that require alternative business models. In this talk our panel will share insights into funding options that go beyond bootstrapping and venture capital alone. We'll also explore equity crowdfunding.
Participating companies:
-The Connect PHL
-Tagged App
-Let's Live Philly
-Elivade
-CPT Consulting
-The Enterprise Center
-Black Mall Street
-East Coast Magazine
-Minority Business Development Agency
-Black Girls Code