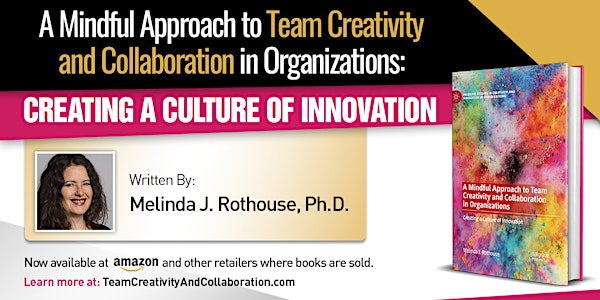 Creating a Culture of Innovation - Free Webinar
A Mindful Approach to Team Creativity and Collaboration in Organizations: Creating a Culture of Innovation
About this event
Based her new bestselling book A Mindful Approach to Team Creativity and Collaboration in Organizations: Creating a Culture of Innovation, Melinda Rothouse will present a free interactive webinar available to anyone interested in building more creative and effective teams in any type of organization. The webinar will include:
A deep dive into the 5-part model of team creativity and collaboration
Guidance on how to incorporate the most up-to-date research and best practices for organizational innovation
An overview of 3 practical exercises you can use immediately to foster greater creativity and collaboration in your teams
Your questions answered, and more!
The book and webinar explore how mindfulness and contemplative arts practices can help to foster team creativity and collaboration in organizational settings. Such a mindful approach to creativity offers new possibilities for facilitating organizational creativity and innovation. The book describes a model for team creativity and collaboration that emerged from Melinda's research into the perceived effects of a mindfulness and contemplative arts workshop process on team creativity and collaboration.
The model includes five elements:
⦿ Individual-Level Mindfulness
⦿ Trust and Authentic Communication
⦿ Team Cohesion and Collaboration
⦿ Creative Ideation and Insights
⦿ Leadership: Creating a Culture of Innovation
Combining theory and practice, it also presents a series of mindfulness and contemplative arts exercises to accompany the five levels of the model. This book is a useful resource for students, coaches, consultants, facilitators, and organizational leaders seeking to understand and foster creativity and collaboration in teams and organizations. From acclaimed publisher Palgrave Macmillan, it is the first book in a new series, Palgrave Studies in Creativity and Collaboration in Organizations, edited by Roni Reiter-Palmon, Ph.D.
Register now to reserve your spot!