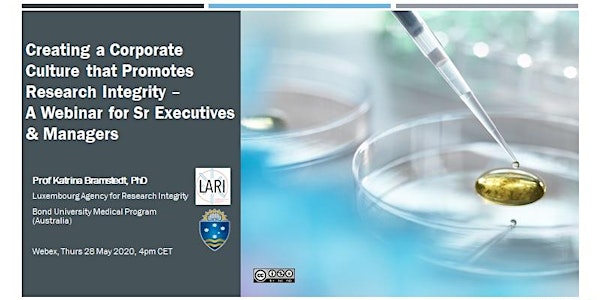 Creating a Corporate Culture that Promotes Research Integrity
Is your organization or dept embracing the concept of robust, high quality research or it is merely a race to the finish line?
About this event
Join me for guidance for creating a corporate culture that is not afraid of ethics, and strives for quality research -- not just quantity. A Code of Ethics and a glitzy website is not enough to motivate your team to produce ethical, robust research. How do you get there? What are the harms of low quality research? How do you create ethical DNA in your team? Attend this webinar and gain some advice from a researcher who is also an ethicist, with 18 years experience in industry, academia, and healthcare.
No password is needed to register -- skip that button, simply enter the meeting# (957 372 178) and press REGISTER (go to www.Webex.com)