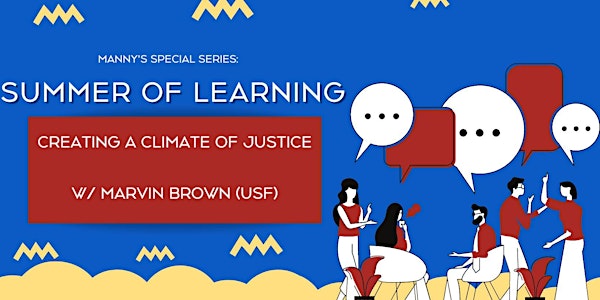 Creating A Climate of Justice w/ Marvin Brown
The United States' long history of injustice makes it difficult to take decisive action on climate change. What can be done to change this
When and where
Location
Manny's 3092 16th Street San Francisco, CA 94103
About this event
What can we do to ensure a more just future?
In his book, A Climate of Justice, Marvin Brown calls on us to become involved in transforming our social climate from a climate of injustice to a climate of justice. He proposes that such work requires that we use a more comprehensive interpretive framework than the triadic formula of Western thought; tell stories that include those that suffered the misery caused by settler colonialism and white supremacy; and create a civic space grounded in civilian rights for provision and protection, rather than military or commercial power.
Brown argues that the gathering of civilians—the vulnerable and unprotected—in a civic space gives us all the possibility for creating a climate of justice—a necessary condition to develop a sustainable habitat for us and for future generations.
Are you a current student? Email the word "caffeine" and the title of this event to angelina@welcometomannys.com for a complementary ticket
Manny's never turns away anyone for lack of funds. To receive a complementary ticket just email the word "grapefruit" and the title of this event to darian@welcometomannys.com.
About Marvin Brown, Ph.D.:
Marvin Brown has been teaching, consulting, and writing in the areas of business and social ethics for 40 years, always exploring the necessary conditions for creative conversation on critical issues. Alongside his teaching at the University of San Francisco and other Bay Area universities, Brown has served as an ethics consultant for various businesses and has been invited to give lectures and workshops in the United States, Germany, Poland, Argentine, Venezuela, Norway, Canada, and China. He has also presented numerous times at the annual meetings of the Association for Practical and Professional Ethics, the Society of Business Ethics, and the International Society of Business, Economics, and Ethics.
Brown's writings have evolved from a focus on the work environment (Working Ethics, 1990 and The Ethical Process, 1993), to the organization in society (Corporate Integrity, 2005), to the social economy (Civilizing the Economy, 2010), and more recently, to the social context of environmentalism (A Climate of Justice). His books, and multiple essays, have been translated into Spanish, Portuguese, German, Italian, Korean, and Chinese.
In 2019 Marvin Brown received a Lifetime Service Award from the Philosophy Department at the University of San Francisco. He has also received a Faculty Service Award from USF and an Alumni Achievement Award from Nebraska Wesleyan University.
Brown has a Ph.D. in Theology and Rhetoric from Graduate Theological Union in Berkeley, California, a M.D. in Practical Theology from Union Theological Seminary in New York, and a B.A in Religion and Philosophy from Nebraska Wesleyan University.