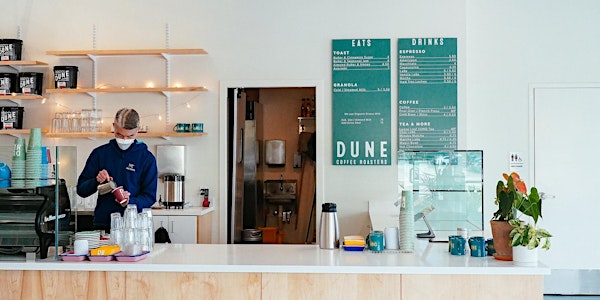 Creating 805: Dune Coffee Roasters, Julia Mayer
Celebrating creative entrepreneurship on California's Central Coast.
When and where
Location
THE SANDBOX Goleta 69 Santa Felicia Drive Goleta, CA 93117
About this event
Join Creating 805 and Julia Mayer, Co-Owner and Founder of Dune Coffee Roasters, for a conversation around creativity and entrepreneurship.
The Creating 805 speaker series takes place on second Fridays at THE SANDBOX Goleta, and third Fridays at THE SANDBOX Paso Robles. Each event highlights the tales, insights, and lessons from a Central Coast entrepreneur's small business journey. Events are donation based and open to the public.
About Dune Coffee Roasters
Dune Coffee Roasters was founded in 2009 in Santa Barbara. They have four locations in Santa Barbara County, and a full scale coffee roastery located in downtown Santa Barbara. Dune has worked tirelessly over the last decade to develop long lasting partnerships and friendships within the global coffee community. For Dune, sustainability means that everyone involved in their coffee earns a good living, starting with the coffee producers. They believe that coffee should be accessible, approachable, and fun.
About Julia
Julia Mayer is the Co-Owner and Founder of Dune Coffee Roasters in Santa Barbara. Coffee shops are the connective tissue in any community, and nurturing that is Julia's full time job. Finding ways to do better and be better as a company and as a community member is her mission. She is a mom to two children, and she works hard to show them how radical community care can be.
Event Timeline
8:30-9am | Connect + collaborate with local business owners, entrepreneurs, and creatives. Coffee by Dune Coffee Roasters.
9-10am | Live interview, audience Q&A.
COVID-19 Safety
Masks will be required for unvaccinated attendees and encouraged for vaccinated attendees. Disposable masks will be available at the check in table upon arrival.
This event would not be possible without the support of our sponsors: THE SANDBOX Goleta, Little Movie Company, Sharon Sevgi Ko, Dune Coffee Roasters, G.K.P.