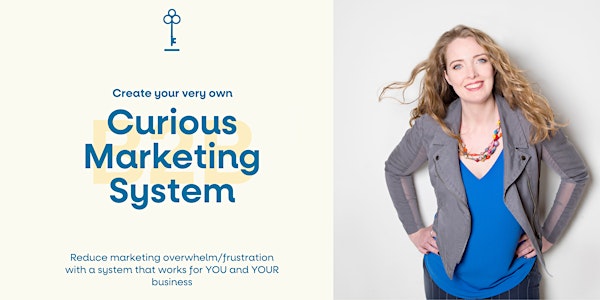 Create your very own Curious Marketing System
Remove marketing overwhelm, confusion and/or frustration with a Curious Marketing System that works for YOU and YOUR business.
Refund Policy
Contact the organizer to request a refund.
Eventbrite's fee is nonrefundable.
About this event
Does any of this sound familiar?
Your marketing looks like a jigsaw puzzle without the box and you're not quite sure how all the pieces fit together
You're doing lots of things but have no plan or strategy behind it and would like to get better results
You wish you had something on one page that you can keep referring back to that will give you the confidence to know you're working on the right things and it's leading to the results you desire (i/e leads, sales and amazing clients)
This workshop is aimed at business owners, consultants and 'one person marketing teams' that want to market to other businesses (B2B)
Back in the days of me thinking that all marketing was evil and making it up as I went along I used to get really frustrated because I didn't have a system or process behind what I was doing.
One day I applied some of the training from my engineering degree with my interest in behavioural science and designed a system that I could work with.
Over the years it's evolved into a very effective Curious Client Adventure and up until now It's just been something I've worked on with my one-to-one clients.
As a bonus and to give you extra support to help you implement your system and start building some marketing momentum you'll also get one months complimentary membership to The Curious Marketing Club. This will also give you access to a community of other business owners and 'one person' marketing teams that are in the same boat as you.
Let me help you remove the stress and overwhelm that comes with marketing and give you a system you can work with.
How it works:
On the day of the workshop we'll get together on Zoom and in a virtual environment which is the next best thing to being in a room and sticking post-its to a wall. The workshop will be interactive and I'll guide you through the framework and help you map out your Curious Marketing System.
This is NOT a webinar or a teaching class - this is an interactive workshop where you'll map out your system DURING the session so that you have something you can print off and work with afterwards.
What you'll get:
- a one-page PDF that visualises your Curious Marketing System after the workshop
- confidence that the marketing activities you're focussing on will lead somewhere
- Clarity around the tools, assets and resources you already have in your business and can be used in your marketing so you're not wasting anything and you're squeezing as much out of what you're doing
- 1 months membership to The Curious Marketing Club