Description
Join Shanah McCrary, LE and Maria Carbonell, AHP for an evening of Sacred Skincare Rituals for Fall.
In this hands-on class, we'll explore Eastern methodologies of Ayurveda and Traditional Chinese Medicine with Seasonal Beauty Rituals.
With the change of seasons from hot summer to dry fall should come a subtle change in your skincare regimen to give your skin the extra nourishment and immune boost it needs through Winter.
The new moon is a perfect time to begin a new self-care ritual if you're not already incorporating them yet or wish to learn how to do so as an act of self-love. Rituals are not just habits or routines, they are intentional practices that connect you with your divine feminine or your heart's desires.
We will come together in a sacred circle with gentle, fluid movement and create our own custom blend facial oil based on our specific skin constitutions.
Feel free to wear clothing that is easy to move freely and sit comfortably in, flowy pajama pants are definitely welcome. We will end our evening with an Ayurvedic 'abhyanga' warm oil self-massage, rebalance our chakra's with a vibra-floor sound meditation and enjoy herbal tea during our closing community share.

---
Directions:
Sol Healing and Wellness Center is located in north Austin nestled between I35 and Mopac.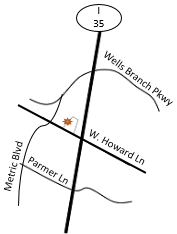 From I35, turn west on Howard Lane. Turn right on Ann Place, just prior to Metric.
From Mopac, turn east on Scofield Ridge Dr. Make a u-turn after Metric and turn right on Ann Place.
Parking:
The Sol Studio is located in the front left side of Sol Healing and Wellness Center. There is ample parking behind the Sol property, please follow the driveway to the back of the property.