Description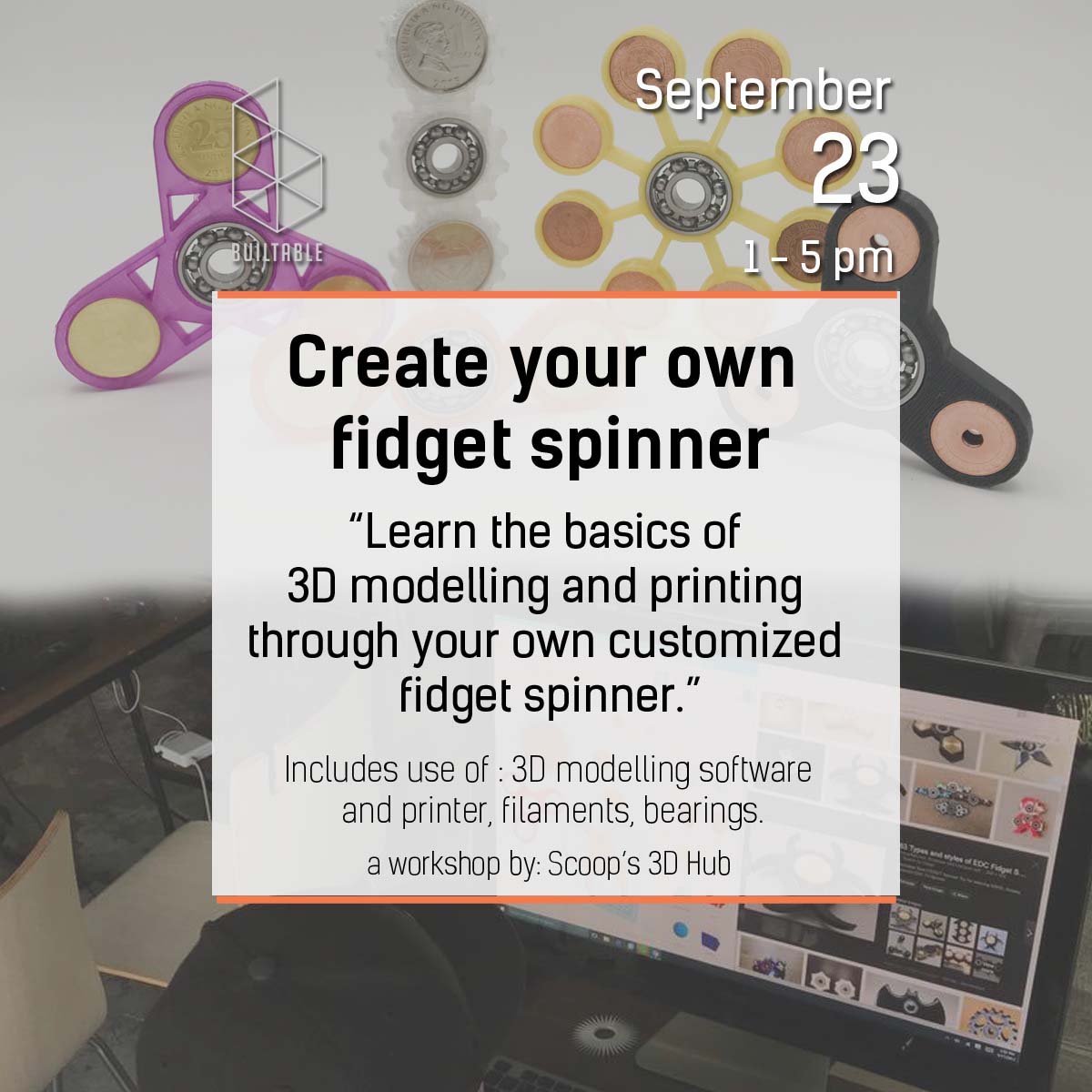 Create your own 3D printed fidget spinner
Want to create a fidget spinner? Better yet, design and print it all in one day?
This 4-hour workshop is a great hands-on experience for anyone looking to find a quick and
easy way to learn 3D modeling and printing. Participants will design their own fidget​ ​spinner
with TinkerCad, an online CAD software, and print using our professional desktop 3D printer,
Tinkerine's DittoPro.
No​ ​prior​ ​3D​ ​modelling​ ​and​ ​printing​ ​experience​ ​needed.​ By the end of the workshop, you will
gain a working knowledge of 3D modeling and printing. Plus, take home your 3D printed object.
Participants need to bring their own laptop and mouse with Firefox or Chrome installed. All
materials are included in the registration fee. Each of the participants is provided one bearing for
their spinner.
COMPANY PROFILE:
Scoop's Hub 3D is an online 3D print shop. They are here to help you print what you need for a great price! Just send to them your STL or OBJ files for quotation.
EVENT DATE:
September 23, 2017
1:00 PM - 6:00 PM
EVENT FEE:
Early Bird - Php 1,290 (Until September 16,2017)
Normal Rate - Php 1,590 (Until September 23,2017)
THINGS TO BRING:
Laptop, mouse and your fidget spinner design idea!
PROGRAM:
1:00 pm Registration Time
1:30 pm Workshop Start (Ice Breaker)
2:00 pm TinkerCad Registration and Workshop
4:00 pm 3D printing
6:00 Closing Remarks + Survey
HOW TO RESERVE
1.Confirm slot via SMS, Email, Eventbrite ticket or MeetupPH
CONTACT PERSON
Rizza
+63 917 7270288
EMAIL
connect@builtable.co
2.provide your full payment through bank deposit
Metrobank Acct:
CTT.Synergy Corporation
Metrobank Acct No.
0 007 881 000 616
or
BDO Acct:
CTT.Synery Corporation
BDO Acct No.
000668083218
or
paypal
3.send us a proof of your payment (Scanned/Picture of Deposit Slip or payment) and shoe size