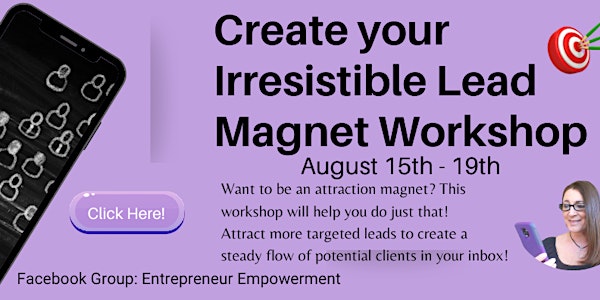 Create Your Irresistible Lead Magnet
Join my FREE 5-day Workshop and start getting leads on autopilot! This is a 5-day workshop occurring August 15-19 @1PM ET daily. USE LINK
About this event
YOU MUST REGISTER USING THE LINK IN THE DESCRIPTION!!!
Lead magnets allow you to attract potential clients to your business by providing them with something they want in exchange for their email addresses.
An IRRESISTIBLE lead magnet will attract the RIGHT clients who are ready to buy what you offer IF they are created correctly.
In this free workshop you will:
✅Learn how to create an offer they want
✅Learn 7 key elements to an irresistible lead magnet
✅Generate ideas for a suite of lead magnets for different types of content consumption styles
✅Understand how to market to their WANT, which is the key to them taking action
✅Create your own signature offer in our implementation sessions so that you leave with a finished product!
This workshop is designed to give you the foundation to create lead magnets that lead them to buy your signature offer.
We have two implementation sessions so that you can get feedback and support to create your lead magnet.
So, what are you waiting for? This is your opportunity to attract leads on autopilot!
Register today:
https://bit.ly/leadmagnetAug2022