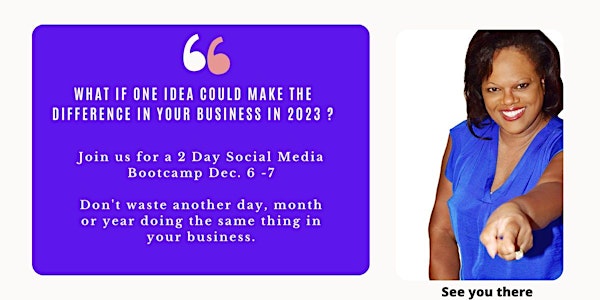 Create Your Best Marketing Plan for 2023- 2 Day Social Media Bootcamp
Where do you want to be with your business in 3, 6, 9 or 12 months? Transform your business in just 30 Days
About this event
What if you are just one idea from taking your business to the next level? What do you want to do differently in your life and business in 2023? In just 2 days, you can have your signature program created, know how to build an engaged list and have a social media marketing plan completed and ready for 2023.
It is not about the low cost of the bootcamp, it is about you living the life you have been dreaming of and having a successful and profitable business. With 4 awesome coaches giving you training worth thousands, for just a fraction of the cost, learn what platform is right for your business, how to maximize the content and walk away with 90 days of content for your online marketing.
What is the line up for the 2 Day Bootcamp?
How to create a successful brand and a profitable business
How to use Instagram to grow your business
How to become a six figure coach
How to Use Pinterest to Get Found online
How to Use LinkedIn to get booked on stages and podcasts
How to grow your email list
How to create your signature program and create multiple streams of income
Can't attend all sessions? Don't worry, there are replays. So, what are you waiting for? Register for the 2 day boot camp and get ready to transform your business and your life. It is time for you to live life on your own terms. Comes with a workbook and a surprise extra zoom session on how to add video to your marketing.
Learn more about the bootcamp. See the 2 day agenda.Register at marshalynnhudson.com
Due to the nature of the online event, there are no refunds.