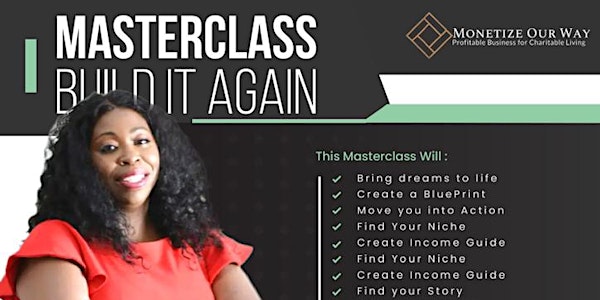 CREATE INCOME ONLINE- FREE MASTERCLASS
Build It Again- Create Income Online- Stress Free and Free Now! (Online Only)
About this event
Are You Stuck? Stress, Worry, NO Finances but you have Vision and Purpose?
A good product but no audience, a few views, tired of all the scams online!
Tired of promises with no results, Just Tired of building with no income or capital?
HI, I'm Annie and I can help you create income online fast and stress free. It took me over 8 years to figure this out but I'm finally free. When I discovered these steps, it was after 8 long years of struggling, but as it would be I finally found my breakthrough. I want to get as many women as possible and men to this powerful unlocking.
I'm not sure how long you've been working your business or online business but either way, your next steps and the keys to unlocking automated income are inside this quick report!
or Go To: Facebook.com/groups/monetizeourway
Plus, this gives you the chance to make sure you have the right strategy and the technology needed to build automated income streams successfully.
After all, it takes time and energy to build a business online…
So, let's build you a business that generates income on autopilot after you get it all set up.
Why am I offering this for free?
because when I see my clients, students, peers succeed it motivates me and inspires me to create more of these super helpful trainings.
I sincerely thank you for your support and I look forward to helping you with more great free trainings in the future!
Bonus get my latest GUIDE TO CREATE INCOME ONLINE FREE DOWNLOAD
Go to my website