Create for the Kingdom - Hackathon, Film Challenge, and Game Jam - Austin 2...
Description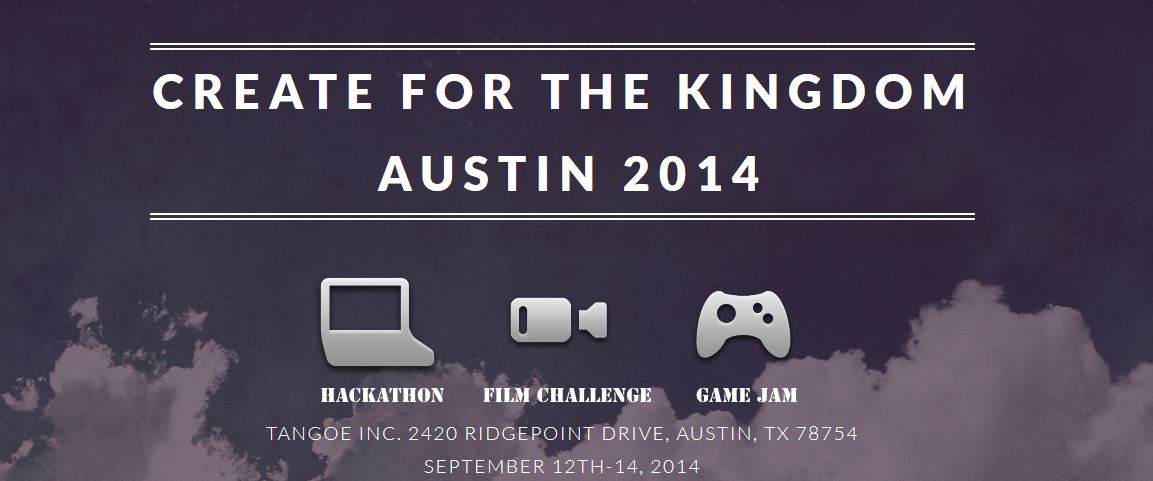 a special Code for the Kingdom

Ideate. Create. Impact.
It's your creation. It's your calling!!!
September 12th-14th, 2014
Join us for at Create for the Kingdom in Austin, TX where you will spend the weekend creating technology, short films, and games that matter with like-minded people. The weekend event will focus the passion, purpose, and creativity of our entrepreneurial and creative communities in supporting the good work of transforming lives.
All projects and creations will be yours to do what you want with. We are here to provide a space for community to come together and make something bigger than any one individual.
Create for the Kingdom is a Christian-based Hackathon to change the world. This is a special Code for the Kingdom event, expanding the weekend to include Filmmakers and Game Developers along with the traditional Hackathon-ers. During this weekend there will be a Game Jam, a Film Challenge and a tech Hackathon, each with prizes (check them out here). We encourage collaboration between all of the disciplines for the purposes of building a long-term ecosystem where global issues are tackled from a Creative Christian perspective.

Developers, designers, entrepreneurs, filmmakers, digital artists, and creative individuals from all disciplines, investors, non-profits, and churches, will design and build new applications to tackle from a Christian perspective the challenges confronting our society, our communities and our lives.

The weekend will steer participants toward the development of apps/sites, films, and games with thousands of dollars awarded. We're looking for creations to teach and enable, in children and adults, greater spiritual justice; teach and increase holistic generosity; ask why our Churches still lack something effective ways to bring people together and inspire future leaders - and change that. Create to help rescue victims of human trafficking, help provide for the homeless, alleviate global hunger, or bring hope to the fatherless. Create to help bring spiritual well-being to children and adults. And much more.
Marketplace and ministry leaders, angel investors, and hi-tech accelerators and incubators will be at the event to meet and mentor you. Build relationships that might go beyond the weekend, to help you continue working on your projects and build partnerships to bring your ideas to implementation.
For more information visit our full Event Page. Check out our Rules, Schedule, and Prizes.
In case you are already interested or working on a project, don't change course. You can bring an existing project as long as you expand it during the event to tackle the Transforming Lives theme, challenges or other projects.
Feel free to post suggested projects at the Project Ideas section of the community, but keep in mind your projects must be aligned with the Transforming Lives theme of this event..
Please come prepared to pitch your projects at the event so that you can sign up teams to work on them.
The venue will remain open non-stop during the entire 48 hours. Participants are encouraged to utilize the facility and take advantage of the meals and healthy hacker activities day and night if desired.
Come join us!
Organizer of Create for the Kingdom - Hackathon, Film Challenge, and Game Jam - Austin 2014
Leadership Network was created in 1984 from the close collaboration between Bob Buford and Peter Drucker to foster innovative movements among churches that active the broader church for greater impact.
Believing that meaningful conversations and connections can change the world, Leadership Network seeks to help leaders of innovation navigate the future by exploring new ideas together to find application to their own unique contexts. Through collaborative meetings and processes these leaders map future possibilities and challenge one another to action that leads to results. 
Through our gatherings, publications, books and online experiences we share the learnings and inspiration to others and surface new conversations worthy of exploration. 
Leadership Network is a Dallas, Texas, based 501(c)(3) nonprofit organization. Its global ministry includes programs around the world.