Event Information
Refund policy
Contact the organizer to request a refund.
Eventbrite's fee is nonrefundable.
Join us for Week 9 of Create + Connect: JAC's Virtual Workshop Series
About this event
***This workshop is being offered as a pay what you can event, with a suggested donation of $20.00. We highly encourage donations for this particular event, as it will help sustain Kenny's art and freedom campaign.
Kenneth Reams is an artist, social justice activist, and the founder of Who Decides, Inc., a non-profit that aims to raise awareness through the arts of the racial, ethical, and socio-economic issues intertwined with the history and practice of capital punishment in America. This workshop will include an hour long discussion of his experiences, as well as a Q&A at the end.
Mr. Reams is a native of Pine Bluff, Arkansas, one of the most impoverished cities in America. Growing up in poverty, struggling with hunger, abuse, and a lack of opportunity, criminality became an increasingly prominent, unfortunate facet of Mr. Reams' life. Following a botched robbery at a drive-thru ATM, where his friend shot and killed a man in the heat of the struggle, Mr. Reams was convicted of capital murder and sentenced to death, becoming the then-youngest inmate on Arkansas' death row, despite not having pulled the trigger.
Facing execution for a murder he did not commit, Mr. Reams refused to allow his spirit to be broken, deciding to hone his life-long artistic skills and vision in order to share his story and perspective with the world. His art has been donated to several institutions, published in books; such as "Marking Time" - released in 2020, and featured in exhibits from New York to Norway, Little Rock to London, and many locations in between. Through a variety of media, including paintings, sculpture, and poetry, Mr. Reams expresses a uniquely visceral vision of the inhumane, arbitrary nature of capital punishment and the exploitative character of the prison-industrial complex.
Simultaneous with his rise in profile as an artist, Mr. Reams has become a prolific public speaker, engaging and enlightening an increasingly global audience. His past speaking engagements include talks at the International Film Festival on Human Rights in Switzerland, Stanford University, Bethany College, Princeton University, Columbia University, UNC Chapel Hill, St. Francis College in New York, Yale University, Geneva University - in Switzerland, and the University of Miami School of Law.
With the release of Free Men, a documentary about Mr. Reams' life, legal battles, and art, his story has taken on a new dimension and medium. As the film has made its way through the circuit of international film festivals, Mr. Reams has shared his thoughts about the film and the future with enraptured audiences in Beirut, France, Argentina, Islamabad, Great Britain, Tokyo, Belgium, and Vienna.
Despite the physical limitations facing Mr. Reams, having spent the past twenty-seven years of his life in the solitary confines of a six-foot by nine-foot cell, Mr. Reams continues to make a lasting impact on all who hear his harrowing yet inspiring story, prompting a widening audience to evaluate their own conceptions of justice and morality.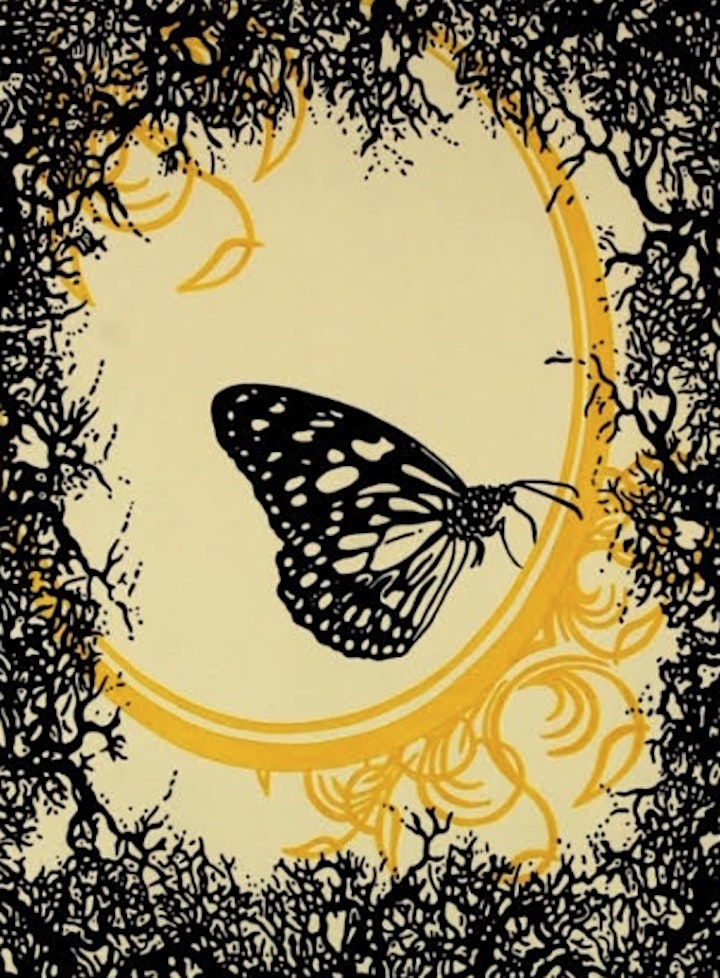 Main event image art by Kenneth Reams
Butterfly art by W.B. Livingston
Date and time
Location
Refund policy
Contact the organizer to request a refund.
Eventbrite's fee is nonrefundable.