Description
Engagement is often seen as our emotional attachment to an endeavor - the degree of ownership, accountability and responsibility we take at (and outside of) work. We yearn for lives filled with motivation, passion and a commitment to excellence. We need to feel inspired - to be fully ENGAGED!
This one-of-a-kind workshop (normally over $100) will utilize Nation Leadership's Engagement Index assessment to identify your personal engagement levels across 12 dynamic values-based performance drivers. Each participant will receive a detailed custom report, personal scorecards and actionable development recommendations. We will help to guide real improvements in work and life engagement, fostering a sense of personal and professional balance and harmony.
The Engagement Index has been used in virtually every industry and across hundreds of organizations, including Yale, The Mayo Clinic, Memorial Hospital Systems, Harvard Business School, Microsoft, Google, Blue Cross Blue Shield, and The Citadel. It remains one of the most logically-based, scientific, and mathematically-sound assessment tools in the world.
Perfect for CxOs, Executive Leaders, HR Owners, Recruiting Managers, High-Velocity Young Leaders, Students, School & Church Staff, Start-ups, and Community/Service Leaders.
NOTE: Participants will complete a short online assessment prior to the event, and personalized score reports will be sent privately in advance of the workshop. During the session, we will discuss The Engagement Index model and concepts, group summaries & trends, and address questions.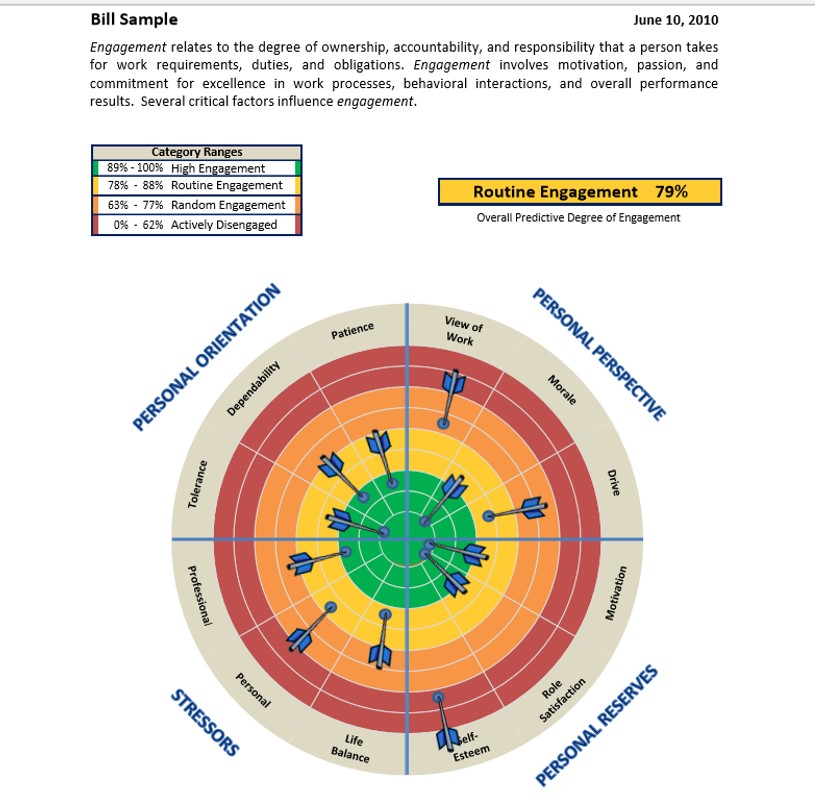 FAQs
Is lunch included in the registration fee?
Yes, lunch will be provided, including vegetarian options.
How do I take The Engagement Index, after I register?
Your assessment will be delivered via email after payment is confirmed. The email will contain a one-time use access code and link to the assessment, as well as an overview and instructions on how to complete the exercise.
Please complete the assessment at least 2 days prior to the workshop. Your confidential score reports will be distributed via email 24-36 hours prior to the workshop.
Are there ID or minimum age requirements to enter the event?
The most impactful results are yielded from individuals ages 15 and up. The Engagement Index has been used effectively across a wide population, from high school students to retirees in their "third or fourth acts."
Please bring a printed ticket or online copy to the workshop with your personalized report. We protect personal data, showing utmost respect for workshop participant and assessment privacy. Personal information will not be shared with outside parties nor others during the workshop.
What can I bring into the event?
Please bring your printed score sheet, detailed personalize report and any questions you may have. Optional private 1:1 consultations will be available for booking after the workshop.
How can I contact the organizer with any questions?
Please contact info@nationleadership.com with questions.
What's the refund policy?
Refunds are available, less administration costs, up to 72 hours prior to the workshop. After this period, tickets are non-refundable, although it may be possible to transfer to another party or to a future event. Refunds are not possible after the assessment has been completed.
Is my registration fee or ticket transferrable?
Registrations are transferrable to other parties, up to 72 hours prior to the workshop. To transfer registration, advance notice is required via email (so transferee may complete the assessment prior to the workshop). Please send transfer requests to info@nationleadership.com.
Tickets may be transferred to a future event (at face value, less administrative costs), as long as personalized assessment reports have not been completed by the original workshop registrant. Please confirm availability with the organizer, if transfer is required within 72 hours of the workshop.
Transfers are not available, once the assessment has been completed.