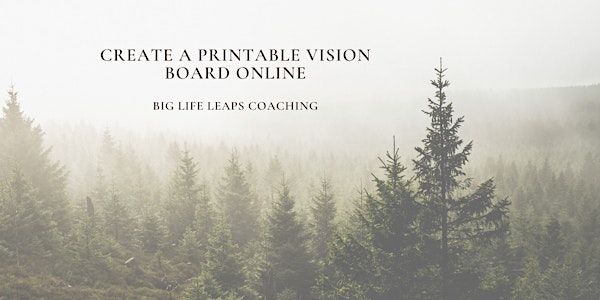 Create a Printable Vision Board Online
Have you always wanted to create a vision board, but don't know where to start? Or is it time to create a new one without all the mess?
Refund Policy
Contact the organizer to request a refund.
Eventbrite's fee is nonrefundable.
About this event
Making your first vision board can feel overwhelming if you have never created one before. Gathering up magazines, catalogs, photos, stickers, ribbons, glitter, scissors, glue, whatever else.... and what do you even put on it?
Perhaps you have made one before and would just like to update your visions for your future self, but have the same resistance around mess (it's the glitter, isn't it?). Or maybe you just want to create something smaller that you can put near your desk or your night table or somewhere that doesn't take up as much space as the giant posterboard you made before.
Whether this is your first or your 50th vision board, creating a board to connect to future you and remind yourself visually of what and why you want to create in your life will help you stay on task every day. It will remind you to take inspired actions to get there.
In this workshop, you will learn how to make a vision board online using a free tool (Canva!). You can print your vision board out, make it your computer wallpaper, or do anything else you want with your digital or physical image.
The vision board workshop includes:
A guided meditation to connect to a future version of yourself
Understanding why vision boards help you achieve goals
Mindset tips for releasing shame or guilt about wanting nice things
Deciding what to include on your board
How to find the images you want and incorporate your own photos
Advice on how to put your vision board to work for you - so you can achieve your vision!
All in a fun, online format that will inspire you to take action every day to get to your goals and manifest what you want in life.
What will be on your board?