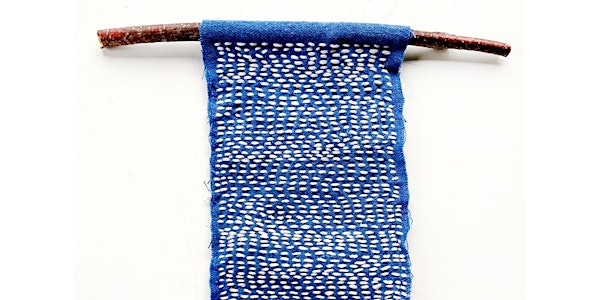 Create a Contemplation Cloth
Learn to create a beautiful contemplative piece of textile art using fabric, thread and slow stitching techniques with artist, Emma Freeman
Refund Policy
Contact the organizer to request a refund.
Eventbrite's fee is nonrefundable.
About this event
Thursdays, January 13th and 20th from 6:30-8pm
Learn to create a beautiful contemplative piece of textile art using fabric, thread and slow stitching techniques with artist, Emma Freeman, in partnership with Dharma River. We will explore how stitching can be a mindfulness practice, helping us quiet the mind and release thoughts and emotions gently through the repetitive process of moving the needle back and forth. We will build our pieces one stitch at a time by responding in the moment to what we see and sense rather than following a set plan. We'll discuss the rich history of hand stitching and textiles around the world while we work. At the end of the class, we will attach our finished pieces to gathered sticks to invite the energy of nature into process and allow the work to be easily hung on a wall. No previous stitching experience is necessary.
Materials needed:
-Some scraps of fabric you enjoy the colors and textures of in different sizes. Repurposed material works well for this.
-Thread you enjoy. Emma loves Japanese sashiko and kogin embroidery thread, but you can use any you like.
-A sharp needle. Emma loves sashiko needles because they are very sharp and go through any fabric easily, but you can use any you like.
-Scissors
-A notebook and pen
Date and Details:
Thursdays, January 13th and 20th from 6:30-8pm
* This is a 2-part course. When you register, only select one of the dates (for a total of $40) and you will be enrolled in both classes. After registration, additional course information and Zoom class link will be emailed to you. Thank you~
About the instructor- Emma Freeman is a contemplative mixed media artist, poet and teacher. She works across different mediums including textiles, hand stitching, weaving with nature, collage, book making, asemic writing and poetry. Her practice is slow, deep and meditative. Emma is passionate about sharing the healing powers of creativity through classes, gatherings and the podcast she hosts, "Reflections from My Art Table." She is inspired by Buddhist teachings, deep ecology, and spiritual poetry which all feed and influence her art making. Emma is a highly sensitive person, queer, and sober. She has a degree in Philosophy and Studio Art from Alverno College in Milwaukee, Wisconsin. Emma lives in Oconomowoc, Wisconsin with her two rescue beagles. You can learn more about her at www.emmafreemanart.com.
About Dharma River/Manitou Center- As individuals and as an organization we support holistic development of mind, body and spirit, to build a compassionate, healthy and safe world. We work in community and act by creating generative spaces that support the interconnectedness of life and the inherent humanity of our shared existence. It's big work, but work we believe makes for a better, more compassionate, healthy, and engaged world.