Description
Panel
Viernes 27 de Julio
13:00 - 14:00
Panelistas: Laura Irene Arvizu,

Pedro González Kühn y Vanessa Pérez.
En este panel se revisará a través de casos de estudio, distintos formatos de documentales y sus ventanas para la explotación comercial. Si la creación, producción y desarrollo de cine documental te interesa, escucha a nuestros panelistas y su sabiduría combinada a través de su extensa experiencia profesional en el tema.
➡ Consulta todo el programa en http://fotofilmtijuana.mx y sigue nuestras redes para estar al tanto de todo nuestro contenido exclusivo!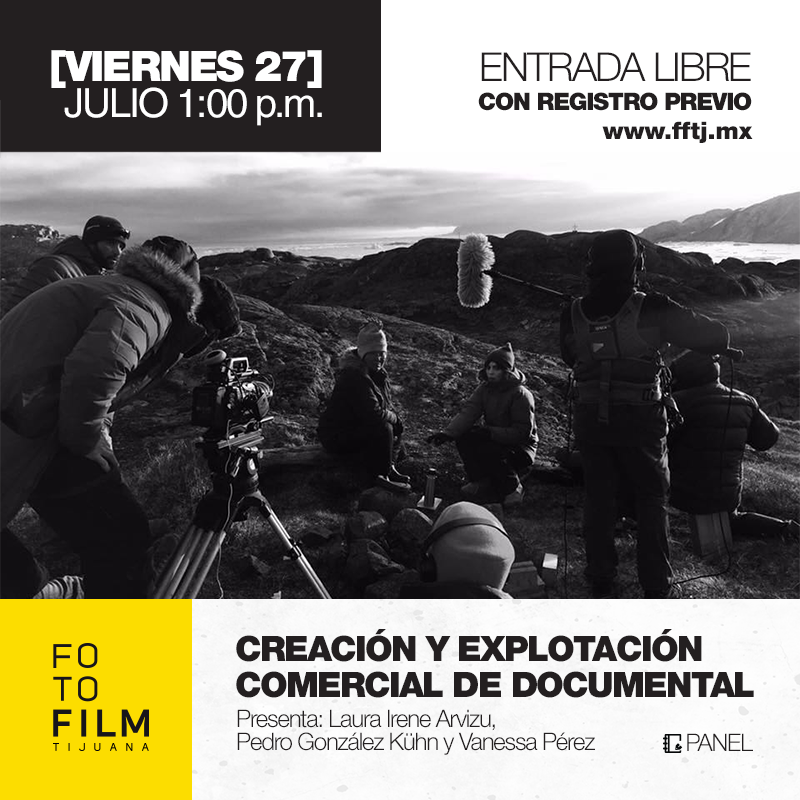 Sobre los Panelistas:
Laura estudió Ciencias de la Comunicación en el ITESM campus Monterrey, y cuenta con estudios especializados y de posgrado orientados a la producción cinematográfica. Inició su carrera en dirección de documentales, obteniendo más de 30 selecciones internacionales para su corto "Crosses/Cruces", orientando al poco tiempo su labor a la producción. En 2010 produce el largometraje documental "La Horda" de Luis G. Ramos, el cual recibió una mención especial del jurado en el IV Monterrey IFF además de participar en el 2012 el corto de ficción "Contra el Mar" de Richard Parkin, producción finalista al Oscar Estudiantil en su trigesimonovena edición. A lo largo de su carrera, ha prestado servicios de producción a múltiples proyectos audiovisuales, incluyendo más de una decena de largometrajes entre cuáles destacan: "Little Boy", "Volando Bajo", "Chappaquiddick", "Morenita: el Escándalo", "The Book of Life", entre otros.
Desde hace más de una década combina su trabajo profesional con la docencia universitaria, impartiendo clases y cursos relacionados a los campos de la comunicación y cinematografía además de haber conformado parte del comité selector del San Diego Latino Film Festival.
Pedro nació en Madrid el 10 de marzo de 1986, realizando sus estudios escolares en el Liceo Francés de esta ciudad y estudió la carrera de Comunicación Audiovisual junto con un Máster en cinematografía que finalizó en el año 2009.
Empezó su carrera como Ayudante de Dirección donde trabajó en más de diez películas españolas e internacionales. Fundó la productora Sintagma Films S.L. en la que trabaja como director y productor llevando a cabo diferentes proyectos de cine y publicidad. Su debut como director fué el cortometraje "La Gran Desilusión" producido por Sintagma Films, el cuál le valió una nominación a Mejor Cortometraje Documental en los Premios Goya 2014 así como más de 50 selecciones internacionales. Posteriormente produjo "Frágil Equilibrio", dirigido por Guillermo García López, ganador del Premio Goya a Mejor Documental en el 2017. Actualmente radica en Estados Unidos donde continua con su carrera dirigiendo publicidad y preparando su ópera prima de ficción.
Vanessa comenzó su carrera trabajando en el area de manejo de talentos de ICM. Cuando dejó ICM, con el objetivo era crear contenido multicultural con resonancia a nivel global encontrando esta oportunidad en CANANA Films, compañía productora de Pablo Cruz, Diego Luna y Gael Garcia Bernal. Fue la ejecutiva a cargo de la producción de "Miss Bala", dirigida por Gerardo Naranjo, la cual hizo olas en Festival de Cannes en la sección "Un Certain Regard". Esta obra fue la primera producción de CANANA elegida para distribución en los EE. UU. a través de Fox International Productions. Después trabajó como productora ejecutiva en "Paraíso" obra que se estrenó en el Festival Internacional de Cine de Toronto en 2014 y logrando éxito financiero en la taquilla mexicana así como "Come Out and Play" seleccionada para TIFF Midnight Premiere pelicula adquirida por Cinedigm para su distribución en los EE. UU.
Adicionalmente colaboró como Productora Asociada en "Cesar Chavez", protagonizada por Michael Peña, América Ferrera y Rosario Dawson además de ser productora ejecutiva en la serie documental "Back Home" para el canal Fusion Network, unproyecto conjunto de las cadenas estadounidenses ABC y UNIVISION. A través de su trabajo, Pérez ha sido capaz de maximizar las oportunidades de coproducción para aumentar el flujo de ingresos para los inversionistas en sus proyectos, a la vez que narra historias multiculturales que invitan a la audiencias a pensar y reflexionar.
➡ Consulta todo el programa en http://fotofilmtijuana.mx y sigue nuestras redes para estar al tanto de todo nuestro contenido exclusivo!