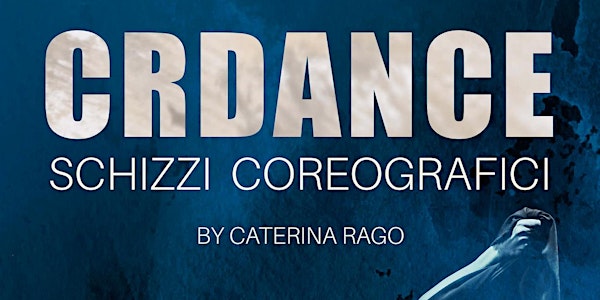 "CRDANCE GOES TO BROADWAY" [1601 BROADWAY]
Schizzi Coreografici, a preview performance and audience discussion of choreographic works by Artistic Director Caterina Rago.
When and where
Location
Open Jar Studios 1601 Broadway #11th floor New York, NY 10019
Refund Policy
Contact the organizer to request a refund.
Eventbrite's fee is nonrefundable.
About this event
CRDANCE COMPANY PRESENTS SCHIZZI COREOGRAFICI:
A PREVIEW PERFORMANCE + AUDIENCE DISCUSSION AT OPEN JAR STUDIOS
1601 Broadway #11B NY 10019 (at 48 th Street)
DECEMBER 17, 2022 AT 7PM
BUY TICKETS NOW + GO TO: LINKTR.EE/CRDANCE
LIVE AUDIENCE TICKETS: $35, $50, $75, $100
STUDENT TICKETS: $25
LIVE STREAMING TICKETS: $30
PATRON TICKETS: $500, $1000, $1500, $2000, $5000
All proceeds benefit CRDANCE Company's 2023 Premiere of new ballets choreographed by Caterina Rago.
CRDANCE COMPANY presents Schizzi Coreografici, a preview performance and audience discussion of choreographic works by Artistic Director Caterina Rago. These excerpts assemble a range of high-speed ideas created for CRDANCE Company as well as The Ailey School at Fordham University. Schizzi Coreografici reveals the exceptional bravura of CRDANCE Company and their unfailing ability to challenge modern dance. CRDANCE COMPANY, founded in 2007 by Artistic Director Caterina Rago, has under the direction of Caterina Rago and Executive Director Cheryl Kaplan continued to increase its USA and international presence through its ongoing performance and educational programs.
The evening is organized as two independent ballets that are subtly interconnected and defiant. These include: EVERY WHICH WAY BUT NORTH, 2022, commissioned and first performed in 2022 by The Ailey School, and a preview segment of the new ballet ALTA MAREA, to be seen in its entirety in 2023 as part of a larger commission.
An entirely new choreographic work, ALTA MAREA, tells the legend of Cilla, a fisherman's daughter, who fell hopelessly in love with a sailor lost at sea off the coast of San Lucido, Italy. The myth, whose origins and re-telling date back generations, was also learned by Caterina Rago who grew up in San Lucido. For the first time, Rago is tackling this elusive story, complete with tempestuous heart/break and intrigue.
Rago's choreography pulls the audience in not just as sympathetic observers, but as willing investigators of the story's turning points.
SUPPORT CRDANCE COMPANY
Support CRDANCE Company, LLC. Go to LINKTR.EE/CRDANCE or send a check to:
CRDANCE Company, CATERINA RAGO, 25-76 41st Street, Astoria, NY 11103 #1D.
We're committed to creating a unique series of works and teaching programs that have historic and contemporary value. We respectfully ask you to make a donation, big or small, to CRDANCE Company. Our work provides educational and artistic value to audiences and dancers at allstages of their careers. Thank you.
For further information, please contact:
Executive Director Cheryl Kaplan at clkaplan2@gmail.com
THE COMPANY
CATERINA RAGO, Artistic Director, Choreographer + Founder
CHERYL KAPLAN, Executive Director
RAPHAËLLE KESSEDJIAN, Rehearsal Director
DANCERS: SARITA APEL, AMINA KONATÉ, CARA MCMANUS, CATERINA RAGO, GABRIELLE WILLIS.
APPRENTICES: ROSE BARBANTAN, IRENE PACI.
PLEASE NOTE:
FOR LIVE STREAMING CREDENTIALS PLEASE CHECK YOUR ORDER CONFIRMATION!
TICKETS ARE NOT REFUNDABLE.