Crazyface by Clive Barker

Multiple Dates
Event Details
British master of horror Clive Barker, creator of film franchises Hellraiser and Candyman, has created several theatrical works.  His dark satire Crazyface is set for its Philadelphia premiere from BrainSpunk Theater at The Christ Church Neighborhood House Theater in August.  
Crazyface traces the nomadic journey of Tyl Eulenspiegel (aka Crazyface) as he and his family make their way across Europe. When Tyl comes in possession of a special box that contains a magical substance, three spies are sent out to find him, even as his long-lost brother seeks to kill him. In the course of the satiric comedy, Tyl grows from legendary fool into a man. 
Through his struggles from the absurdly funny to the terrorizingly painful, Barker shows us that the rich and mighty are not any more secure than those they lord over.  
Tickets $25 General Admission
August 10-24, 2014 | Tue-Sat 7:30PM, Sun 2:30PM
Christ Church Neighborhood House Theatre
20 N American St, Old City
Philadelphia, PA 19106
215-278-9504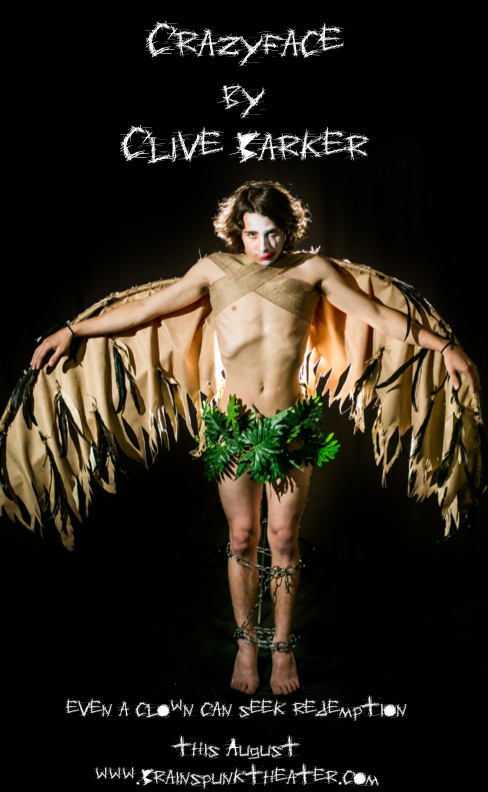 Where

Christ Church Neighborhood House
20 N American St
Philadelphia, PA 19106


Multiple Dates
Add to my calendar
Organizer
It is our mission to perform shows, hire staff and playwrights that are unique and diverse. To work towards eliminating the need to have special theater created to tell the stories no one else is telling. To hire actors and technical staff and playwrights that reflect our times and our diversity. To create a season that anyone, anywhere can attend and find themselves within it. To create Theater for Everyone.
To hold fast to the belief that the time for segregated theater has come to an end, making way for a future where any and every theater organization is connected to everyone.
To attempt to pioneer a new frontier in the arts where people of different races, religions, economic statuses, educational levels, sexual orientations and genders can gather to share our experiences with each other-and with the audience.
To make sure we are not just creating theater for some, but theater for EVERYONE.
BrainSpunk Theater, Inc. is a 501(c)3 non-profit organization incorporated in the state of Pennsylvania.