LAUGH WITH CRAZY WOKE ASIANS AND DONATE TO STOP ASIAN HATE! Livestream from Lyd & Mo Photography Studio in Pasadena!
About this event
HELP US STOP ASIAN HATE! JOIN CRAZY WOKE ASIANS AND Lyd & Mo Photography Studio FOR A NIGHT OF LAUGHTER AND RAISE MONEY FOR GOFUNDME AAPI COMMUNITY FUND POWERED BY JOKE PIT!
Live-streaming from LYD&MO PHOTOGRAPHY STUDIO IN PASADENA (ACROSS FROM ICE HOUSE COMEDY) at Facebook.com/crazywokeasians, Crazy Woke Asians YouTube Channel and Joke Pit.
WATCH via Crazy Woke Asians Facebook live: https://fb.me/e/1hI1YdDAy
*Like and follow Crazy Woke Asians Facebook page, subscribe to CWA YouTube channel and CLICK SET REMINDER so you will get notification when livestream starts.
Thank you so much for supporting STOP ASIAN HATE.
Line up:
Anzu Lawson (NCIS, CSI, Westside Come)
Walter Hong (Kevin Hart's The Comedy Underground, Comedy Central Asia, Chocolate Sundaes Laugh Factory)
Kiki Yeung (The Comedy Store, Laugh Factory, Ice House)
Ai Yoshihara (World Series of Comedy, Best of Fest Burbank Comedy Festival)
Tony Vinh (San Diego & Second City LA Comedy Festival)
Erick Esteban (FOX's I Can See Your Voice)
Hosted by Cat Ce (Clubhouse)
Musical guest Pattie Lin
Plus special guests TBA!
Executive produced by Kiki Yeung. Produced by Mo Cee.
FREE!
DONATE VIA VENMO @CRAZYWOKEASIANS OR PAYPAL.ME/CRAZYWOKEASIANS
100% donations and comedian portraits sales go to GOFUNDME AAPI COMMUNITY FUND.
HOST WILL SHOW DONATIONS SCREENSHOT AND SHOUT OUT TO DONORS DURING LIVESTREAM!
*Comedians require to show negative Covid test before performing.
Questions? Email: crazywokeasians@gmail.com
*lineup subject to change
About CWA: Crazy Woke Asians features the funniest Asian American stand up comedians in Los Angeles! CWA has SOLD OUT SHOWS at The World Famous Comedy Store, The Ice House, Santa Monica Playhouse, SOLD OUT TOUR IN SEATTLE at Laughs Comedy Club, Unexpected Productions, Comedy on Broadway. The show has been featured in the Seattle Times, Broadway World, San Diego Union Tribune, Asian Journal, ASAM News and King 5 New Day Northwest. CWA partnered with NBC for the first ever All Asian Solo Performance Festival at the Santa Monica Playhouse. During the pandemic, CWA produced a Virtual Comedy Festival partnering with Asians Never Die and RiceFeed featuring over 90 comedians from all over the world benefiting Feeding America, and CWA For Black Lives Benefit Comedy Show partnering with Laugh Lounge and Asian Culture Media Alliance with headliners Godfrey, Helen Hong, Joe Wong benefiting Color of Change. STOP ASIAN HATE benefit comedy show at The Comedy Chateau raised over $2k for GoFundMe AAPI Community Fund.
Subscribe to CWA Youtube channel, watch CWA Comedians Spotlight Series on Joe Wong and more! Become a CWA Patreon Patron for early access and exclusive content! CWA Virtual Comedy Festival on May 29-30th. Info on website. Email: crazywokeasians@gmail.com
CWA COMEDY CONTEST APRIL 17th-JUNE 19th at Santa Monica Playhouse!
"Lyd & Mo Photography Studio & Gallery. A team of dynamic thinkers, makers, dreamers, doers, creating meaningful connections between people & brands through images. We photograph people, people, and mostly people."
FOLLOW US on Social Media!
Instagram: http://www.instagram.com/crazywokeasians
http://www.Instagram.com/LYDANDMO
Facebook: http://www.facebook.com/crazywokeasians
Twitter: http://www.twitter.com/crazywokeasians
Website: http://www.crazywokeasians.com
http://www.LYDANDMO.com
#CRAZYWOKEASIANS #thecomedychateau #standupcomedy #stopasianhate #gofundme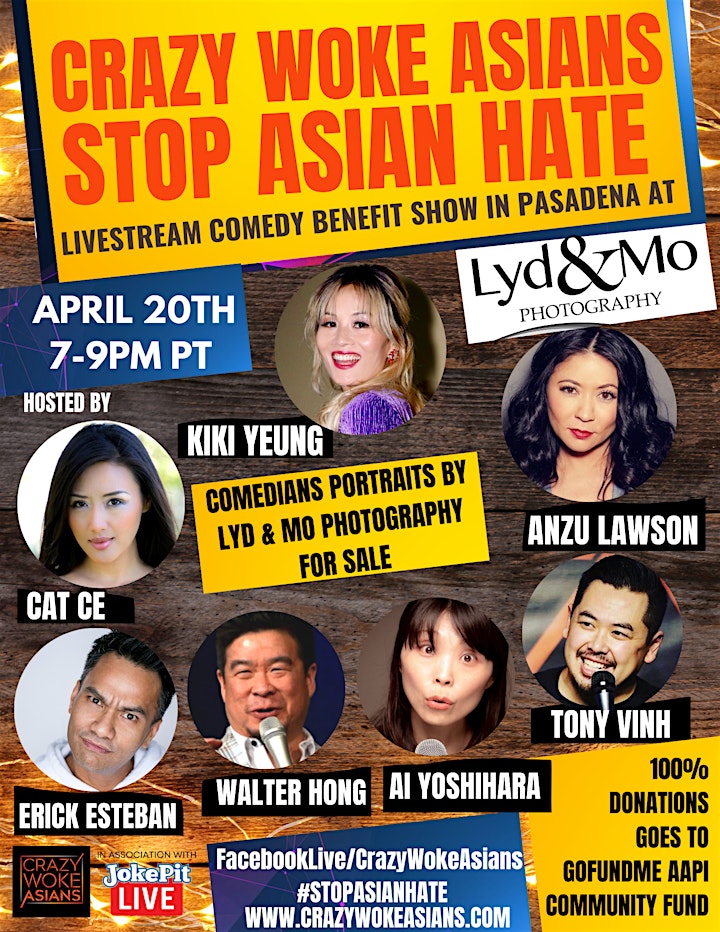 COMEDIANS PORTRAITS BY LYD&MO FOR SALE! PURCHASE COMEDIANS PORTRAITS HERE! ​Password: crazywokeasians
*RESALE AND COMMERCIAL USE STRICLY PROHIBITED.