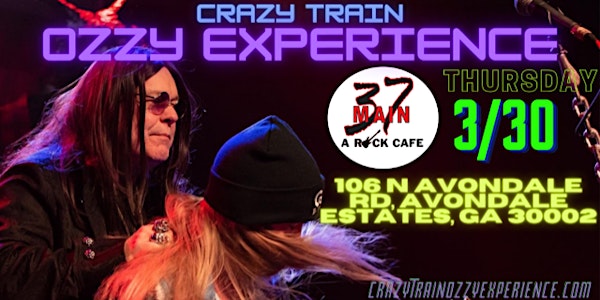 CRAZY TRAIN OZZY EXP. TRIBUTE
Prepare to be amazed. Crazy Train is dedicated to delivering a visually exciting and musically accurate tribute to Ozzy.
Date and time
Starts on Thursday, March 30 · 7pm EDT
Location
37 Main - Live Music & Private Event Venue 106 North Avondale Road Avondale Estates, GA 30002
About this event
With a stunning dedication to getting it right, Crazy Train delivers a knock-out show that is a must-see for every Ozzy fan.
Crazy Train is one of the very best rock tribute shows I've seen. With a dream set-list covering every era of the great man's career. The band delivers an endlessly entertaining show focused on honoring Ozzy's timeless catalog with a staggering dedication to detail.
Vinny Cormier's performance as Ozzy is simply a must-see for reasons that go beyond the visuals. Yes, he looks eerily similar to the great man, and he's mastered all of the mannerisms, but his greatest weapon is his voice. With this band, Cormier sings and performs like Osbourne at the peak of his power.
Guitarist Dylan Cormier must have spent 10,000 hours studying and practicing this material. One of New England's most technically proficient axe-men, Cormier makes it look effortless as he attacks material from every era of Ozzy's career with extraordinary accuracy, confidence and panache.
Bassist Craig Goodall and drummer Mike Caliandro make for an explosive rhythm section that powers Crazy Train with lethal precision. Their dedication to keeping it in the pocket while instilling the music with an unpredictable edge put this show over the top.
The special effects and light show provide an appropriate aura of spookiness to complement one of the very best rock tribute shows on the road today. Add to that the perfect sound mix and a painstaking commitment to detail and you have an unbeatable rock show with Crazy Train.