Get ready to "PILLOW TALK" with the girls while you're coached with the tools and tips needed to successfully date men in 2021!
About this Event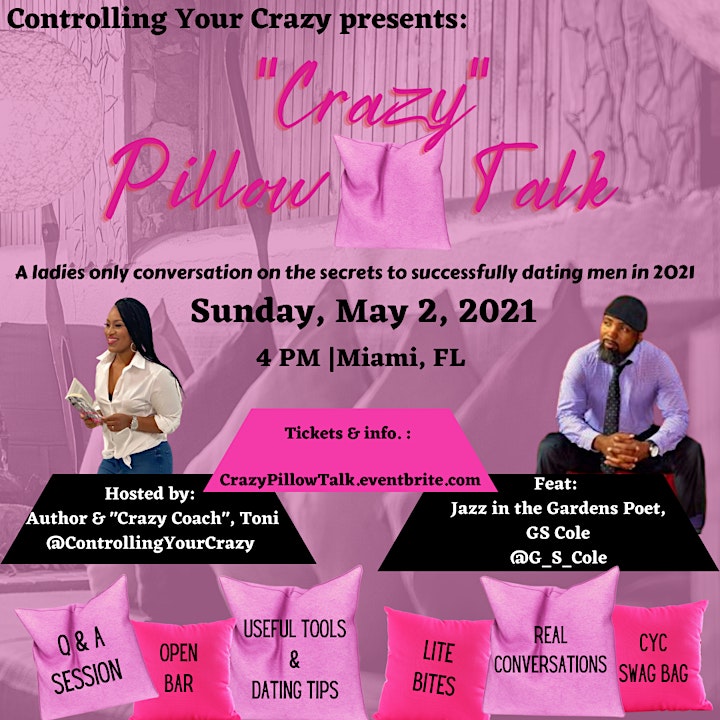 CRAZY PILLOW TALK is a one-of-a-kind event promising to bring you everything you need to know about dating men in 2021! That includes the good, the bad, and the "Oh no he didn't!" in dating.
As a LADIES ONLY event, we will dive into some serious topics about the experiences women go through while dating, and how to successfully turn your single-dating life around!
As an author and "Crazy Coach", I'll get down to what SOME of you ladies might be doing wrong and I'll coach you on how to turn your "wrongs" into "rights" once and for all!
(Don't worry about bringing your notepad and pen; I'm giving it to you!)
Be prepared to sit around a cozy and chic ambiance while you enjoy COMPLIMENTARY adult beverages, COMPLIMENTARY lite bites and a One-hour Q&A session with Jazz in the Gardens poetry host, GS Cole!
GS Cole will be there to answer your individual, burning dating questions and he'll be there for you to hear and learn what MOST men desire while dating YOU!
Your Crazy Pillow Talk ticket includes:
Dating Tips/Tools from author and "Crazy Coach", Toni
A Controlling Your Crazy Swag Bag
1 Hour Q&A w/ Special Featured Guest, GS Cole
Complimentary Adult Beverages
Complimentary Lite Bites and Dessert
GET READY FOR YOUR FIRST EVER "CRAZY PILLOW TALK!"
MUST BE 25+ TO ENTER (ID REQUIRED FOR ENTRY)
FACE MASKS REQUIRED TO ENTER
A LADIES ONLY EVENT
NO TICKET SALES AT THE DOOR
** SOUNDS BY DJ MARLEY MAR