Crazy Like a Fox: Black Mental Health Matters

Saturday, May 19, 2018 from 3:00 PM to 7:00 PM (EDT)
Event Details
On May 19th Stronger Than My Struggles brings you a much needed discussion on invisible mental and emotional illnesses in the Black community.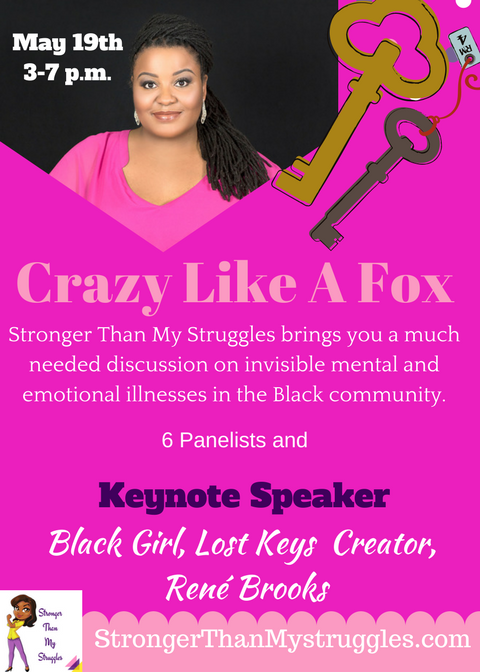 We will have 5 panelists including successful Black women with Autism, Depression, Anxiety Disorder, PTSD and who have survived a suicide attempt and military sex trauma. We will also have 2 licensed mental heal professionals on hand to help us understand these illnesses, their underlying causes and how to live productively with them.
                                                                          Panelists
                                           Myesha Collins, Founder of Blue Girls Turned Gold
                                           Dionne "DH Da Hitwryter" Halsey, The DH Experience
                                           Shawna Cheatham, Owner AfrindecentriQs Creations
                                           Desha Hendfield, Author & U.S Navy veteran
                                           Carman Wilkins, Mental Health Professional, Building My Table, LLC
                                           Black Joy Scholar, Tuesday Barnes will be joining us as a special guest speaker of                                                 We Are Black Joy
                                 and an assortment of hummus, dips, and snacks.


Our Keynote speaker will be René Brooks, leading Black woman ADHD Blogger and creator of Black Girl, Lost Keys.
René Brooks is a passionate advocate for women with ADHD and the Mental Health Community. She is the founder of Black Girl, Lost Keys, a lifestyle blog that brings attention to the conversation around race, mental health and womanhood. That project has led to features in Healthline, PBS's Roadtrip Nation, Additude Magazine, and Kaleidoscope Society.
https://www.blackgirllostkeys.com/ for more about René.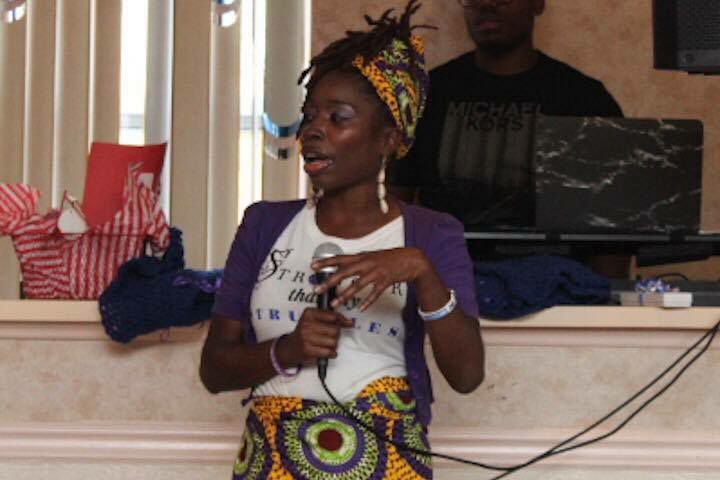 Stronger Than My Struggles Founder, Melony Hill, will be our host for this event. Melony too, suffers from invisible illness. She has been diagnosed with many of the illnesses our panelist will discuss along with Dissociative Identity Disorder ( multiple personalities).
WE ARE SEEKING SPONSORS AND SWAG BAG ITEMS. Swag bag inserts are $40  FILL OUT FORM HERE to apply to sponsor this event or insert your items in our gift bags.
When & Where

Impact Hub Baltimore
10 East North Avenue
Baltimore, MD 21202


Saturday, May 19, 2018 from 3:00 PM to 7:00 PM (EDT)
Add to my calendar
Organizer
       Melony Hill has been an entrepreneur for the past 10 years. Over that time  Melony has switched  fields of  interest in the entertainment industry multiple times.

Though there have been ups and downs in business, these days she is living her dream life of  being an writer. Not only is Melony an author,  but also a paid blogger and  on staff for 5 independent magazines. She takes on  freelance projects as well.
Additionally, Melony runs a  talent promotion and resource company to help other creatives and first time entrepreneurs reach a wider network and gain the resources they need to propel them into greatness.
Melony started Stronger Than My Struggles in 2017 to assist other in overcoming their struggles with self esteem and entrepreneurship. They said she couldn't do it, but  though legally disabled, Melony has found success many times over.
Melony looks forward to helping you achieve your dreams as well. She is stronger than her struggles and wants you to know you are too.