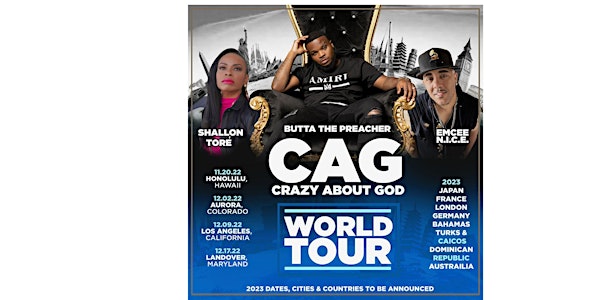 Crazy About God (CAG) Christian Hip Hop & Gospel Music Concert
Award winning music artist with powerful messages of triumph, healing, and hope. The music will inspire you & keep you out of your seat.
When and where
Location
The Tabernacle: Faithful Central Bible Church 321 N. Eucalyptus Avenue Inglewood, CA 90302
About this event
This concert event is open to the public with paid admission. Location is at Faithfull Central Bible Church at 333 W Florence Ave, Inglewood, CA 90301. Doors open at 6:30 pm and concert starts at 7:15pm. Premiere, general, and VIP seating are available.
This is the concert event of the year that you do not want to miss. When asked what makes this concert unique, Shallon Tore', Hip Hop / Pop singer/songwriter stated "our music is real and reflects day to day challenges and experiences that people identify with. Through it all, we are sharing a message of triumph and hope." Butta The Preacher, Hip Hop rap artist, said "my personal story of surviving near death twice in the streets ran by gangs and drugs often encourages anyone hitting rock bottom that there is hope." This star-studded collaboration also includes Emcee N.I.C.E., Hip Hop Rap artist, holding 5 number #1 records on the Billboard music charts and a song on the soundtrack Academy Award-winning film "Crash".
The music by this dynamic trio has gone viral and is often referred to as a global CAG movement . To learn more follow the artist to get live updates on additional tour locations, dates, and times.
Shallon Tore:
Linktr.ee: https://linktr.ee/shallontoremusic
Instagram: www.instagram.com/shallonmusic
Facebook: www.facebook.com/shallonmusic/
Website: www.shallonmusic.com
Call For Booking: 1-(833) SHA-LLON (742-5566)
Butta The Preacher:
Instagram: www.instagram.com/buttathepreacher
Facebook: https://www.facebook.com/ButtaThePreacha
Website: www.youngblessedmen.com
Emcee N.I.C.E.:
Instagram: www.instagram.com/emceenicela/
Facebook: www.facebook.com/EmceeNICEMusic
Website: www.emceenice.com
Shallon Tore'
Shallon Tore' Music
+1 808-315-1886
shallontoremusic@gmail.com
Masks are encouraged for patrons and visitors regardless of vaccination status in all indoor spaces.