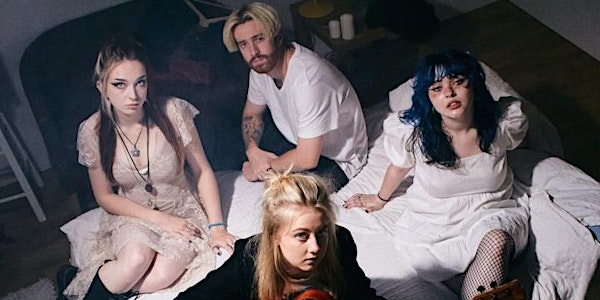 CRAWLERS
ALL AGES
Popscene Presents
popscene presents CRAWLERS THE PARTY IN THE USA TOUR + POLLYANNA (Support) Wed, March 29 @ Brick and Mortar SF (All ages)
When and where
Location
Popscene at Brick and Mortar Music Hall 1710 Mission Street San Francisco, CA 94103
Performers
Headliners
More Performers
About this event
3 hours 30 minutes

ALL AGES

Mobile eTicket
Every so often, a new band arrives that feels important; like they're about to mean something to so many. Liverpool's CRAWLERS are just that -- a group built not just on an undeniable ability to write exciting and eclectic rock songs but an empathetic passion that fuels them to stand up, speak out and open their arms to anyone in need of a safe space and community.
They began their journey in late 2018 when Amy Woodall (guitar) messaged her childhood friend and former bandmate Liv Kettle (bass) to suggest starting a new band together. Simultaneously, Liv's new college friend Holly Minto (vocals) had the same idea. "Within 10 minutes of each other, I had the same message from both of them," she explains. "It was like, 'OK, it would be silly [to say no].'"
So the first iteration of CRAWLERS was conceived, their line-up completed by a drummer that didn't stick. Then, in 2021, they met Harry Breen through mutual acquaintances and asked him to audition. Already aware of the band's work -- he'd reviewed their third single 'Hush' for a local music and arts zine -- he fitted into their dynamic swiftly and was soon being asked to learn their whole setlist for an imminent showcase gig. "I was so close to saying no, but I remember thinking, 'It will be worth it if I push myself to learn these songs at such short notice,'" he recalls.
Harry's acceptance of that challenge aligned with the band's attitude to what they do and reaffirmed their choice to Amy, Holly and Liv. "We want the hard work," Holly says. "We want someone who's going to work alongside us."
Since their inception, CRAWLERS have been putting the work in, gigging across Merseyside, working on their songwriting and steadily building an impressive following on social media that is often hard to come by for unsigned bands. The latter has been an essential tool for the group, who already have over 650k followers on TikTok. Holly's knowledge of social media helped them plug their gigs and releases effectively online, opening up new opportunities for the band.
As that organic growth flourished, so did their songwriting. Early singles like 2019's 'So Tired' and 2020's 'Placebo' and 'Hush' presented a band with a knack for pairing poetic, personal lyrics with guitar and bass riffs that reel you in and wrap you up in them. Last year's self-titled EP took another leap forward again, the four-piece incorporating some of the world's broader issues into their lyrical tales. The record garnered praise from BBC Radio 1's Jack Saunders, Clash, Gigwise and more, while the stunning single 'Come Over (Again)' crashed into the Official UK Singles Chart thanks to fan power alone.
CRAWLERS reckoned with their own place in the world on its four tracks while acknowledging some of society's ills. 'Statues' was written amid the global Black Lives Matter protests of 2020 and captures the urgency and anger of that time in every layer, from Amy's fiery riff to Harry's insistent beat.
Meanwhile, the powerful 'Monroe' was inspired by the mistreatment of Britney Spears, the still present misogyny of the entertainment industry, and how the male gaze has co-opted female empowerment. "I see you every night / Like the chapel of my eye," Holly sings in its chorus. "Your clothes are very tight / You're my virgin of the night." The imagery came to them in a dream and represents "seeing through the male gaze how terribly females in the industry are treated."
No matter how many people are listening, using their platform is something that remains at the heart of what CRAWLERS want to do with the band. "It's really hard to find a safe space -- especially for young people, queer people, and other misrepresented or underrepresented groups -- and being able to do that with our platform is something we're looking forward to exploring and breaking new boundaries with."
Exploration is something that's key to CRAWLERS' sound too. Although broadly speaking, they can be placed under the umbrella of rock, they draw from many disparate spokes of the genre -- and beyond. Although they have artists they love in common, each member has their own tastes that they bring to the mix, from Liv's love of metal to Harry's passion for punk. "We're all such different artists and musicians," Liv notes. "It just opens up that opportunity to just do whatever feels right."
"Creatively and musically, we just want to be our own thing," Harry adds.
There's plenty of musicality to what CRAWLERS do too, showcased in Holly's distinctive, powerful voice, the way Liv uses their bass as more than just a grounding force but something more melodic, and the occasional bursts of brass that appear on some songs. "I got really into how other people use it, like Modern Baseball, Neutral Milk Hotel and Phoebe Bridgers," says Holly, who plays the trumpet (Harry also plays sax). "Seeing these classic instruments played in different ways alongside songwriting is exciting, and I think the world's grasping for it now."
The band's next raft of releases will continue to mix the personal with the issues that matter to many in our world. Their next single 'Fuck Me' -- a compelling concoction of big, grungy riffs -- pivots their lens inwards as Holly examines her relationship with her own body. "I know I used to be in love," she whispers on the song. "The kisses that led to sex were close enough."
"There's a song that goes 'You kiss me just to kiss me' and I was like, 'Damn, I've never been kissed just to be kissed,'" they explain. "I just sat there and had a little moment about it and was like, 'Have I just been letting people use me so I can feel loved?'"
It's yet another example of the bold, probing songwriting that makes CRAWLERS such an important new band and a powerful force to be reckoned with. Continuing to keep the world on its toes and questioning society, CRAWLERS are firmly on the path to becoming one of Britain's most vital acts.
CRAWLERS are: Holly Minto (she/they), Amy Woodall (she/her), Liv Kettle (she/they) and Harry Breen (he/him)