Explore the ecosystems of an ancient caldera which was once the largest volcano in the southern Hemisphere.
About this Event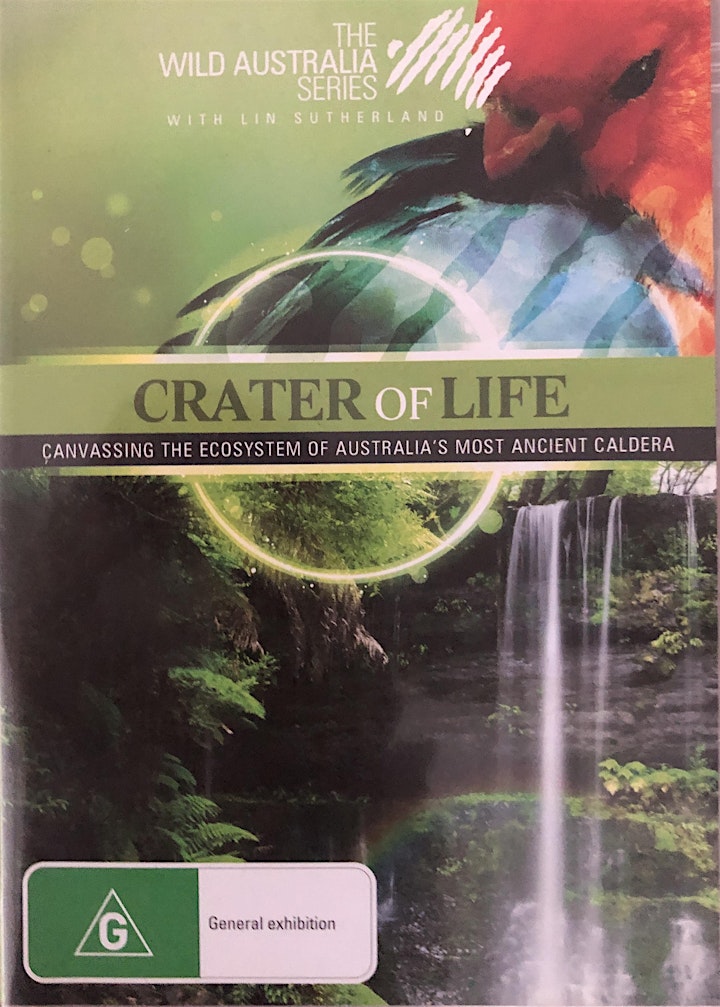 See one of Australia's lushest ecosytems in all its crativity bursting with life that has evolved over millions of years. A stunning epic wildlife adventure produced by local film maker Lin Sutherland and filmed by world renown cinematographer David Warth.
Twenty-million years ago, a massive fiery furnace erupted. The largest shield volcano of the prehistoric world had burst into life. A massive dome of lava engulfed 5,000 square kilometres of ancient landscape. Millions of years of erosion has created the largest crater in the southern hemisphere which is one of the most diverse wildlife habitats in Australia. Enter this ancient realm full of a cast of unique characters who call this crater home. This is truly the CRATER OF LIFE.
Join Lin on an epic adventure through this local landscape to see one of the richest fabrics of life. Lin explores this " Crater of Life" to show the viewer how the volcano laid the foundations and created one of natures true masterpieces which encompasses Gondwanan rainforests, Eucalyptus forests carved out our rivers and wetlands before it flowed into the sea as far as Julian Rocks at Byron Bay.
Enjoy this epic movie event that shows the incredible environments around the Gold Coast and Norther NSW a place which is our home and learn just how valuable our natural landscapes truly are and how you can become a guardian of this valuable resource.
A night of magic with the film maker present, the Currumbin community and the local environmental organisation Gecko whom helps to preserve our natural assets for future generations.
A magic night with guest speakers and a few light tunes from a local music group and plenty of room to share for everybody. A perfect night for all the family.
Doors open at 6pm enjoysome music, grab a drink from the bar and enjoy the stunning venue on Currumbin Creek
Movie will premiere at 7pm. Then after there will a quick answer session meet some guest speakers followed by a drink or something to eat if you feel like it.
About The Filmmaker
The Pulse of Life
A film that will help the nation stand tall.
From scuba diving instructor, photo journalist, TV Presenter, film maker, overall adventurer to public speaker Lin speaks for the worlds incredible environments.
From the moment she was born Lin had a clear vision that all species had a place in keeping our world alive. As a girl she often nurtured rescued animals as her mother was a carer for Wires, her father an earth scientist and her grandfather the head of forestry for Australia. Lin's vision placed her decades ago as a speaker of truths for our troubled natural world.
Lin has produced 85 films for networks around the world. With over 10,000 scuba dives, thousands of hours filming in environments around the world she tells her stories that connect the planets life threads. The pulse of Life the latest vision a true story of the worlds colourful fabric of life which never ignored the changing ecosystems and the desperate tale of disappearing species.
Lin says "As a film maker I work for the planet she is my boss I ask for nothing but she provides me everyday with the luxury of breath. People must rise to the challenge and effect environmental change reading the signals of the planet. If we don't well thats's when we run the risk of disappearing as a species while the planet goes onward reinventing. You can't heal anything from a place of fear or alone as one species we need to work toward a brighter future for all life on our planet".
"The idea is to educate and inform reigniting the passion of our planet into our hearts bringing awareness to the changes only then will we adapt better strategies to heal the deep wounds we have inflicted on our planet. The answer create a synergy that encourages life once again to thrive on our blue planet the planet of life and keep the pulse strong. Life is the most precious thing we know".
Links to her legacies
linsutherland.org
Plus enjoy opening music from Tony Niotakis - Chilled Tones who will get the mood light and soft so you can enjoy the creek view and breezy vibe.Tony plays with a band called The Cool Eye and a duo called Taylah Made and used to play with a band called GAS. Tony started strumming away at just 10 years of age and plays from the heart and is a full time teacher. A great way to start our evening.