Cranskgiving

Saturday, November 12, 2011 from 1:00 PM to 5:00 PM (PST)
Event Details
Cranksgiving, a bicycle food drive, comes to Marin!
Calling all riders for a Marin County Bicycle Coalition event to benefit the Marin County Food Bank!
 
Where: Marin Country Mart Near the Farmer's Market
When: Saturday, November 12
Registration starts at 1 PM.  Ride starts at 2 PM.
After-Party: 5 PM at the Marin Brewing Company, Larkspur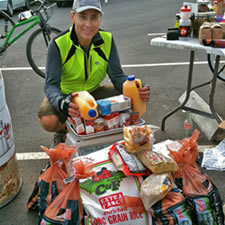 Cranksgiving is a charitable event that happens every year all across America.  It has become a new tradition that cyclists can be proud of.  Cranksgiving Marin is our local cycling community coming together to help the less fortunate by collecting food for the Marin County Food Bank.   It's a fun way to use our bicycles for a great cause.  We'll ride to different grocery stores to collect all the food on our shopping list on a scenic tour through six Marin county communities.
Riders will receive a "manifest" before the ride that they will use as a shopping list to purchase items from various grocery stores in central Marin. The route will take you through the Ross Valley and/or San Rafael and through the Cal Park Tunnel. "Bagging" rights go to the rider or team that returns first with all items on the Manifest and the rider/team that collects the most food.  In the end, the community wins.   All food is donated to the Marin County Food Bank, which efficiently redistributes food to those in need.
The event is free, but you need to bring enough money to purchase the items on the manifest ($20+).  We recommend asking people you know to help by donating to your cause.  Remember to bring your biggest panniers and strongest bike if you plan to collect a lot of food.  And don't forget your lock, too.
Celebrate with a beer at the After-Party at the Marin County Brewing company starting at 5:00 when the winners of each category will be announced.
Cranksgiving is sponsored by the Marin County Bicycle Coalition, Yuba Bikes, The Bicycle Works, Marin Brew Co. and Marin Country Mart.
Like our Facebook Page  - http://www.facebook.com/CranksgivingMarin
JUST IN! - Did you know... the Grand Prize this year is a Complete Yuba Mundo Cargo Bike? Awarded by The Bicycle Works, your local Bicycle Co-op! Whoever brings in the most food this year will get do choose a recipient for a this spectacular bicycle. Yes, in the spirit of giving, the winner will get to give away a cargo bike to a person, family, or organization that NEEDS  and will USE the bike. However we're setting the bar high this year. The winner will need to bring in at least as much food as The Bicycle Works Team Members do and we will be spending at least $1000 and riding big cargo bikes.  So raise some extra donation food money now and get your "hauler" ready cause the drive is on. Remember, all the food we bring in will go directly to the Marin County Food Bank so this event is a win, win, win extravaganza.
Organizer
Marin County Bicycle Coalition