Description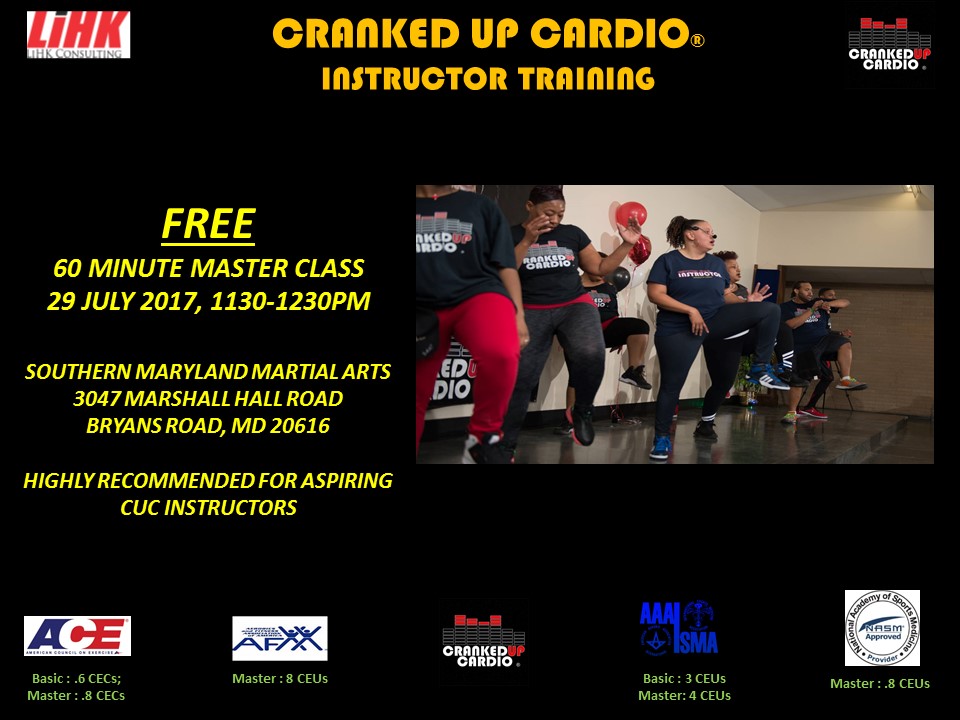 Cranked Up Cardio® presents
THE CRANKED UP CARDIO® MASTER CLASS WITH CREATOR, DR. JAI
Saturday, 29 July 2017, 11:30a-12:30p
THIS IS A FREE, PUBLIC EVENT, ALL ARE WELCOME!
HIGHLY RECOMMENDED for those interested in becoming CUC instructors
Fitness format approved by ACE, AFAA/NASM, AAAI/ISMA
EVENT HEALTH, SAFETY AND WELLNESS DISCLAIMER!
PLEASE READ AND NOTE:
Minimum age is 4 years old for the class and he/she MUST be accompanied by an adult, who serves as the responsible party. By signing up for this event, all registrants and participants associated with registrants, even minors to whom they are responsible, are participating at one's own risk. This registration also removes all liability associated with injury, lost items, or changes due to inclement weather from that of Dr. Janice Armstrong, Dr. Jai, the Dopest Doctor®, LiHK Consulting, LLC, Cranked Up Cardio®, Cranked Up Fitness™, DOPE fitness™ and ALL staff and associates providing services and assistance via this event, including the venue, DJ, fitness instructors, nor owners of fitness associate programs thereof.
All participants who register online and in person claim FULL personal liability and responsibility with the expectation that all health, medical, physical or fitness related circumstances have been cleared by a doctor prior to attending, which is highly recommended for your own health, safety and well-being.
There will be certified CPR/FA staff and nursing personnel on site in the event of an emergency; however, by participating, you permit the contact of emergency personnel in the event of incapacitation, inability to make sound judgment, no healthcare power of attorney immediately available nor someone to answer on your behalf. However, ALL costs associated with an emergency situation are the responsibility of the participant and the participant's insurance or other cost means to satisfy the cost of an emergency.
In the event of inclement weather, there are no refunds (unless otherwise adjusted by the organizer); however, credited funds may be transferred to other CUC events, hosted by Dr. Jai, or you will be notified as to rescheduling the event at no additional cost to the patron. You will be contacted in ample time to prepare for rescheduled dates, times, and/or event locations, which may occur due to the date and time changes.