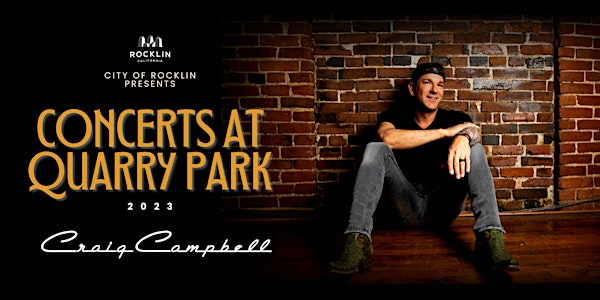 Craig Campbell LIVE in Rocklin!
Country is back at Quarry Park with Craig Campbell!
By City of Rocklin Events
Date and time
Saturday, July 29 · 6 - 10pm PDT
Location
Quarry Park Amphitheater 4000 Rocklin Rd Rocklin, CA 95677
About this event
Main Sale Tickets on sale NOW!
Gates open at 6pm. All ticket sales are final and non-refundable. Refunds are only issued if an event is cancelled. Events are rain or shine.
ABOUT THE ARTIST
In a world fueled by the smoke and mirror act of overnight success, Campbell has long been admired for his patience and persistence on the road less travelled. A consistent balancing act of traditional values and modern industry trends, Campbell is also considered by many to be one of the most talented yet under the radar stars, across all genres.
He put together a string of Top 10 hits on two labels before launching Grindstone Records with his "It's About Time" single in 2020. The charismatic charmer coproduced the song, played acoustic guitar and piano, and sang his own harmonies. He also released "All My Friends Drink Beer," the music video to which featured his notable friends like Jaren Johnson from The Cadillac 3, Randy Houser, Granger Smith and other familiar faces who recorded their own segments during last year's quarantine.
After focusing on his family and spending time writing and recording new music through 2020, he hit the new year aggressively releasing songs like the touching "What A Girl Will Make You Do" and the raucous "Good Things Come To Those Who Drink," the heart-wrenching "Never Mine," and the fun "Things You Do In A Truck," a rollicking duet with his Georgia buddy Trea Landon. His drive to release new music and hit the road stems not only from a desire to reach more and more fans but also satisfy his own aspirations to continue to grow as a songwriter, singer and performer.
After all, the magic of the keys brought him his hunger for music as a child. The good ole' down home boy grew up playing his mother's piano and singing in church. After graduating high school, he took a job as a corrections officer in his hometown of Lyons, Georgia. But music never left his side. Taking a cue from the sounds of classic country and idols like Travis Tritt and Randy Travis, Campbell started a band and played local and national bar gigs. When the guitar player quit, Campbell took that as a sign to chase his dreams all the way to Nashville, Tennessee.
With two rolls of quarters and a roll of dimes given to him by his mother for gas money, Campbell barely made it into town. Starting in 2002, the young hopeful would spend the next several years paying his dues the old fashioned way. A demo singer by day and Lower Broadway gigger by night, Campbell was eventually connected to a soon to be signed artist who needed a keyboard player. He and fellow South Georgia native Luke Bryan hit it off and Campbell got the job. A year and a half long keyboard stint with Tracy Byrd soon followed, and on his non travel days, he took over as bandleader down at The Stage on Tuesday nights. His smooth chops and hot blooded stage presence soon caught the eye of industry execs and in 2009, Campbell signed with Bigger Picture Group.
His first single, the sentimental ballad "Family Man", hit the top 15 on Billboard's Country Airplay Chart in 2011. "Outta My Head" also cracked the top 15, while the catchy tune "Fish" garnered more than 10 million on demand streams. His 2014 breakout hit "Keep ThemKisses Comin'" was on its way up the charts when Campbell got the unexpected call that after two albums and a string of hits, Bigger Picture had closed. However, Campbell and his devoted team continued to press radio stations around the country, so much so that the single ended an impressive run well inside the Top 10, which is unheard of for a song with no financial backing.
Another door opened for Campbell in the form of Red Bow Records, a division of the Broken Bow umbrella. "Tomorrow Tonight" made it into the top 40, followed by perhaps his most poignant and well known work to date, "Outskirts of Heaven." "Outskirts" took on a life of its own, showcasing Campbell's vulnerability and deep rooted faith. The uplifting and remarkably personal ballad was praised by Rolling Stone and Taste of Country, among others.
The impact of "Outskirts" prompted media appearances and memorable performances at nationally televised NFL games, the TODAY show, CMA Fest, and the Grand Ole Opry, the latter of which he has made over 50 appearances to date. And in a full circle moment, the down home Georgia boy reunited with buddy Luke Bryan on his highly successful 2017 Huntin', Fishin', and Lovin' Every Day Tour.
In the summer of 2018, Campbell released his first new music in five years with his "See You Try" EP on Broken Bow. The title track became an instant crowd pleaser with its confident, flirty lyrics and boot stompin' melody. The EP also found a home for both an electric and acoustic version of "Outskirts of Heaven." But by August of 2018, Campbell and Broken Bow had mutually parted ways, leaving the door wide open for new and long-awaited opportunities.
Those opportunities include realizing a longtime dream of opening a coffee shop – The Grindstone Cowboy – with his wife Mindy and their daughters Preslee and Kinni Rose in their adopted hometown of Eagleville, Tennessee. He also started signing and producing new artists to Grindstone Records, including Cody Cozz and Ethan Payne.
"I've been recording and producing music my way, and that includes things I've never done before, like playing piano and producing. I'm not gonna even entertain the idea of recording any song if it doesn't give me chills, and the same goes for artists we sign to Grindstone Records. I have to be proud of it. I have to answer for it and it has to get me fired up," Campbell reflects in his deep-rooted Southern accent. "Man, oh man . . . . I love where I am!"
IMPORTANT INFO:
Please be aware that by purchasing a ticket and entering the Quarry Park Amphitheater, you consent to your voice, name and/or likeness being used, without compensation, in photographs, films and/or tapes for exploitation in any and all media, whether now known or hereafter devised, for eternity, and you release the City of Rocklin, its successors, assigns, and licensees form any liability whatsoever of any nature. Do not purchase a ticket of enter the venue if you not wish to be subject to the foregoing.
Accessible Event Notice: Concert is accessible to persons using wheelchairs and others with disabilities. Informational material is available in large print. Assistive listening devices, materials in other alternative formats, American Sign Language interpreters and other accommodations will be made available upon request. Contact Parks & Recreation Office at (916) 625-5200 or recreation@rocklin.ca.us, providing at least 72 hours' notice (or two weeks' notice for American Sign Language interpreters) will help to help ensure availability. For inquiries or requests for accommodations, please call: (916) 625-5200
About the organizer
The City of Rocklin are facilitators of iconic experiences. Ranging from movies in the park, dog focused vendor fairs like Woofstock to thought provoking events like the Rocklin Mini Maker Faire, there is something for everyone!
About Events in Rocklin:
Interested in events happening in Rocklin, check out http://Rocklin.ca.us/Events for more details. You can also join our mailing list by going here http://rocklin.ca.us/newsletter-signup
Contact Us:
The entertainment and creation of these events was brought to you by the City of Rocklin Parks & Recreation. You can contact us at 916-625-5200. We are located at 5460 5th St. Rocklin, CA 95677. Our offices are open Monday through Friday, 8am to 4:30pm. Emails can go to event.tourism@rocklin.ca.us