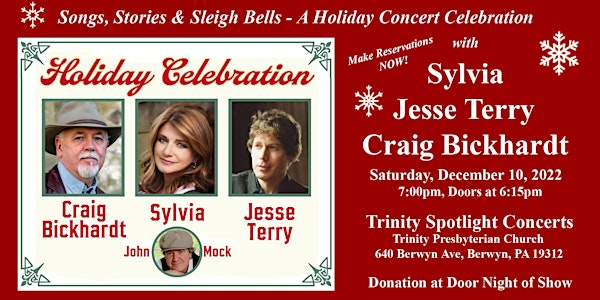 Craig Bickhardt, Sylvia with John Mock and Jesse Terry in Concert
Concert featuring Academy of Country Music's Female Vocalist of the Year Sylvia with hit singer-songwriters Craig Bickhardt and Jesse Terry.
When and where
Location
Trinity Presbyterian Church of Berwyn 640 Berwyn Avenue Berwyn, PA 19312
About this event
On Saturday, December 10th at 7pm, critically acclaimed songwriters Craig Bickhardt, Jesse Terry, and Academy of Country Music's Female Vocalist of the Year (1982) Sylvia, unite on stage with world-renowned composer, arranger, and multi-instrumentalist John Mock and drummer Tommy Geddes for a Holiday concert at the Spotlight Concert Series at Trinity Presbyterian Church in Berwyn, PA.
You will be moved by all five performers, knocked out by their musicianship, and entertained by the wonderful, often hilarious stories they tell about their songs and careers. This show promises to be as good as Holiday shows get! All are welcome to join us for an enchanting and entertaining evening. Don't miss the opportunity to see these contemporary music legends LIVE!
The doors will open at 6:30 PM and the concert will begin at 7 PM.  There is no charge for admission, but a freewill offering of $25 per person is highly recommended to support these touring artists.
If you prefer to virtually attend the event, you can purchase paid tickets to the concert livestream at: https://spotlight-online-2022.eventbrite.com
Trinity Presbyterian Church is located on Berwyn Avenue, 1 block south of Route 30 (Lancaster Pike) in Berwyn, PA. Parking is free.  The GPS address for the main church parking lot is 51 Waterloo Ave, Berwyn PA, 19312. The church is one block from the Berwyn train station (Septa's Paoli-Thorndale line).
For more information about the event or concert series, contact John Ward at concerts@trinityberwyn.com, call 484-639-9273, or visit http://spotlight.trinityberwyn.com.
ABOUT THE MUSICIANS:
Craig Bickhardt is a folk/Americana performing songwriter with major writing credits, a poet's voice, a virtuoso guitar style and a veteran's experience.  He is the uniting force behind this critically-acclaimed In-The-Round series at venues throughout the country.  Craig composed three # 1 Billboard hits and nine top-10 ten hits, and has shared the stage with Bruce Springsteen, Stephen Stills, Judy Collins, Hank Williams Jr., Kathy Mattea, and others.  Craig's songs have found their way onto platinum and Grammy-winning recordings by legends such as Johnny Cash, Martina McBride, Willie Nelson, Ray Charles, B.B. King, Kathy Mattea and Alison Krauss. His voice and songs can be heard in the Academy Award-winning film Tender Mercies, starring Robert Duvall, as well as the films Switchback and At Close Range.  Craig and Thom Schuyler co-wrote and produced the classic Christmas album, Precious Child. Narrated by Guy Clark, it features guest performances by Vince Gill, Alison Krauss, Janis Ian, Michael Johnson, Dan Seals, Ashley Cleveland and a host of others. Website:  www.craigbickhardt.com
Sylvia is an American country music and country pop singer and songwriter. During her tenure as a solo artist with RCA Records between 1979 and 1987, Sylvia became one of the most celebrated women in country music. She released five albums with a dozen #1 and Top Ten hits, sold over four million records, and won multiple awards including the Academy of Country Music's Female Vocalist of the Year and Billboard's #1 Country Female Artist. Her biggest hit, a crossover chart topper, was her single "Nobody" in 1982. Sylvia's Holiday CD, Cradle in Bethlehem is on everybody's top ten Christmas album list. Her interpretations of Christmas classics like Ave Maria, O Holy Night & Silent Night rank among the best ever. Sylvia appears with John Mock (see below).  Website: https://sylviamusic.com
Jesse Terry - Having always loved Christmas music, Jesse's new Christmas album "Peace" was made even more special by becoming a family affair - Michael Terry, Jesse's father, a longtime professional musician / producer, was brought on as co-producer and handled the vocal arrangements. His wife Jess took the photos included in the album packaging, many of which feature Jesse and Jess's daughter who many people will recognize from the weekly "Live from the Lily Pad" concerts. Jesse plays over 150 shows a year, from Bonnaroo to the Philadelphia Folk Festival, the 30A Songwriters Festival to AmericanaFest. His lyrical mastery, emotional depth, and soothing voice have often been compared to the likes of Jackson Browne, Jason Isbell, Paul McCartney and James Taylor. The Grand Prize winner of The John Lennon Songwriting Contest and The CMT/NSAI Song Contest, he has garnered worldwide acclaim including an official endorsement by Stonebridge Guitars International. Website: https://www.jesseterrymusic.com
John Mock's orchestral arrangements have been performed by the London Symphony Orchestra and the National Symphony Orchestra, as well as the symphonies of Atlanta and Nashville. He has arranged songs, strings, and woodwinds for Kathy Mattea, October Project, Michael W. Smith and Dixie Chicks. Mock has 2 solo albums, and has recorded and performed with a number of prominent artists, including the Dixie Chicks, Dolly Parton, Kathy Mattea, Michael W. Smith, Martina McBride, and Sara Evans.  Website:  http://www.johnmock.net
All are welcome!