Crafts & Corks Crawl Crafter Application (GRC AND Debonne locations)
Sales Have Ended
Ticket sales have ended
Thank you for your application to become a crafter at the 2019 Crafts and Corks Crawl. The board will review and jury your application as soon as possible. We meet every couple of weeks throughout the season. If we have any additional questions we will contact you. If you have any questions please email us at craftsandcorkscrawl@gmail.com. Thank you for your application. Happy Crafting! -Crystal & Lauren
Sales Have Ended
Ticket sales have ended
Thank you for your application to become a crafter at the 2019 Crafts and Corks Crawl. The board will review and jury your application as soon as possible. We meet every couple of weeks throughout the season. If we have any additional questions we will contact you. If you have any questions please email us at craftsandcorkscrawl@gmail.com. Thank you for your application. Happy Crafting! -Crystal & Lauren
Apply here to become a handcrafted artisan for the 2019 Crafts and Corks Crawl. Save $10 by applying by August 1st, 2019.
About this event
This Eventbrite "event" is soley for handcrafted artisans and crafters to apply and pay for their vendor space at the 2019 Crafts and Corks Crawl. Please, handcrafted applications only.
The Crafts and Corks Crawl is hosted at two wineries in Madison, Ohio. Shoppers visit both wineries (aka crawl) to both locations filled with rows of handcrafted artisans out on the grounds. Upon registration, crafters may request either winery. The jury will strive to give crafters their first choice but may not be granted in order to have a balanced shopping experience.
2 Craft Show Locations for event on September 21, 2019 from 12pm-6pm:
Grand River Cellars, 5750 S.Madison Rd., Madison, OH 44057
Debonne Vineyards, 7840 Doty Rd., Madison, OH 44057
2019 marks the 6th successful year pairing craft shopping and wine in a fun atmosphere...what is better than that?
***This is a juried craft show (aka a board of judges look over all applications). While we try to accept as many crafters as possible...we occasionally have to deny. If an application is rejected you will be contacted and a refund issued ASAP. The main reason for denial is too many applicants with a certain type of craft. We would like to ensure a good balance at the show in order for all crafters to make the best sales as possible.
CLICK HERE for a list of crafter rules as well as a paper application form.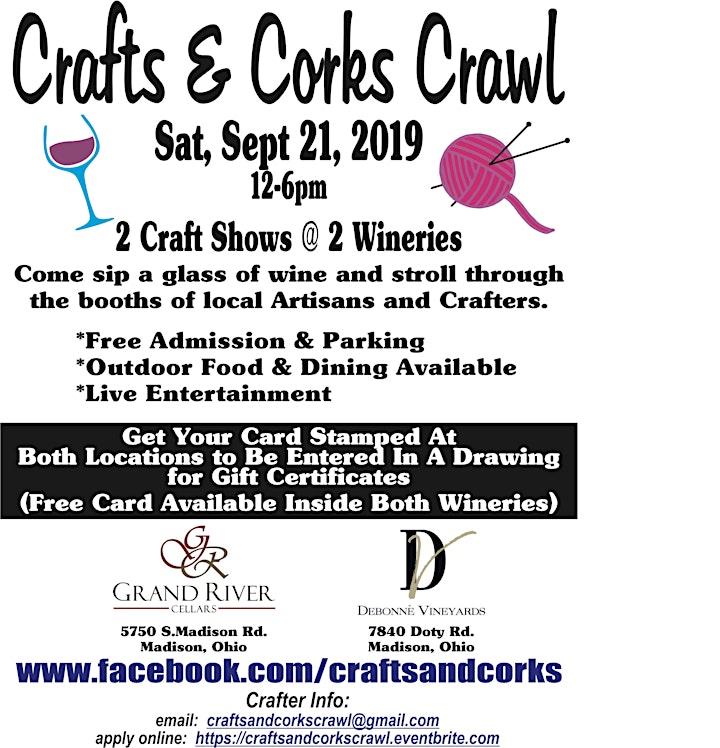 Organizer of Crafts & Corks Crawl Crafter Application (GRC AND Debonne locations)