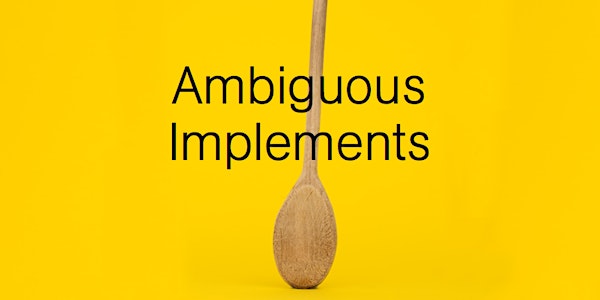 Crafting the Contemporary
When and where
Location
Folkestone 1-2 Guildhall St, United Kingdom Folkestone CT20 1DY United Kingdom
Description
Crafting the Contemporary
Saturday 28th October 1pm – 4.30pm Folkestone Museum, High Street, Folkestone.
In conjunction with the opening of Ambiguous Implements at B&B Project Space Folkestone, an afternoon symposium at Folkestone Museum will explore the blurring of boundaries between the fields of traditional craft and contemporary art. Artists Rachael Colley, Ellie Doney (manifold collective), Daniel Fogarty and Matt Rowe will discuss their individual practices and explore different approaches to traditional craft techniques. The afternoon will finish with a tour of works in Folkestone Triennial that touch upon the question of crafting the contemporary.
Symposium schedule
1pm introduction to the afternoon by Ambiguous Implements curator Laura Mansfield
1.15pm Contemporary jeweler, metalworker Rachael Colley will present her practice and her approach to using and experimenting with contemporary materials
1.35pm Artist Matt Rowe will screen his recent filmwork depicting the craft based manufacture of artist's works for the Folkestone Triennial
2pm Coffee and an opportunity to view films of artist Nuala Clooney exploring the body as a tool for making.
2.15pm Ellie Doney, ceramicist, artist, researcher and member of Manifold Collective will present her recent practice and ongoing research into materials
2.35pm Artist Daniel Fogarty presents his current practice
3pm Questions and discussion
3.15pm Tour of Folkestone Triennial led by Matt Rowe
4pm Drinks at B&B project space and preview of Ambiguous Implements exhibition
ambiguous-implements.co.uk
instagram.com/ambiguousimplements