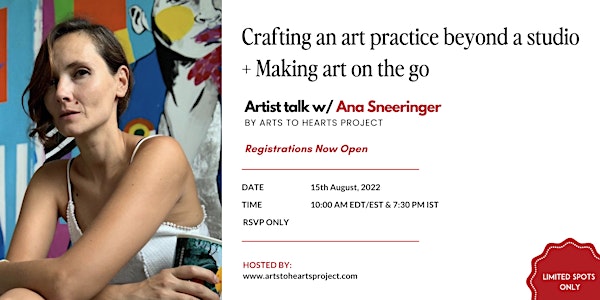 Crafting an art practice beyond a studio+Making art on the go : Artist Talk
Learn how to keep you art practice on the go even when you are not in the studio.
About this event
Do you also feel guilty of not being able to find more time In the studio ?
Do you also struggle hard to find a balance between studio time & life?
But, don't we all do?
Being artists is just not about being in the studio instead so much more.
Don't let this idea limit your capabilities anymore.
Being an abundant artist is about find ways to be creative in all walks of life.
That means mostly on the go.
from tapping into your creative genius!
THIS IS FOR YOU IF:
You feel like struggling finding studio time and life has happened like it does.
You don't want to miss your life & family by locking your self only In The studio
Instead, you want to build a life & art practice that embraces your movement and moves with you.