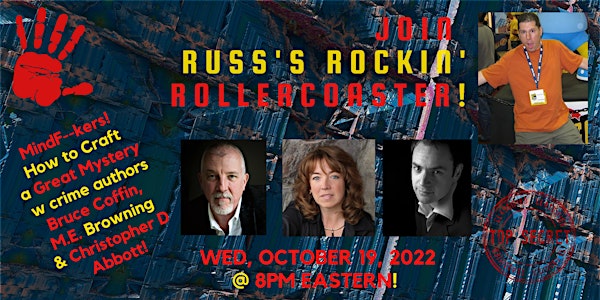 Crafting a Great Mystery w CHRISTOPHER ABBOTT, BRUCE COFFIN & M.E. BROWNING
Author Russ Colchamiro hosts crime authors Bruce Coffin, M.E. Browning & Christoper D Abbott on the ins and outs of crafting a great mystery
About this event
M.E. BROWNING writes the Colorado Book Award-winning Jo Wyatt Mysteries and the Agatha-nominated and award-winning Mer Cavallo Mysteries (as Micki Browning). Micki also writes short stories and nonfiction. Her work has appeared in dive magazines, anthologies, mystery magazines, and textbooks. An FBI National Academy graduate, Micki worked in municipal law enforcement for more than two decades and retired as a captain before turning to a life of crime… fiction. Visit mebrowning.com to learn more.
BRUCE ROBERT COFFIN is the award-winning author of the Detective Byron Mysteries. A former detective sergeant, he supervised all homicide and violent crime investigations for Maine's largest city. Following the terror attacks of September 11, 2001, Bruce spent 4 years investigating counter-terrorism cases for the FBI, earning the Director's Award, the highest award a non-agent can receive. His short fiction appears in a number of anthologies, including Best American Mystery Stories 2016. www.brucerobertcoffin.com
CHRISTOPHER D ABBOTT is a writer of crime, fantasy, science-fiction, and horror.
His Sherlock Holmes stories, published in the Watson Chronicles, have been recognised by readers and peers alike as faithfully authentic to the original Conan Doyle.
Described by New York Times Bestseller Michael Jan Friedman as "an up-and-coming fantasy voice", and compared to Roger Zelazny's best work, Abbott's Songs of the Osirian series of works brings a bold re-telling of Ancient Egyptian mythology. Abbott presents a fresh view of deities we know, such as Horus, Osiris, and Anubis. He weaves the godlike magic through musical poetry, giving these wonderfully tragic and deeply flawed "gods" different perspective, all the while increasing their mysteriousness.
Christopher has published with Crazy8Press, and has written for major media outlets, including ScreenRant.
RUSS COLCHAMIRO is author of the Sci-Fi mysteries Crackle and Fire, Fractured Lives, and Hot Ash, the ongoing series featuring intergalactic private eye Angela Hardwicke. Russ is also the author of the rollicking time travel/space adventure, Crossline, the SF/F backpacking comedy series Finders Keepers: The Definitive Edition, Genius de Milo, and Astropalooza, is the editor of the Sci-Fi mystery anthology Love, Murder & Mayhem, and co-author and -editor of the noir anthology Murder in Montague Falls.
Russ has also contributed to several other anthologies including PRISM, Tales of the Crimson Keep, Pangaea, Altered States of the Union, Camelot 13, TV Gods 2, They Keep Killing Glenn, Thrilling Adventure Yarns, The Phenomenons, Footprints in the Stars, Devilish and Divine, Badass Moms, and Brave New Girls.
Russ is a member of The Mystery Writers Association, The Private Eye Writers of America, and the author collective Crazy 8 Press. He also hosts and produces his Russ's Rockin' Rollercoaster podcast, where he interviews best-selling and up-and-coming Sci-Fi, fantasy, crime, mystery, and horror authors.
For more on and Russ's books and his podcast, visit russcolchamiro.com, and follow him on Facebook, as well as Twitter and Instagram @AuthorDudeRuss.
He lives in New Jersey with his wife, two ninjas, and black lab, Jinx.