Description
Join us for breakfast and a healthy discussion on the importance of culture in a creative workplace. Bringing together a panel of perspectives, both fresh and more seasoned, we will discuss their experiences in and opinions around the optimal environment in which to produce great work. Gain practical tips and insights to affect your own workplace culture from within.
Featured experts:
Peter McGrath, SVP Creative at FreemanXP

Andy Cunningham, Brand Strategist/Entrepreneur

Rose Yount, Designer at Atlassian

Malin Seijboldt, Student at Academy of Art
Moderator: Colleen Courtney, Director of Creative Operations at FreemanXP
Agenda:
Check-in and breakfast:

8:00-8:15am

Panel:

8:15-9:30am

Q&A:

9:30-10:00am
Expert details:
Peter McGrath is the head of Creative at FreemanXP. Prior to joining Freeman, Peter spent over twenty-five years as a creative leader at The Walt Disney Company, most recently as Executive of Creative Development for the Creative Studio of Walt Disney Imagineering, the creative division of Walt Disney Parks and Resorts. He was the Imagineering Enrichment Executive responsible for developing and enriching the professional lives of 3,000 Disney Imagineers worldwide. Peter's creative and design influence can be seen throughout the Walt Disney Parks and Resorts globally, including Anaheim, Orlando, Paris, Tokyo, Hong Kong and most recently Shanghai.
Andy Cunningham is an entrepreneur at the forefront of marketing, branding, positioning, and communicating "The Next Big Thing," Andy Cunningham has played a key role in the launch of a number of new categories, including: video games, personal computers, desktop publishing, digital imaging, RISC microprocessors, software as a service, very light jets, and clean tech investing. She is an expert in creating and executing marketing, branding, and communication strategies that accelerate growth, increase shareholder value, and advance corporate reputation.
Rose Yount is a Communication Strategist and Presentation Designer at Atlassian. Having lived in cities with cultures different from her own during her formative years, including Moscow and Beijing, she gained a unique understanding of how communication can affect every aspect of our lives. Emotional communication is the essential foundation throughout all of her work, as she designs high-profile pitch presentations and Keynote addresses. She believes that everyone has a story to tell, and it is her passion to empower people to get their message out in to the world.
Malin Seihboldt is from Sweden, but in San Francisco to study design and photography at Academy of Art University. She is currently considering design internships for the summer.
Ticket sales for this event have been graciously donated to San Francisco Design Week produced by AIGA SF, a 501(c)3 nonprofit, to help with it's continued support of the design community in San Francisco.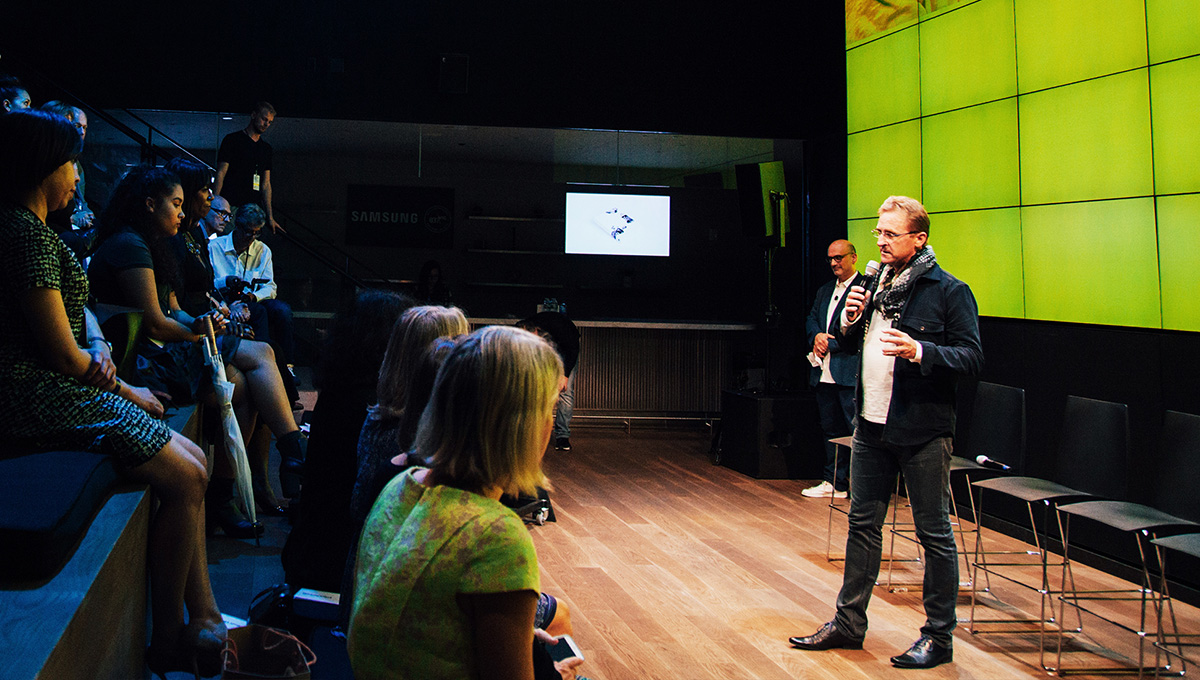 HOSTED BY: FreemanXP
A brand experience agency, FreemanXP uses the power of social engagement to inspire audiences to action.
CONTACT INFO:
jenna.savage-wilson@freemanxp.com
NOTE: We have reserved 5 spots free to students. Please email us at jenna.savage-wilson@freemanxp.com for more details.
Ticket sales for this event have been graciously donated to San Francisco Design Week produced by a 501(c)3 nonprofit to support the design community in San Francisco.
---
Event Type : Panel
Event Focus : Architecture, Branding, Business of Design, Digital + Tech, Experience Design, Graphic Design
REFUND POLICY : We do not offer refunds. If event is sold out, we might be able to give your spot to someone on the waitlist.