Description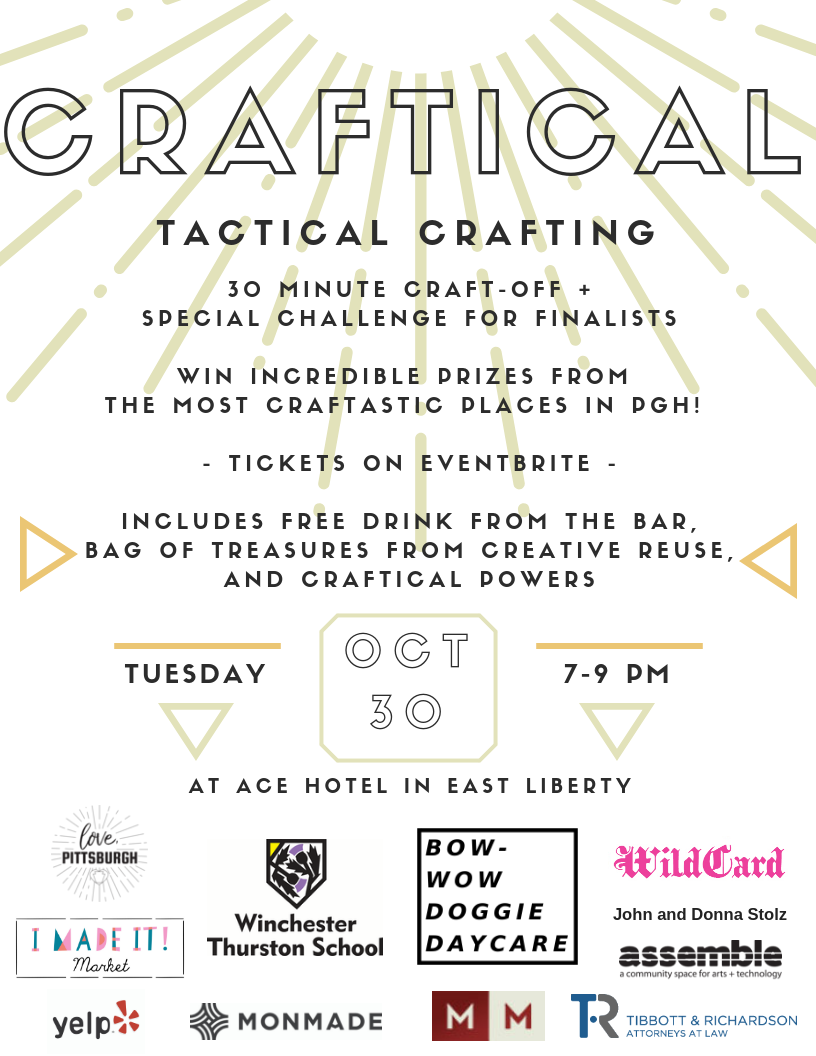 ***ONLINE TICKET SALES HAVE ENDED. YOU CAN STILL BUY TICKETS AT THE DOOR! SEE YOU SOON.***
30 MINUTE CRAFT-OFF +

SPECIAL CHALLENGE FOR FINALISTS



3 TOP CRAFTERS GET INCREDIBLE PRIZES FROM THE MOST CRAFTASTIC PLACES IN PGH
Wear your Halloween costume for a chance at extra prizes!
Get your craft on at the craft-off!


First, pick up your free drink at the bar to help get those creative juices flowing and snag your huge bag of curious Creative Reuse treasures. And then get to work on creating the greatest/weirdest/bestest thing you possibly can from your treasure bag - in just 30 minutes! The competition will be fierce!


We'll line up all the finished creations, and then everyone votes on their favs. The top three finalists will move to the very-coveted CRAFT BLITZ ROUND and will have just 5 minutes to make something new out of a more challenging treasure bag. Look out - some surprises will pop up at the last minute!


The audience votes on their favorite creation, and then we will crown our first, second, and third place Ultimate Craftical Mega Stars and shower them with incredible prizes! Our Mega Stars get to keep their highly esteemed titles until the next Craftical!
In addition to all the fun, we'll also have a crafty selection of silent auction items for your enjoyment and consideration. (Psst... want to donate something crafty to the auction? Email ash@pccr.org and thank you!)


This crafty fundraiser is brought to you by Pittsburgh Center for Creative Reuse. We are so full of craftical gratitude for Ace Hotel for being such a generous and incredible host!


Thank you so much to our amazing sponsors who make this crafty extravaganza possible: Bow-Wow Doggie Daycare, Winchester Thurston School, Monmade, McGee Maruca & Associates PC, I Made It! Market, Tibbott & Richardson, P.C., Donna and John Stolz, love, Pittsburgh, Wildcard, Assemble, and Yelp Pittsburgh!



Crafting tools info: You are highly encouraged to bring your own crafting tools, but we'll have a few you can borrow! No plug in things, super loud things, or super dangerous things, please. : )