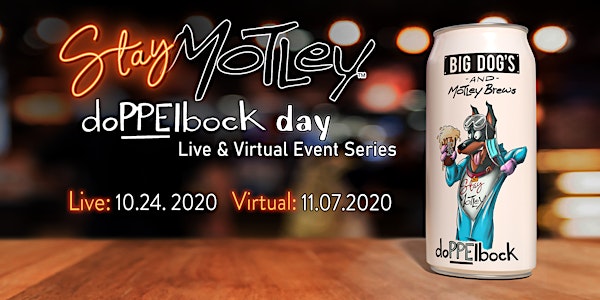 Crafted Rewards Members | Shipping + Upgraded Merch
This is a private page for Stay Motley Crafted Rewards members. It allows for members to RSVP and add shipping/merch to their order.
Refund Policy
Refunds up to 30 days before event
About this event
Thank you for being a Stay Motley Crafted Rewards member! Please read through the following information as we prepare for the virtual tasting on November 7th. Please visit https://motleybrews.com/stay-motley-2/ for all details.
You will be able to pick-up starting on 10/29 (please pickup by 11/6 for the Virtual Event) between the hours of 12PM and 10PM. Pickup is located at Big Dog's Brewing Co. located at 4543 N Rancho Dr, Las Vegas, NV 89130.  Call (702) 645-1404 for curbside pickup or head into the beer counter inside. 
The doPPElbock day Virtual event is free to all Stay Motley Crafted Rewards members and will happen via live stream on Saturday, November 7th at 1PM - 2:30PM.  The virtual event includes:
Guided tasting of the doPPElbock
Live entertainment & interviews hosted by Motley Brews and other special guests
All Stay Motley members have the ability to add-on for additional gift card or cash funds:
A cocktail kit provided by Lemba
Three additional Big Dog's Brewing Co. beers
A 13oz snifter Stay Motley snifter glass
About the organizer
Motley Brews is a team of event professionals and craft beer enthusiasts dedicated to producing top-notch festivals and events that bring communities together to celebrate craft beer, food, and culture.
We're supporters of local non-profits and collaborators in the growth of breweries and businesses in local communities.
Motley Brews events have raised hundreds of thousands for local non-profits since inception in 2010.