About this Event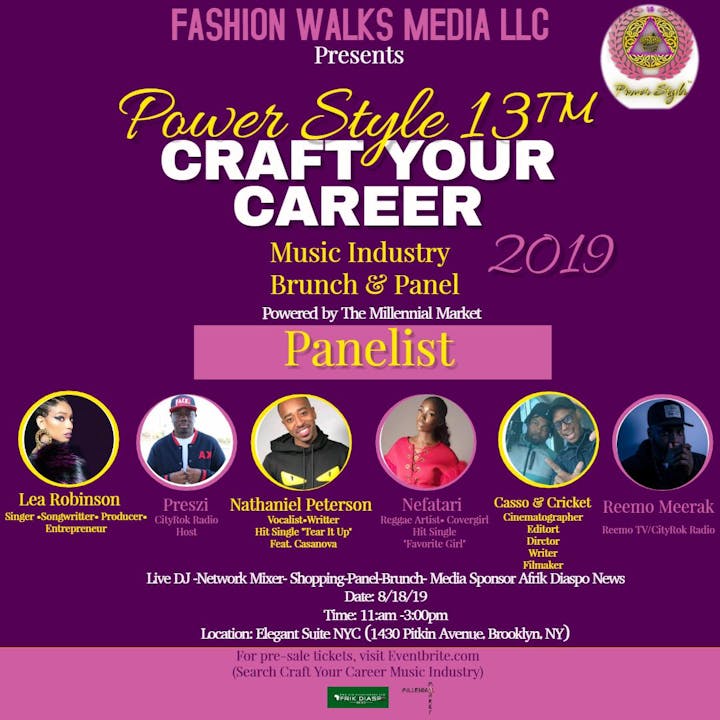 Join @fashionwalksmedia13 @powerstyle13 and @the.millennial.market for our first End of Summer Kick Off!! #CraftYourCareer Music Industry event in #NYC August 18th 2019.
A celebration of the power of the minds with #Millennials & aspiring #entrepreneurs looking to turn their craft into their career.
We have an awesome panel line up of creative creators who are ready for informative & empowering conversations with you.
Our Panelists:
Bravo TV's Lea Robinson -Singer/Songwriter & Entrepreneur LeA's "Broken Girl" album is out NOW! (@thelearobinson)
Cover Girl Model & Reggae Artist Nefatari New Single "Favorite Girl" is out NOW!(@nefatariofficial)
Singer/ Songwriter/Label Owner Nathaniel (@nathanielonline) who was recently featured on songs and projects with Rappers Casanova, French Montana, Wiz Khalifa, Dj khaled, Swizz Beats, Remy Ma, etc.
Casso - Cinematographer /Editor & creator of several music videos for Atlanta based artist. (@therealcasso)
Cricket - Director, Writer & Filmmaker & creator of several music videos for Atlanta based artist. (@directorcricket)
Preszi -Founder & Host of City Rok Radio & Concert Promoter (@cdcmusiczone)
Reemo Meerak - Media Personality & TV Producer for City Rok Radio & ReemTV (@onlyreemomeerak)
They will be there to give you tools, keys, knowledge and jewels on the how to's in the industry. We intend to evoke thought and create a spark within you.
Your ticket includes an AWESOME TALENTED PANEL, fulfilling brunch catered by Chiffon Visionary Cuisine, a fun shopping experience with our vendors and a live DJ spinning the vibes during our network mixer so don't forget your business cards!!
Have your questions ready so you can start and or continue to lay out your blueprint on how you can turn your craft into your career.
11:00am: Doors open
11:30am: Food is served
12:30pm: Music Panel Discussion starts!
2:30pm: Network Mixer/ Build Relationships and Enjoy!
4:00pm: Depart and if the information that you retained resonated with you then get started on Crafting Your Career!
PLEASE SEE BELOW FOR THE MENU
No Refunds
TO AVOID EVENTBRITE FEES, YOU CAN SUBMIT YOUR PAYMENTS THROUGH CASH APP TO $NYEMAC OR VIA PAYPAL TO POWERSTYLE13
Please note the name of the event (Craft Your Career) when sending Cash App and PayPal Payments.
A PERCENTAGE OF TICKET PROCEEDS TO BENEFIT "TLC MAMAS" This organization is a group of Doula's of many forms and they help people to birth themselves mentally, physically and spiritually. They also assist women and children in need of finances and clothing.
FOR MEDIA/BLOGGER/PRODUCT/SPONSORSHIP OR VENDOR OPPORTUNITIES, PLEASE CONTACT US BY E-MAIL at FASHIONWALKSMEDIA13@GMAIL.COM or MILLENNIALMARKETNY@GMAIL.COM
Follow @Powerstyle13 & @The.Millennial.Market for updates on the event!
Stay inspired!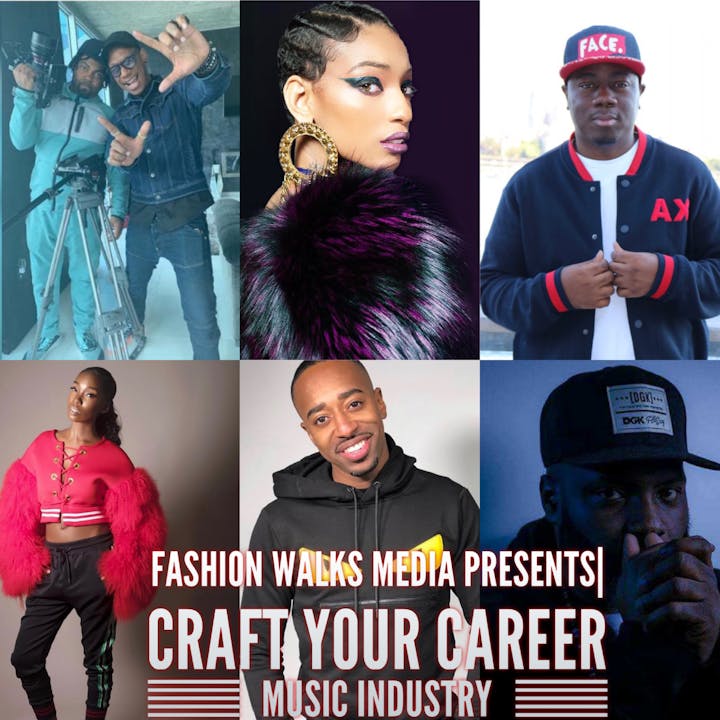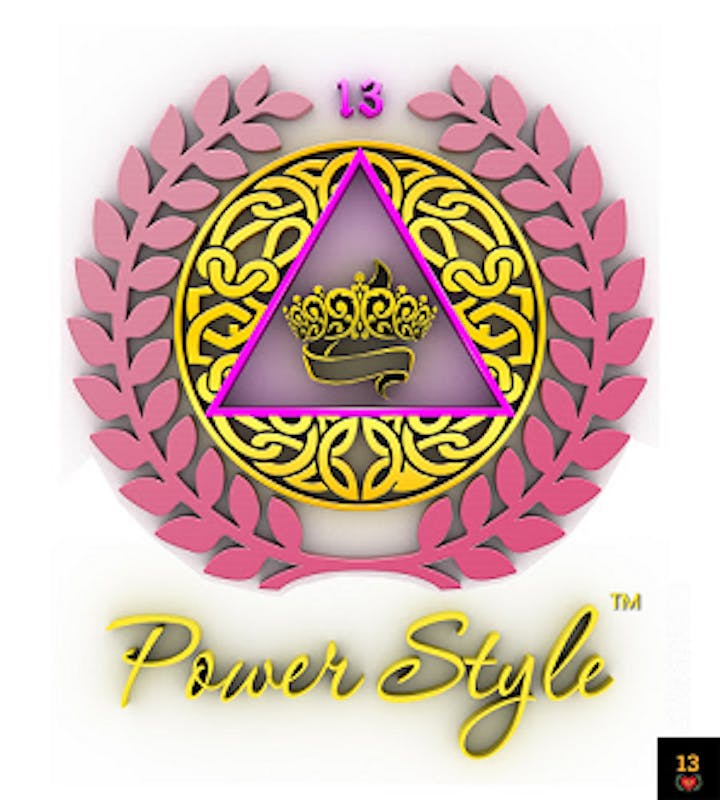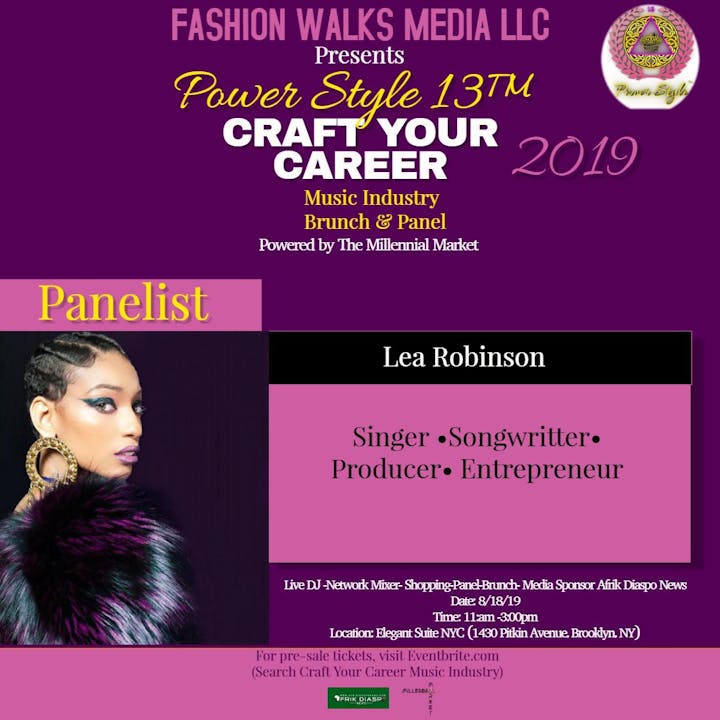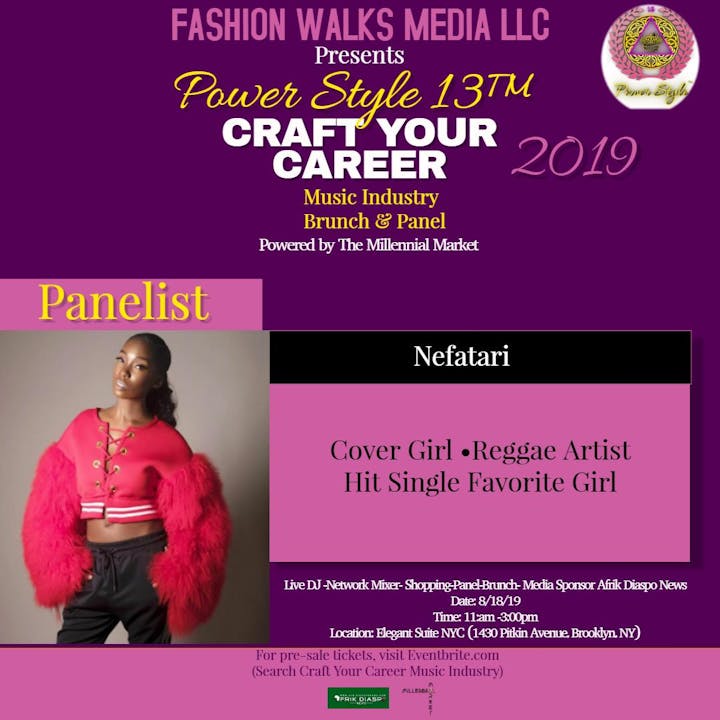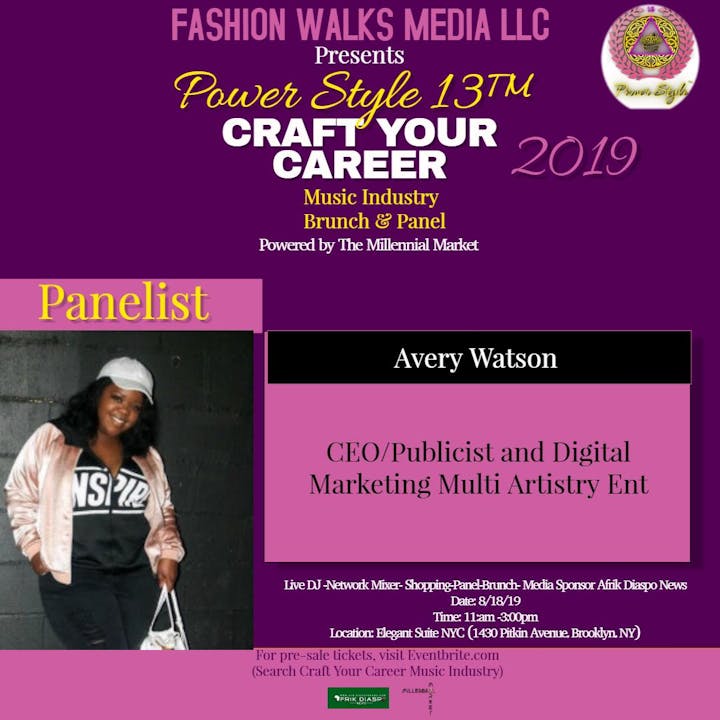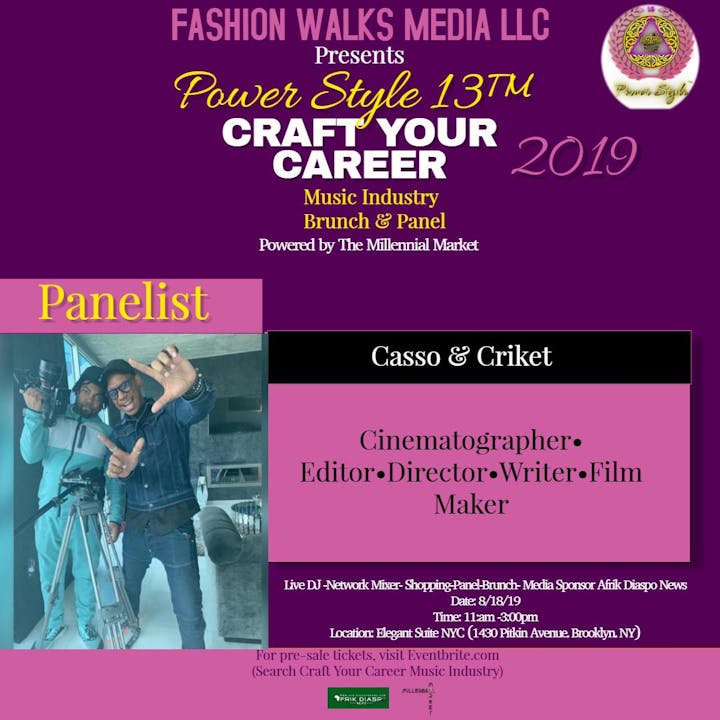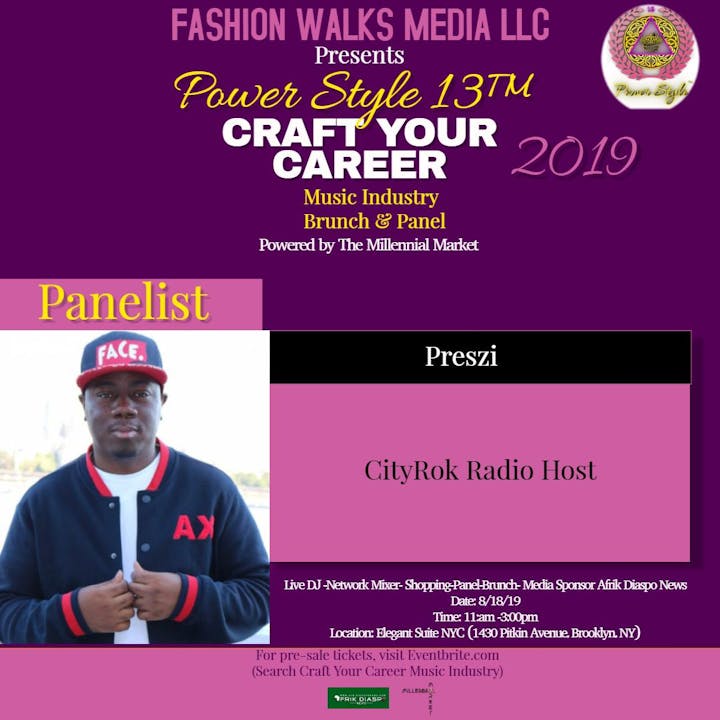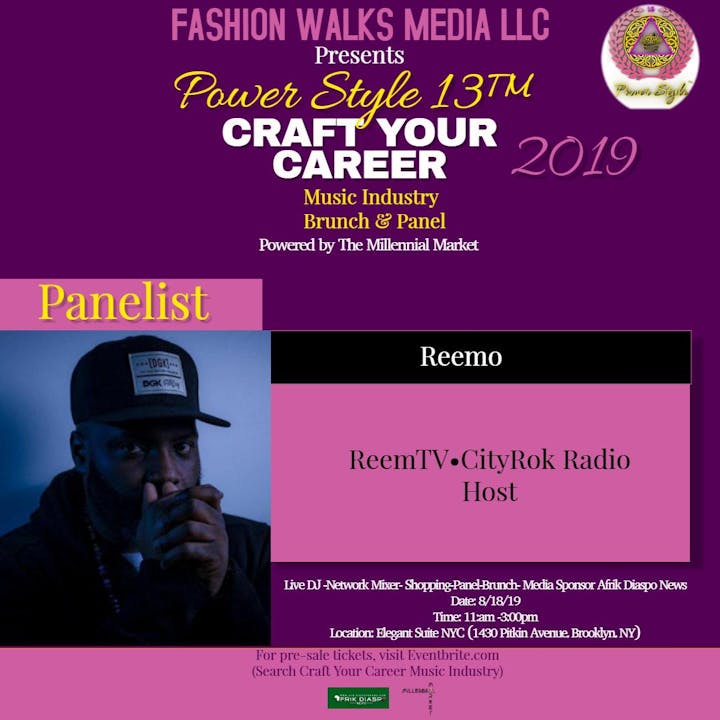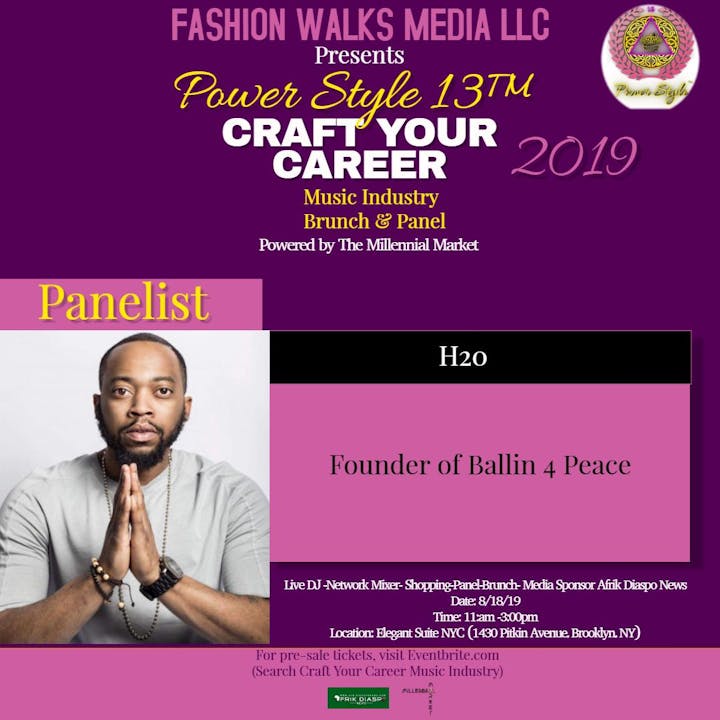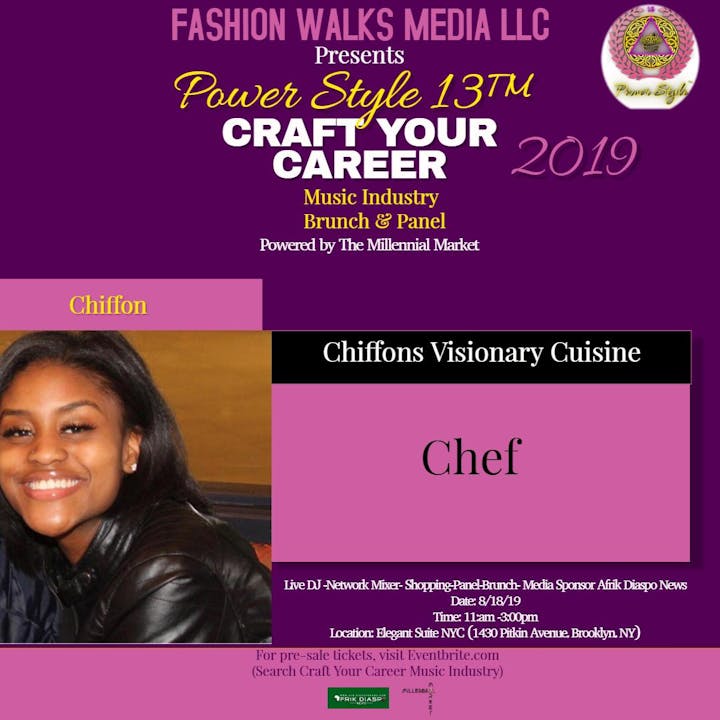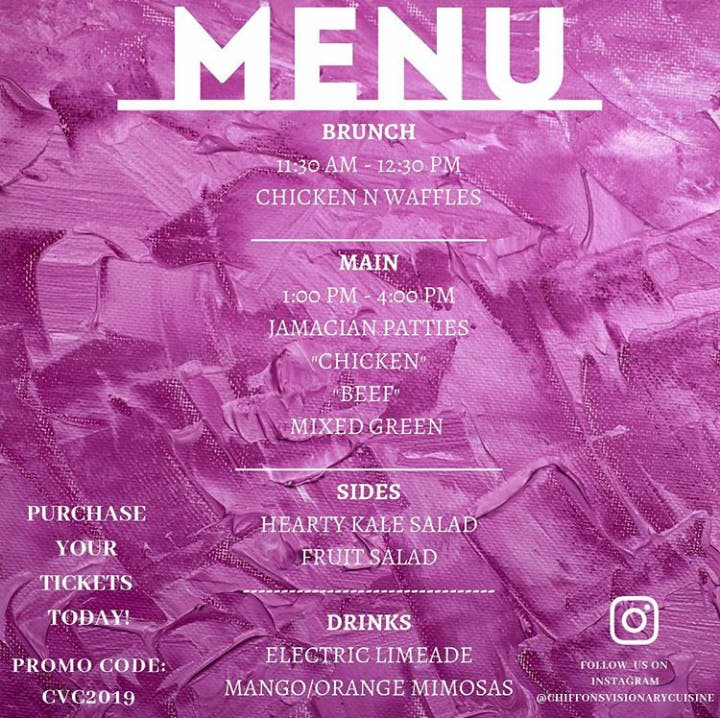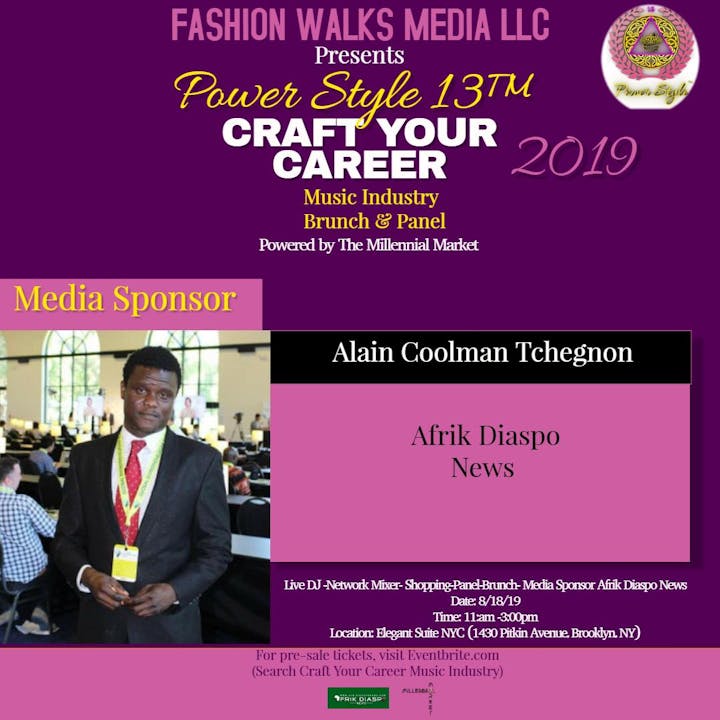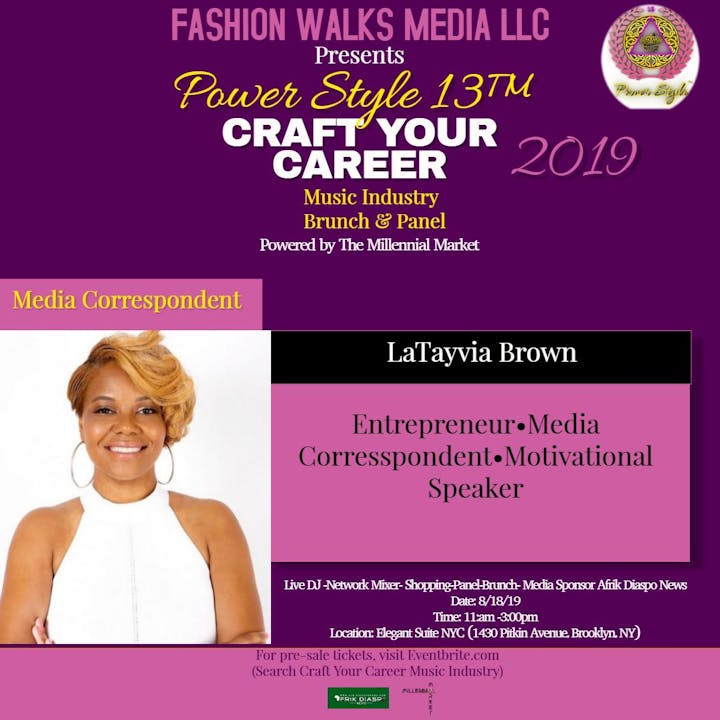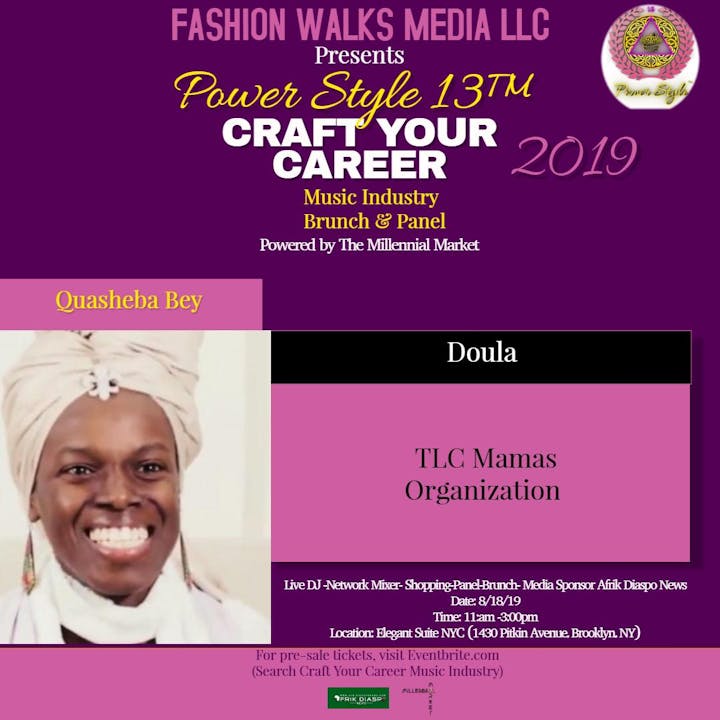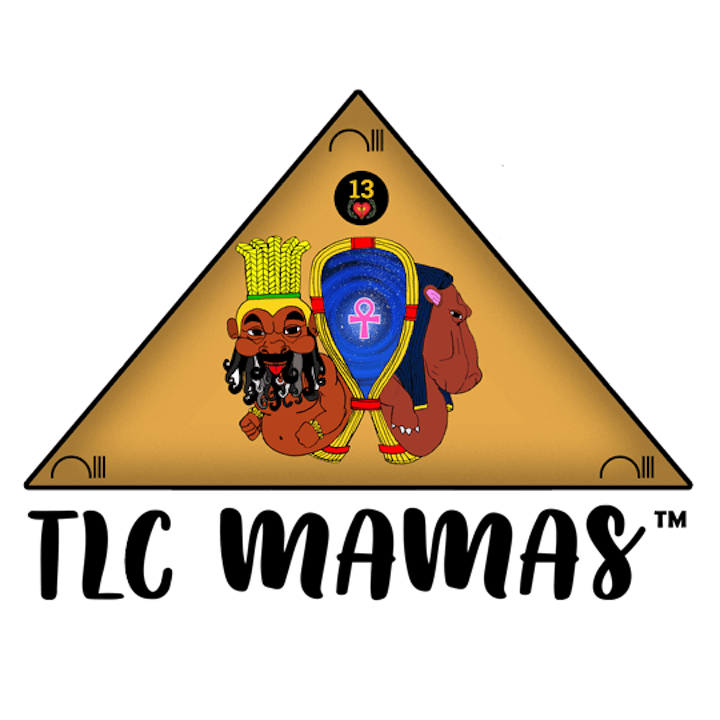 MEDIA SPONSOR AFRIK DIASPO NEWS