Explore herbal craft teas. Virtual tutored-tasting and demo of unique brewing methods you can do at home. Tea samples ship to home. Serves 4
About this Event
In this 60-75 minute online event, join Michael O'Brien, owner and founder of the Philadelphia-based company, Craft Tea, on an educational and entertaining journey and sampling of herbal craft teas—four different teas, samples included in this virtual seminar and shipped to your home.
Affectionately known as The Craft Tea Guy, Mike is a master craftsman—always pushing the envelope and creating unique blends that make you feel good, without tasting bad.
As seen in The New York Times, featured in World Tea News, and showcased on ABC's Local-ish, Mike takes tea to a whole new level. Join him for his virtual tasting event where he will take you on a guided tasting tour of four of his craft teas and a demonstration of different methods for brewing tea—including the Chemex, Espresso Shot, Kyoto slow-drip, Nitro Cold Brew, and Aeropress. This demo will show you how to use these brewing methods and provide you with an understanding of the benefits each provides for the tea brewing process.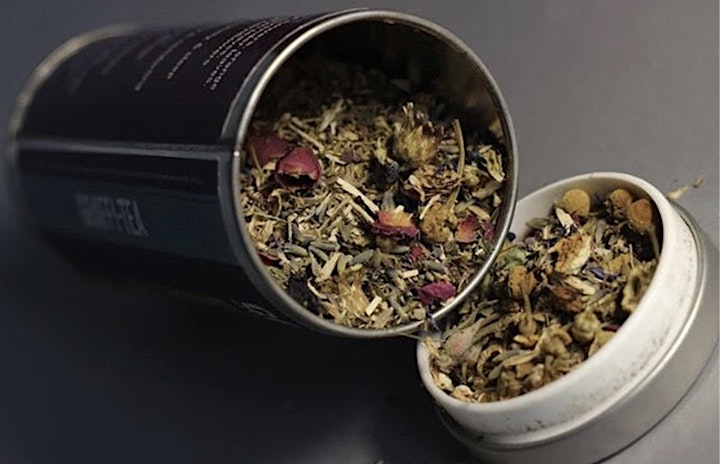 What's Included:
A ticket ($29, serves up to four) to this online event includes the following:
TEA SAMPLES (for each tea listed below, enough for four 8 oz. infusions):
o Brew Tang Forever—a 9-herb blend based on each member of the Wu-Tang Clan—includes: cinnamon chips, sage leaf, gotu kola herb, strawberry leaf, lemon verbena leaf, suma root, rosemary leaf, stinging nettle leaf, hops flowers.
o Class Cat—a sour and worldly blend based on an eclectic art gallery—includes: schizandra berries, rose hips, hibiscus flowers, holy basil leaf, suma root, orange peel, lemon verbena leaf, linden leaf & flower.
o Graffi-Tea—a colorful loose leaf blend based on street art murals—includes: rose buds and petals, chamomile flowers, butterfly pea flowers, lavender flowers, safflower petals, blue cornflower petals.
o Mellow My Mind—a super-relaxing blend based on a powerful, funk-rock band—includes: kava root, jasmine flowers, lemongrass leaf, passionflower herb, lemon balm leaf, skullcap herb, damiana leaf.
Direct shipping to your home.
Access to the 60-75 minute virtual, interactive, tutored-tasting and demo event, conducted via video conference. Note: while the tea for this seminar serves up to four people, all must be present to view together at one location. One access code provided per ticket purchased and teas will be shipped to one address.
Note: All teas for this event are caffeine-free, all-natural, hand-crafted herbal blends.
Tickets are limited. Deadline to purchase is 5:00PM on June 1, 2021 or when maximum capacity is reached. If maximum capacity is reached prior to cut-off date, no additional reservations will be available. Buy now to guarantee delivery and participation.
Although this virtual class is open to all tea enthusiasts nationwide, remember the class will be taking place EST at 11AM and be conducted in English. International shipping is not available for this event. Please refer to the FAQs below for additional information.
This virtual class is sponsored by Craft Tea and the Coffee & Tea Newsletter.
About the Presenter:
Michael O'Brien, Craft Tea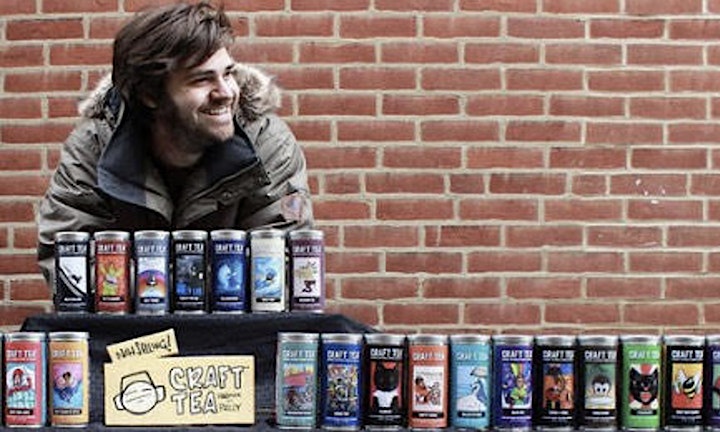 Michael O'Brien is the owner and founder of Craft Tea, herbal tea blends handmade in Philadelphia. You may recognize him from the Coffee & Tea Festivals, from having a booth with an eclectic mix of teapots and vinyl records, the latter which he pairs with the tea blends he crafts himself.
Michael's adventure into tea is a story of music, travel, and friends. In 2010, Michael started a job that sent him all around the world. His co-workers suggested collecting something from each country, and as a lover of music Michael began with musical instruments. They were unique and interesting, but Michael needed a creative aid to play them, so he experimented with kava kava root, a muscle relaxing Polynesian herb known as "the root of happiness." The effects were remarkable on Michael's playing and mood, despite the dirt-like taste. Michael's travels continued to destinations of renown tea cultures: China, India, and Morocco. He was impressed with the variety of flavors, which started a whole new collection.
When Michael returned home he wanted to catch up with friends, but that usually meant going to a noisy bar and spending lots of money. Seeking a healthier alternative Michael invited friends over for tea and vinyl, which proved to be warm and enriching experience.
Michael's traveling days came to an abrupt end when an accident in the Philippines left him with a blood clot in his leg. Rather than go back into the workforce, Michael decided to create his own business with the mission of allowing friends a way to socialize without the hangover. Soon, Michael knew exactly what he wanted to do: Craft Tea.
Michael launched Craft Tea in 2014 and has been selling online and in person ever since. His blends are found in fun cafes around Philadelphia, and his music-themed blends are available in the hospitality suites of concert venues around the city. He's made collaborative teas with noteworthy indie musicians like Sad13, a partnership that led to a mention in The New York Times.
Follow Michael and Craft Tea on Instagram to keep up with all the latest news (@CraftTea) and check out his website (www.CraftTeaGuy.com) to see what album fits the vibe of each tea.

FAQs:
What is included in the ticket price? All tickets include access to the online event, the tea which you will be tasting and direct shipping to a single address.
Do the teas contain caffeine? No. All the teas for this seminar are caffeine-free, all-natural, hand-crafted herbal blends.
How will the tea be shipped to me? The tea will be shipped to the mailing address provided at the time of purchase.
Where do you ship to? Shipments can be made to addresses in US only, no international shipping at this time.
Can you ship to a PO Box? Yes. Although it is recommended that you provide your home address as your shipping address.
When will I receive the tea that is included with my ticket? We will close ticket sales on June 1, 2021 to ensure delivery to you on time. Your tea will be delivered 1-3 days in advance of the seminar.
I missed the cut-off date. Can I still get a ticket for the virtual class? No, unfortunately to guarantee delivery of the tea in time for the seminar, we must adhere to the strict cutoff date for enrollment.
How will you ensure the tea gets to me in time? The ticket sales end date allows for ample processing time and ensures adequate shipping time to all participants.
I can't make the online event. Can I still purchase a ticket and get the tea? Yes. If you can no longer attend the online event or simply are not interested in doing so, you can still purchase a ticket to receive the tea shipped directly to the mailing address provided. Please note that all sales are final and there are no discounts, refunds or exchanges should you not join the online event portion.
Will the online event be recorded? Yes. The event will be recorded and made available to attendees after the event. However, it is best enjoyed live!
Can I buy more than one ticket? Yes, each ticket provides access to one individual buyer log-in and shipping to one physical address.
How do I join the online event? Prior to the online event taking place, you will receive a number of emails reminding you of the date and time. Within these emails will also be a link to the Online Event Page which has the video conferencing link to join. The link will become active 5 minutes before the event.
Can I ask questions during the online event? Yes! We encourage you to ask questions but please do so using the CHAT feature. This will ensure we avoid people talking over each other and all questions can be answered.
How will you ensure the online event is a safe environment? We ask that all participants be polite and courteous. Starfish Junction and its sponsors/partners reserve the right to remove any participant from the video conference that is disruptive or behaving inappropriately with no refund.
Do I need to download special software or an app to participate in the video conference? The online event will be conducted via the video conferencing platform, ZOOM. You should be able to click the link provided and access the video conference in any web browser from a desktop computer or laptop. Before joining a Zoom meeting on a computer or mobile device, you can download the Zoom app. Otherwise, you will be prompted to download and install Zoom when you click a join link.
Can I take part in the online event by phone only? No, attendees must join from the link on the online event page.
What happens if I lose internet connection during the online event? If you lose internet connection and leave the video conference, simply click the link again to re-join.
Can you help me with my technical difficulties accessing the video conference? Yes, please email help@starfishjunction.com. It is important for you to try accessing the video conference before the day of the online event so we can fully assist you as we have some event day limitations.
Do I need anything besides the tea to participate? In addition to the tea that is being shipped to you for the tasting, you will need:
o a kettle filled with room temperature water, which will be boiled as needed during the class. Please note: Michael recommends 20-minute brews to get the most out of his herbal blends. Please be prepared to start brewing at the start of the session to allow time to taste.
o a vessel for brewing the tea (French press, tea ball, paper filter)
o a tea towel or any towel for drying
o four tasting cups per person (one for each tea recommended)
o a spoon
o a plate or receptacle for used tea
o honey (optional)
Date and Time
Location
Refund Policy